Saturday, January 16, 2016
JEFFREY MORGANíS MEDIA BLACKOUT #505
JEFFREY MORGAN'S MEDIA BLACKOUT #505.133!
SIZZLING REPRINT OF THE WEEK: Chester Gould – The Complete Chester Gould's Dick Tracy, Volumes I & 2, 1931-1935 (IDW Publishing) :: There's no denying that the world's greatest detective comic strip ever created was Chester Gould's relentless two-fisted marathon of crime-busting mayhem, Dick Tracy. Splattered out in unequal portions of one part heartfelt sensitive romance and three parts hardcore sadistic violence, Gould's 1931 creation was a radically new form of strip which reflected the real-life gangster era. Years before he introduced misshapen criminals like the legendary Flattop and futurist crimebusting tools like the decades-ahead-of-its-time two-way wrist radio, Gould had Tracy tossing lead with petty thugs, crime bosses—even the occasional corrupt City Hall official who would get perforated outside his office.
For his trouble, Tracy was routinely shot up, beat up and brutally tortured in a series of ambushes and death traps that always left him bloodily battered. Even Tracy's extended family wasn't immune to the big payback: His girlfriend Tess and adopted son Junior were kidnapped on more than one occasion—and once the kid was literally soldered into an empty residential hot water tank which was then heated up with a blow torch. Quentin Tarantino would blanch at portraying something like that today, yet graphic scenes like this took place in the comics section of family newspapers all across America in the 1930s.
Now—finally—IDW Publishing has begun printing a series of definitive chronological hardcover reprints of this seminal series, edited by respected crime author Max Allan Collins. The quality of the black and white reproductions is uniformly crisp, and a majority of the strips contained in these first two volumes have rarely been reprinted in other Tracy anthologies, if ever.
You'll be amazed at how fast-paced these exciting action-packed adventures are, thanks in part to Gould's unique overlapping writing style of beginning each new storyline a week before the current one ends. Trust me, these crimestopping textbooks are essential reading for any hard-boiled crime buff.
I'm on my way!
Sat, January 16, 2016 | link
Sunday, January 10, 2016
JEFFREY MORGANíS ROCK íNí ROLL PHOTOGRAPHS
JEFFREY MORGAN'S ROCK 'N' ROLL PHOTOGRAPHS

While you're visiting, don't forget to view the dozens of essential selections from my vast archive of
hundreds of extremely rare and previously unseen rock 'n' roll photographs from the 1970s and 1980s—all of which were taken by myself from my front row center seat at various venerable venues; vintage historical portraits which include the following rock stars caught in their youthful prime:


David Bowie
(1976 Station To Station tour) :: Lou Reed (1974 Sally Can't Dance tour) :: Iggy Pop (1977 The Idiot tour) :: Bob Dylan (1978 Street Legal tour) :: George Harrison (1974 Dark Horse tour) :: Paul McCartney (1976 Wings Over America tour) :: Pete Townshend (1976 The Who By Numbers tour) :: Johnny Winter (1976 Captured Live! tour) :: Jeff Beck (1975 Blow By Blow tour) :: KISS (1977 Love Gun tour) :: Alice Cooper (1975 Welcome To My Nightmare tour) :: Freddie Mercury (1977 News Of The World tour) :: Amanda Lear (1975 Sweet Revenge tour) :: Rod Stewart (1977 Foot Loose & Fancy Free tour) :: Mick Jagger (1975 It's Only Rock 'n Roll tour) :: New York Dolls (1975 Tokyo Dolls Live tour) :: Keith Richards (1975 It's Only Rock 'n Roll tour) :: Ian Hunter (1989 YUI Orta tour) :: Elton John (1974 Caribou tour) :: Mick Ronson (1989 YUI Orta tour) :: Steven Tyler (1977 Draw The Line tour) :: Sparks (1975 Indiscreet tour) :: James Brown (1986 Gravity tour) :: Miles Davis (1985 You're Under Arrest tour) :: Roger Daltrey (1976 The Who By Numbers tour) :: Bruce Springsteen & Clarence Clemons (1975 Born To Run tour) :: John Entwistle (1976 The Who By Numbers tour) :: Keith Moon (1976 The Who By Numbers tour) :: The Who (1976 The Who By Numbers tour) :: and more!

Ask any dealer and he'll tell you that the best way to get someone hooked on your product is to give them a free sample, so here's just a small taste of what's coming your way when you click on the eleven gallery links to your left: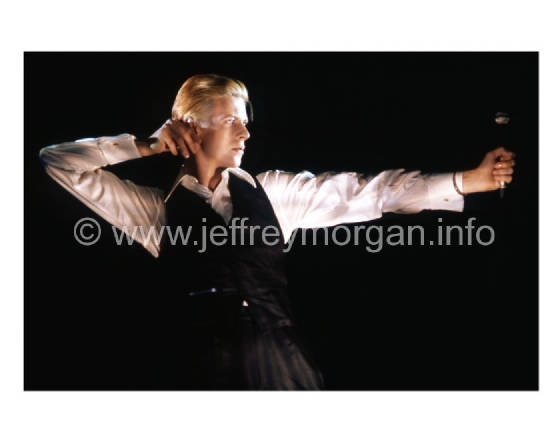 Sun, January 10, 2016 | link