Saturday, November 10, 2018
JEFFREY MORGANíS MEDIA BLACKOUT #651
JEFFREY MORGAN'S MEDIA BLACKOUT #651.311!
Owl City – Live From Los Angeles (Eagle) :: I never heard of these nerds before, but after suffering through their mundane music and banal between song banter...
"Los Angeles, California, I wanna thank you so much for being here with us this evening! It's kind of a special evening there's, there's, like, cameras everywhere! We're shooting our first ever DVD so... Please smile... Please look beautiful... Oh, wait! You're L.A.! No problem!"
...I never want to hear them again.
Santana – Greatest Hits Live At Montreux 2011 (Eagle) :: Carlos Santana's greatest hits moment was at Woodstock long before he got stupid and started wearing t-shirts adorned with the smug mug of mass murderer Ernesto "Che" Guevara. But if you can forgive him that heinous ethical lapse, then maybe you'll enjoy these two video discs which prove beyond a shadow of a doubt that Stupetana's dim-wittedness doesn't extend all the way down to his guitar playing. But he's still an ignorant clod.
Ray Charles – Live In France 1961 (Eagle) :: I've never cottoned to Ray Charles and I've spent years in therapy trying to figure out why. Initially I thought it was because I didn't like the way Ray bobbed his head from side to side—but then my head shinker pointed out that I didn't mind it when Stevie Wonder did the exact same thing. Then I thought it was because I didn't like the way Ray sang in a guttural growl—but then my head shinker pointed out that I didn't mind it when Joe Cocker did the exact same thing. So I gave this restored and remastered black and white television special to my head shinker; cancelled my remaining couch sessions; and didn't go back no more, no more, no more, no more.
SIZZLING PLATTER OF THE WEEK: Lamont James – Poppies (self released) :: You better go out and get yourself a box of push pins and a really big map 'cause this here Lamont James is all over it. First he comes across like some kinda cross between Aquashow era Elliott Murphy and The Beatles era John Lennon at their most acoustically mellow ("Today"). Next he morphs into Around The World In A Day era Prince ("Song Of You") and Candy-O era Cars at their most synthesizer saturated ("Sorry"). Then he has the good sense smarts to plug it in and crank it up on a cover of Teenage Head's seminal single "Picture My Face." After that he deftly deconstructs things down with an ambient electronic instrumental like "Kaüzendüx" that eerily evokes Stockhausen at his short waviest. But best of all is track twelve which lasts all of twenty seconds and contains naught but a syncopated drum solo. "Hey," thinks I at the five second mark, "this reminds me of 'Premier Drums' on The Who Sell Out." So I take a look to see what the song title is and wouldn't ya know that it says: "Moonie."
Be seeing you!
Sat, November 10, 2018 | link
Saturday, November 3, 2018
JEFFREY MORGANíS MEDIA BLACKOUT #650
JEFFREY MORGAN'S MEDIA BLACKOUT #650.307!
Them murderous master race ratzis may have been lousy at winning world wars and taking over the world, but what they lacked in dictatorial smarts they more than made up for on the Krautrock 'n' roll front lines—as evidenced by these three formerly Verboten videos.
SIZZLING VIDEO OF THE WEEK #1: Ian Hunter and Mick Ronson – Live At Rockpalast – Gruganhalle, Essen, Germany – April 19 & 20, 1980 (MVD Video) :: First up we have everybody's favorite deuce on the loose, that joined at the fret titanic tag team of Hunteronson who separately and together did more for the advancement and preservation of beefy, but never beefcake, kick like a mule rock 'n' roll than anyone else on the planet—especially Riki Monsoon, who shredded strings for such theatrical mascara wearers as Lou Reed; David Bowie; Mott The Hoople; and Bob Dylan.
This one shows them on their Welcome To The Club world tour wherein they plow through a number of Mott classics from "All The Way from Memphis" and "All The Young Dudes" to a number of solo Hunter classics from "Once Bitten Twice Shy" and "Cleveland Rocks" to a book ended beginning and end featuring Ronson soloing on "FBI" to begin the show and "Slaughter On Tenth Avenue" to end it—both of which, frankly, are worth the price of admission alone.
SIZZLING VIDEO OF THE WEEK #2: Roy Buchanan – Live At Rockpalast – Markthalle, Hamburg, Germany, February 24, 1985 (MVD Video) :: They're still calling Roy Buchanan "the world's best unknown guitarist" and I have to agree, even though I was buying his records back in the '70s. But if you've never heard of him, let alone heard him play, let alone seen him play, then this performance, which was recorded a mere three years before his controversial death at the age of 48, is essential viewing to put it mildly.
Buchanan is also the world's most visually unlikeliest guitarist you'll ever see, what with his cocky beret and rummy whiskers and professorial corduroy jacket. But once you've witnessed him effortlessly blaze through everything from Henry M's "Peter Gunn" to Booker T's "Green Onions," you'll understand why Roy Buchanan will always remain the guitarist's guitarist. As always, the standout centerpiece of the show is his jaw dropping seven minute version of "The Messiah Will Come Again," which cleans everybody's clock from James Marshall to James Patrick and literally has to be seen to be believed—and even then you'll doubt what your unbelieving eyes are beholding.
SIZZLING VIDEO OF THE WEEK #3: Public Image Limited – Live At Rockpalast – Zeche Bochum, Germany, October 31, 1983 (MVD Video) :: Last, but certainly not least, is this quaint little full-length exercise in musical restraint by that suave stylist Mr. John Lydon, who pulls out every stop to show all and sundry why PiL are one of the minimalistically greatest—not to mention metronomically gratest—regressive art rock combos to ever hit the boards. Then again, with a set list that impressively includes everything from "Public Image" and "Flowers Of Romance" to "(This Is Not A) Love Song" and "Anarchy In The U.K." how can you go wrongo, boyo? Bonus points for including rehearsal footage of "Annalisa" and "Chant."
Be seeing you!
Sat, November 3, 2018 | link
Saturday, October 27, 2018
JEFFREY MORGANíS MEDIA BLACKOUT #649
JEFFREY MORGAN'S MEDIA BLACKOUT #649.306!
Phil Spector – Back To Stereo (Philles) :: After the Supreme Court refused to overturn the life sentence of convicted murderer Phil Spector—thus ensuring that he'll stay behind bars where he can't threaten anyone anymore—every record company that the disgraced producer ever worked for jointly agreed to delete all of Spector's original mono recordings from their back catalogues and then have Academy Award winning Lucasfilm sound sculptor Walter Murch digitally remix the original studio multi-tracks into THX benchmark stereo and 9.1 surround sound at Skywalker Ranch. As one veteran record executive explains in the liner notes to this ten disc box set: "I've been waiting to get back at that bald-headed bastard ever since he pulled a gun on me during the recording of 'He Hit Me (It Felt Like A Kiss).' Mono. What does that woman slayer think this is, anyway? 1950?"
SIZZLING PLATTER OF THE WEEK: Andre Williams – Hoods And Shades (Bloodshot) :: The first thing you notice is that the album cover comes gang bangin' atcha straight outta some kinda drive-by ghetto blasted vintage blaxploitation one sheet: I'm talkin' 'bout a tricked out pimp daddy flashin' dual solid gold JAIL and BAIT knuckle rings with his meaty mitts wrapped around two dishy thunder-age bikini-clad gun-toting foxes; a Cagnesque exploding oil refinery; a double barreled pump action guitar; a trench coated machete wieldin' maniac escapin' a fiery inferno multi car collision via a danglin' helicopter ladder; plus a sinister as sin cadre of terrorist fist-jabbin' Unabomber lookalikes.
And with songs like the moralistic "A Good Day To Feel Bad" and the animalistic "Jaw Dropper" and the hoodooistic "Mojo Hanna" you'd better believe that this one's got the ginchiest gonad-grabbin' goods 'cause Williams has forgotten more about life than you'll ever learn so mebbe it's about time for you to pick up on what he's putting down, y'hear?
SIZZLING VIDEO OF THE WEEK: The B-52s – With The Wild Crowd! Live In Athens, Georgia (Eagle) :: I've said it before and I'll say it again: show me a live-in-their-hometown reunion album and I'll show you a lazy litany of last gasp let down expectations—but not this time I won't 'cause this is the most kinetically frenetic fun fiesta since their pulsating Party Mix! radically redefined what a remix record should sound like. And now that you can actually see them in action on this outta sight two hour video in their Day-Glo get ups in front of a vertiginous Time Tunnel backdrop, you'll agree that these kitschy camp runamuck jive bombers haven't missed a strategically placed lick since their "Private Idaho" and "Love Shack" hit single heyday. Not only do they rock harder than ever, their witty retro-ironic antics jibe with today's pop culture landscape in a kooky cool way that vitally resonates even more than it did thirty years ago. That's why the line to elect supersexy Cindy Wilson into the Rock Hall starts here.
Be seeing you!
Sat, October 27, 2018 | link
Saturday, October 20, 2018
JEFFREY MORGANíS MEDIA BLACKOUT #648
JEFFREY MORGAN'S MEDIA BLACKOUT #648.305!
The Monkees – Pisces, Aquarius, Capricorn & Jones Ltd. (RCA) :: While the Beatles and Stones spent 1967 getting doped up and recording their hippy-dippy stoner albums Sgt. Pepper's and Satanic Majesties, these hardcore radical Yankee outlaws were singing about drug pushers ("Salesman"); horny teenage sluts ("She Hangs Out"); a naïve girl getting brutally gangbanged by the Hells Angels ("Cuddly Toy"); promiscuous groupies on the prowl ("Star Collector"); and suburban surreal estate ("Pleasant Valley Sunday"). That's right, a Hells Angels gangbang. Who you gonna believe: me or your own ears?
SIZZLING PLATTER OF ALL TIME: Rolling Stones – Live At Altamont (December 9, 1969) :: And speaking of the Hells Angels, you can watch Gimme Shelter over and over again until the cows come home but you'll never be able to truly understand the horrific tragedy of Altamont until you've lived through this harrowing audio experience.
If anyone in the entire history of rock 'n' roll ever deserves to be awarded a Purple Heart for bravery far above and beyond the call of duty, it's the five anonymous fearless audience members who had the guts to tape the individual pieces that collectively comprise this complete hour and a half concert, which was recorded during the middle of the night in what was, literally, an outdoor combat zone patrolled and brutally enforced by a hostile horde of Hells Angels.
What makes this aural document the most historically important Rolling Stones live concert ever is that, unlike a sterile soundboard tape, this revelatory recording plunges you right into the front row at Altamont as an actual audience member instead of as a safely detached spectator—and it's nothing short of astonishing to hear how rapidly events inexorably deteriorate.
Minutes into the first song one audience member cheerfully says: "Have a good time!" To which another replies with equal ebullience: "You too!" By the third song everything's already irrevocably doomed. "Let me outta here!" someone yells, only to be anxiously told: "There's nowhere to go, man!" When the singer impotently demands to know "who's fighting and what for?" an irate man instantly bellows back at him: "Who do you think?" Next a woman screams: "Get a doctor!"
By the time Sam "Everything seems to be ready, are you ready?" Cutler takes the microphone to announce: "We've also lost, in the front here, a little girl who's five years old" and the band breaks into—wait for it—Jimmy Reed's "The Sun Is Shining," everything has become so surrealistically appalling that you don't know whether to laugh or cry. When they eventually get around to playing "Brown Sugar" in public for the first time, one person has been murdered and who knows how many others have been injured.
"...like one of you could control one little girl..." the singer admonishes.
And the band played on.
Be seeing you!
Sat, October 20, 2018 | link
Saturday, October 13, 2018
JEFFREY MORGANíS MEDIA BLACKOUT #657
JEFFREY MORGAN'S MEDIA BLACKOUT #657.304!
Automan – Backseat Surprise (Unkle Dunk) :: It's a good thing that Darrell Dwarf—double d, geddit?—Miller is a better singer songwriter than he is an album cover designer 'cause his "record design, concept and graphics" suck worse than an unplugged Hoover with a full bag.
And speaking of full bags, I'm all for having some anonymous skirt's double d's displayed on an album cover but the next time around he really oughtta hand-jive some Ohio Players jackets for inspiration first—at least they didn't neuter their nude cover photos by running them as a pseudo-solarized negative image. That said, the music is an appealing power pop pud that owes more than a little to the kind of boozy bar band bombast that made the '70s famous.
MEDIA CULPA: And speaking of the '70s, here's an acidic flashback to the September 1976 issue of Cheap Thrills when I was just a callow youth who wrote the following record review and actually thought it was funny; then again, I did edit the rag, for Pete's sake.
And speaking of Pete Townshend, who recently wrote a public apology for using offensive words like "blacks" and "queers" and "rape" when he wrote Quadrophenia in 1973, I likewise echo his sentiment that: "One day I would be made to apologize. I do so here. Now."
Thankfully, after decades of intense sensitivity training, my writing style has now evolved over the past 40 years to the point where I would never write something as irresponsibly heinous like this today:
SIZZLING PLATTER OF THE WEEK: The Ohio Players – Contradiction (Mercury) :: It's long been a proven scientific fact that all women have brains the size of a pea. I know it, you know it, and the Ohio Players know it. Just like Pleasure; Pain; Fire; Water; Ecstasy; Money; Leather; and Greed before it, Contraception continues the Players' search for the Eternal All-Nite Party and the funky, foxy All-Nite Lay that goes with it in some secluded upstairs bedroom.
I mean, just dig these liner notes: "I'll only use you when absolutely necessary..." Right on! And how about these lyrics: "Women are feminine and that's all right with me 'cause they make my manhood feel good." All right, indeed! And dig that naked broad ridin' that horse inside the fold-out sleeve! Thumpa Thumpa City! You betcha!
Them Ohio Players know that a woman's proper place is either in the kitchen makin' dinner or in the bedroom makin' babies. So keep the OP on the turntable at ALL TIMES 'cause you never know when you just might be in the mood to put your lady in her proper place (and we all know where that is).
Next to the Ohio Players, Barry White is a fag and all women nuthin' but slaves. Do you hear me? SLAVES! Alright, it's time to get down. You know what to do. Now get to it.
Beulah, peel me a grape.
Be seeing you!
Sat, October 13, 2018 | link
Saturday, October 6, 2018
JEFFREY MORGANíS MEDIA BLACKOUT #656
JEFFREY MORGAN'S MEDIA BLACKOUT #656.302!
The Who – "Tattoo" (Decca) :: Best song title ever!
Van Halen – "Tattoo" (Interscope) :: Best song title ever!
The Beatles – "From Me Tattoo" (Parlophone) :: Worst song title ever!
SIZZLING REISSUE OF THE WEEK: The Who – Quadrophenia Maximum: The Director's Cut: Super Deluxe Edition (Polydor) :: This definitive four disc edition of the 'Oo's masterpiece lives up to its exhaustive title by including over two dozen demos plus a profusely illustrated book written by the album's big nosed songwriter that's one hundred English pounds—er, pages.
SIZZLING VIDEO OF THE WEEK: The Who – Live At The Cow Palace (November 20, 1973) :: When the 'Oo went on their 1973 "whirlwind" tour of North America to promote Quadrophenia, they weren't kidding around because within twelve days it was all over but the drinking.
Luckily, this privately recorded two hour black and white videotape—a three camera shoot which was "liberated" from promoter Bill Graham's personal archive—captures the band's opening night in San Francisco as they struggle with a dodgy quadraphonic sound system and a druggy quadriplegic drummer who passes out not once, but twice, after imbibing animal tranquilizers and booze.
Then, with the cameras still rolling, the big nosed guitarist steps up to the microphone and asks the music question: "Is there a drummer in the house?" At which point teenage audience member Scot Halpin accepts the offer, is allowed up on stage, and actually sits down behind Keith Moon's drums. Then things really get interesting.
SIZZLING BOOK OF THE WEEK: Richie Unterberger – Won't Get Fooled Again: The Who From Lifehouse To Quadrophenia (Jawbone) :: Even the biggest 'Oo fan will be impressed by this painstakingly researched digest that comprehensively covers the band's most prolific post-Thomas period. I learned more about the 'Oo in the first 25 pages than I did in the last 25 years! Bonus points for quoting a CREEM Magazine interview that I did with "Old Big Nose" back in 1975 about the 'Oo's legendary rock opera Bible One.
SIZZLING PLATTER OF THE WEEK: Pete Townshend – Live At The Roundhouse (April 14, 1974) :: What makes this audience recording of Pete's first ever live solo concert so charming to listen to is the fact that it actually is a solo performance in that the bulk of the show consists of Pete playing his electric guitar accompanied only by a primitive rhythm generator. "This next one is a little bit more complicated," he says prior to playing "Big Boss Man" as he strives to set the machine to a new preset rhythm. "Fox Trot 2 on the beat box."
The crowd is a rowdy boisterous lot that results in a lot of banter between the artist and his audience of hard core fans. "I come from a rough neighbour'ood," he warns a heckler before launching into an eclectic selection of songs ranging from Jimmy Reed's "Goin' To New York" to Tim Harden's "If I Were A Carpenter" and an even more arcane assortment of 'Oo songs ranging from "Tattoo" and "Happy Jack" to "The Seeker" and "Let's See Action."
He even takes a break to spin two demo recordings of "My Generation" and give a prototypical Professor Pete pontification on how they were made in his home studio. "Note the stutter!" he proudly points out as the first tape plays.
Bonus points for rewriting "Magic Bus" to include this new inspirational insecurity verse: "I'm so nervous, I'm sure it shows. Don't say anything about my great big nose!"
The Who – Bible One (Eel Pie) :: Coming soon!
Be seeing you!
Sat, October 6, 2018 | link
Saturday, September 29, 2018
JEFFREY MORGANíS MEDIA BLACKOUT #645
JEFFREY MORGAN'S MEDIA BLACKOUT #645.297!
Andrew Dice Clay – Dice Rules: Live At Madison Square Garden (Vestron Video) :: Boy, what a difference three decades can make, huh? Vestron Video isn't around anymore and, for the most part, neither is Dice. But this concert film from 1990 shows why he's still the only comedian to sell out Madison Square Garden two nights in a row—and get a standing ovation, before he even says a word, just by shrugging his shoulder and lighting a cigarette. Hey wussa madder you can't take a joke oh!
David Lee Roth – DLR Band (Wawazat!) :: Boy, what a difference two decades can make, huh? Wawazat! Records isn't around anymore and, for the most part, neither is Roth. But this...
Van Halen – A Different Kind Of Truth (Interscope) :: ...never mind.
Various Artists – Insomniac's Electric Daisy Carnival Experience (Ultra DVD) :: This trippy two hour documentary by Kevin Kerslake contains music and performances by Underworld, Chemical Brothers, ReSeT!, N*E*R*D, Kid Cudi, Daft Punk, Will.I.Am, Travis Barker X A-Trak, Swedish House Mafia, Steve Aoki, Simian Mobile Disco, Mstrkrft, Moby, Laidback Luke, Kaskade, Fedde Le Grand, DJ AM, Deadmau5, David Guetta, Boys Noize, Benny Benassi, Afrojack, Above & Beyond, 112th Planet and a whole host of other spell-check challenged band names that may or may not mean anything to you but it behooves me to tell ya that this must see celebration of life is the best audio-visual exhibition yet of how endemic rave culture has become, from the brain bleachin' beats to the far-flung fashions to the theatrical choreographed concepts.
SIZZLING PLATTER OF THE WEEK: Dex Romweber Duo – Is That You In The Blue? (Bloodshot) :: Given Dex's depressionist "Vincent Van Gone" painting on the front and his baleful Victorian gaze on the back, you'd be excused for thinking that this was some kinda downer disc on the inside—but the twangin' saxabilly rave up that opens this album immediately puts a steel-capped boot to that theory. Armed with a hypnotic voice that sounds like a monster mash-up between Iggy "Frankenstooge" Pop and Belá "Lounge Lizard" Lugosi, this here Dexter dexterously dishes out an imaginary Lo-Fi soundtrack to a lost Rodriguez and Tarantino double creature feature that the Cramps never got to score. Bonus points for the Enoesque "Kitchen Utensils" percussion credit given to skin smasher Sara; and for waxing a cover of Billy Boy Arnold's "I Wish You Would" that actually gives Bowie's version on Pinups a run for its money in the sonic corrosion department.
Be seeing you!
Sat, September 29, 2018 | link
Saturday, September 22, 2018
JEFFREY MORGANíS MEDIA BLACKOUT #644
JEFFREY MORGAN'S MEDIA BLACKOUT #644.294!
Maxeen – Maxeen (Side One Dummy) :: Despite having a glam band name and an album produced by vintage Ramones producer Ed Stasium, this album's pretty vacant and I don't care.
2Pac – Nu-Mixx Klazzics (Death Row) :: This grave robbin' rehash vaults Tupac Shakur into first place on the 'Most Records Released By A Dead Musician' list: 293, thus breaking the previous record of 292 which was formerly held by Jimi Hendrix. But once you get past the obvious Slade influence in the album title, there isn't anything else here worth noting unless you want to hear half a dozen new vocalists making topical references to al-Qaeda in an attempt to make Tupes more relevant to a new generation of post-9/11 homies. File under: Slayola.
Foo Fighters – Everywhere But Home (Roswell) :: Anyone else would've popped a few antacids and gotten a quickie divorce but noooooooo. So thank heaven for nagging wives and upset stomachs or else we'd never have this three-hour documentary to kick around. You get so much blast for your buck on this single disc delight that it's kinda hard to know where to begin. The Toronto show? The Washington show? The Reykjavik show? Look, isn't it about time that you recorded over that old VHS copy of Live! Tonight! Sold Out! and stepped into the twenty-first century? Or would you rather take the easy way out—you know, like your denim-clad grunge hero did—and administer yourself an extra strength shot of Terminalin? Nah, I didn't think so.
Natural Dreamers – Natural Dreamers (Frentic) :: Imagine Lou Reed being so depressed in 1966 after the first Velvets album tanked that he loaded up on smack and scotch, stumbled into a studio, and recorded an amateurish half hour of rudimentary jangling discordant instrumentals before finally overdosing. Well, this record is worse.
The Wildhearts – Riff After Riff (Gearhead) :: Ever wonder what KISS would sound like if they were influenced by the Monkees and produced by Todd Rundgren? Me neither.
SIZZLING PLATTERS OF THE WEEK: Ike Turner And The Kings Of Rhythm And Blues – A Black Man's Soul (Tuff City) & Sam And The Soul Machine – Po'k Bones & Rice (Tuff City) :: If you're in the meat market for some ultra fine 'n' funky make-out music to slip on before you slip it in, then these two are right up your back alley. Ike's A Black Man's Soul is a percolatin' slice of pudenda poppin' screwdoo whose trippy spatial stereo separation will have you bouncin' up against the buckboard. Then, just when you think that you've spunked out for the night, "Unca" Sam Henry's previously unreleased organ-driven Po'k Bones & Rice will get you back up and keep you there for the duration. Music so drenched in slick shiny sweatola it could only have been recorded in '69—if you catch my drift.
Be seeing you!
Sat, September 22, 2018 | link
Saturday, September 15, 2018
JEFFREY MORGANíS MEDIA BLACKOUT #643
JEFFREY MORGAN'S MEDIA BLACKOUT #643.287!
Screamin' Jay Hawkins – "I Put A Spell On You" (Grand) :: Amateur.
Suicide – "Frankie Teardrop" (Red Star) :: Amateurs.
Alice Cooper – "I Love The Dead" (Warner Bros.) :: Amateur.
Rolling Stones – "Too Much Blood" (Rolling Stones) :: Amateurs.
David Bowie – "We Are The Dead" (RCA) :: Amateur.
Iggy & The Stooges – "Death Trip" (Columbia) :: Amateurs.
Christina Crawford – Mommie Dearest (William Morrow & Co.) :: Nothing like writing a withering tell-all exposé about your Mother while she's still alive and then waiting to publish it until after she's dead and unable to defend herself. She'll get you, my pretty...
Blue Öyster Cult – "Joan Crawford" (Columbia) :: Now listen up and listen good 'cause I'm here to tell ya that you can forget all about your Screamin' Jay Hawkins moaning "I Put A Spell On You" and your Alice Cooper screaming "I Love The Dead" and your David Bowie crooning "We Are The Dead" and your Mick Jagger camping "Too Much Blood" and your Rob Zombie and your Marilyn Manson and your Stooges and your Suicide and every other Ted Mack's Amateur Hour wannabe wax-recording spook show shockmeister because this is the most humorously horrifying song ever recorded, bar none, son—and I'm talking about humor that's so black it seeps into an ultraviolet vein.
It all begins with an introductory gothic piano solo after which the band steps in to support a set of premonitory apocalyptic lyrics, the likes of which would make Bruce Springsteen roll over and tell Jim Steinman the news:
"Junkies down in Brooklyn are going crazy; they're laughing just like hungry dogs in the street. Policemen are hiding behind the skirts of little girls; their eyes have turned the color of frozen meat. The sky is filled with herds of shivering angels..."
Then comes the scared stiff stutter-step chant that leads up to the caveat chorus:
"No. No, no, no. No, no, no-no-no-no-no-no: Joan Crawford has risen from the grave..."
And as if all that wasn't enough to set the squalid scene, there follows a rapid-fire sound effects montage of coffin-cracking grave-escaping paranormal pandemonium gone wild including: the shriek of screeching tires; an automobile collision; a ringing telephone; a vacuum; a crying baby; ten pins falling in a bowling alley; a crowing rooster; a cash register being rung; a race track bugler; a starting gate bell; howling dogs; a steamship horn; and a burglar alarm that slowly fades into silence as a swirling vortex of scabrous sound heralds Joan Crawford's return from the other side to confront her delinquent daughter:
"Christina... Mother's Home... Christina... Come to Mother... Christina..."
The result is an uncanny audio experience that eerily evokes a mental image somewhere between the shambling misshapen creatures that "Ghastly" Graham Ingles used to draw for EC Comics and the equally unsettling thing waiting on the other side of the door in The Monkey's Paw.
Faye Dunaway – Mommie Dearest (Paramount) :: ...and your little lapdog too!
Be spooking you!
Sat, September 15, 2018 | link
Saturday, September 8, 2018
JEFFREY MORGANíS MEDIA BLACKOUT #642
JEFFREY MORGAN'S MEDIA BLACKOUT #642.285!
Hacienda – Big Red & Barbacoa (Alive) :: Don't let the laconic opening track fool ya 'cause once they get going these mofos are more hyperactive than a gang-bangin' nympho on her backdated birthday—and twice as hot. Bonus points for recording "I Keep Waiting" which is the greatest cross-border song that the Beach Boys never recorded.
The Plimsouls – Live! Beg, Borrow & Steal: October 31, 1981 Whisky A Go Go (Alive) :: Recorded close enough to the end of the '70s to remain a certifiably cool historical document of the times, this one captures the rockin' Plimsouls at their finest as they show why they're the long lost missing musical link in an pop-rock lineage that stretches back to the Beatles and was inherited by Cheap Trick.
Brian Olive – Brian Olive (Alive) :: And speaking of rock royalty, sauntering out of left field like some kinda mutant bastitch offspring between piano-pimpin' Randy Newman and sax-swillin' David Bowie comes this genial gent who sounds like he was born after spending nine months with his sonic sensibilities slowly soaking in a vat of rock 'n' roll.
The Black Keys – The Moan (Alive) :: When I first heard this white boy gitbox and traps duo on the radio whilst driving thought Mississippi, I initially took them to be denizens from the swamp-steeped colored contingency. That's 'cause these four tracks are so stewed in primo distorto in-the-red primitivism it makes Raw Power sound like Wish You Were Here—and if you don't believe me, just listen to their reverbo tremolo cover of Die Stooches' "No Fun" which makes the original sound like it was recorded by the Longenes Symphony.
The Nerves – One Way Ticket (Alive) :: This certified cool catch-all compendium is the definitive must have one disc distillation of the Nerves' late '70s power pop puds. Almost everything you'd want to hear is here including their initial four track extended player; a brace of rare demos; and an overdose of live tracks—twenty songs in all. Bonus points for using vintage liner photos by Bongo Beat Records prexy Ralph Alfonso who, appropriately enough given the content, is Canada's answer to the late great Greg Shaw of Bomp Records fame.
SIZZLING PLATTER OF THE WEEK: Buffalo Killers – 3 (Alive) :: Maybe that's a wily reflection on their band name but, boy, do these guys ever have their vintage Buffalo Springfield sound down pat, with a scoop of classic Neil Young mixed in to make everything go down smooth. Luckily for them, they somehow manage to transcend the comparison by managing to paradoxically come up with their own twangy sound, as witnessed by songs like the short and sweet "Everyone Knows It But You" and the utterly amiable "Circle Day" which is sloppy enough to have a choppy verve and swerve all its own. For what it's worth, there's something happening here. What it is, is exactly clear.
Ramones – It's Alive! (Sire) :: Geddit?
Be seeing you!
Sat, September 8, 2018 | link
Saturday, September 1, 2018
JEFFREY MORGANíS MEDIA BLACKOUT #641
JEFFREY MORGAN'S MEDIA BLACKOUT #641.284!
Paul Rodgers – Live At Montreux: 1994 (Eagle) :: Jeepers Mister Kent! Miss Lane and I were listening to this great new Paul Rodgers compact disc and you should have heard it when Brian May came out on "Good Morning Little School Girl" to shred our ears with some of the gnarliest guitar work you ever heard! Even better was when Mister Rogers did the mandatory crowd-pleasing closers of Bad Company's "Can't Get Enough" and Free's "All Right Now"! But best of all was when he introduced the bass player by asking: "Is it a bird? Is it a plane? No, it's John Smithson"! What do you think of that, Mister Kent?
Black Country Communion – Black Country Communion 2 (Mascot) :: Well, Jimmy, it sounds to me like you'd also enjoy listening to the best hard rock band in the world.
Night Beats – Night Beats (Trouble In Mind) :: Monophonic beach blanket garage music that sounds like it was recorded by Kill Spector in his death row jail cell—and with song titles like "Dial 666" it probably was.
Henry's Funeral Shoe – Donkey Jacket (Alive) :: Pudknockin' power trios are so passé these days 'cause any plugged-in spuzz can make a ton of noise if he's got two guys covering his amp. Luckily, the minimalist in me prefers a power duo just like this two-headed guitar and traps aggregation which cranks out more gritty and grimy blooze rock than you've got a legal right to hear, y'hear?
Mikal Cronin – Mikal Cronin (Trouble In Mind) :: Jing-janglin' pop-infused guitar ditties lacquered with a charming patina of primitivism that'll have you hunkered down and hankering for a hanky, they're that heartfelt.
Radio Moscow – The Great Escape Of Leslie Magnafuzz (Alive) :: This heavy funked-up fuzzbox-infused excursion into the ether is so chock full o'unexpected sonic delights it sounds like some kinda illegitimate sonic offspring of Iron Butterfly and Kyuss. Or is that Blue Cheer and Grand Funk? Either way, it's so terminally trippy that you'll get a contact high just by listening to it.
SIZZLING PLATTER OF THE WEEK: Nathanial Mayer – Why Won't You Let Me Be Black? (Alive) :: What's that? You want to talk about what? Soul? What about soul? You think you know soul? You don't know soul. You've got what? Stax? Motown? Please. Don't embarrass yourself. That's not soul. That's showbiz. As processed as a pomaded 'do. You want soul? You want Nat Mayer. Now that's soul. Rough. Raw. Soul. Of course he looks old. Man lived almost six and a half decades before he went to see the Lord. He's doing more for soul dead than you're doing alive. What's that? Well, you could listen to his record for one thing. Might learn something. Be like soaking your head in some brains. What's that?
Be seeing you!
Sat, September 1, 2018 | link
Saturday, August 25, 2018
JEFFREY MORGANíS MEDIA BLACKOUT #640
JEFFREY MORGAN'S MEDIA BLACKOUT #640.283!
Elvis Presley – Fun With Elvis On Stage (RCA) :: Wherein the record company that gleefully gave the world Lou Reed's Metal Machine Music—a quadraphonic two album set consisting of nothing but over an hour's worth of relentless shrieking atonal feedback—cheerfully compounds the fracture by also issuing for your listening pleasure this non-singing, non-dancing, all-talking monophonic two sided album which ain't nuthin' but a haphazard cut-and-paste forty minute audio collage of Elvis goofing around with his screaming audiences between songs.
As far as audio car crashes go, it's kinda like listening to the Rolling Stones' Get Yer Yas Yas Out! if that album contained nothing but the bantam singer's banal banter. I mean, can you see any difference between Mick Jagger saying: "Ah think ah bust a button on mah trousers; hope they don't fawl down" and Elvis Presley saying: "My belt's falling off, my suit's getting too big... You know what I can't do? Get my belt tightened up." Nah, I didn't think so.
It reminds me of the time back in 1970 when I saw the Jefferson Airplane and Grace Slick kept asking if anyone in the audience had a safety pin because her red dress kept falling down and she—but I digress.
One thing you do have to give Elvis credit for is that he always appears lucid enough to know where he is and what he's doing at all times, as witnessed by the following extraordinary moment when he stops the proceedings to candidly confess: "I don't know what happened, folks; I just go nuts sometimes" before rhetorically asking: "You didn't know you were coming to see a crazy man, didja?" and then concluding: "They'll put me a straight jacket and take me away."
SIZZLING PLATTER OF THE WEEK: Lindsay Buckingham – Seeds We Sow (Eagle) :: Lindsay sure don't look none too happy on the album cover where his doleful demeanor is made manifest by the tense white-knuckle stranglehold death grip he has on his guitar. And while that may sound like a recipe for unbridled musical melancholia, the good news is that this is the most enjoyable and eccentrically ingenious melancholy album you'll hear this side of Unca Lou's Berlin or Unca Neil's Tonight's The Night or Unca John's Fear. Bonus points for daring to transform the Stones' saccharine "She Smiled Sweetly" into a deeper and far more dangerous realm of heartfelt desperation. Mmm-mmm-good!
Be seeing you!
Sat, August 25, 2018 | link
Thursday, August 23, 2018
JEFFREY MORGANíS ROCK íNí ROLL PHOTOGRAPHS

JEFFREY MORGAN'S ROCK 'N' ROLL PHOTOGRAPHS

While you're visiting, don't forget to view the dozens of essential selections from my vast archive of hundreds of extremely rare and previously unseen rock 'n' roll photographs from the 1970s and 1980s—all of which were taken by myself from my front row center seat at various venerable venues; vintage historical portraits which include the following rock stars caught in their youthful prime:

David Bowie (1976 Station To Station tour) :: Lou Reed (1974 Sally Can't Dance tour) :: Iggy Pop (1977 The Idiot tour) :: Bob Dylan (1978 Street Legal tour) :: George Harrison (1974 Dark Horse tour) :: Paul McCartney (1976 Wings Over America tour) :: Pete Townshend (1976 The Who By Numbers tour) :: Johnny Winter (1976 Captured Live! tour) :: Jeff Beck (1975 Blow By Blow tour) :: KISS (1977 Love Gun tour) :: Alice Cooper (1975 Welcome To My Nightmare tour) :: Freddie Mercury (1977 News Of The World tour) :: Amanda Lear (1975 Sweet Revenge tour) :: Rod Stewart (1977 Foot Loose & Fancy Free tour) :: Mick Jagger (1975 It's Only Rock 'n Roll tour) :: New York Dolls (1975 Tokyo Dolls Live tour) :: Keith Richards (1975 It's Only Rock 'n Roll tour) :: Ian Hunter (1989 YUI Orta tour) :: Elton John (1974 Caribou tour) :: Mick Ronson (1989 YUI Orta tour) :: Steven Tyler (1977 Draw The Line tour) :: Sparks (1975 Indiscreet tour) :: James Brown (1986 Gravity tour) :: Miles Davis (1985 You're Under Arrest tour) :: Roger Daltrey (1976 The Who By Numbers tour) :: Bruce Springsteen & Clarence Clemons (1975 Born To Run tour) :: John Entwistle (1976 The Who By Numbers tour) :: Keith Moon (1976 The Who By Numbers tour) :: The Who (1976 The Who By Numbers tour) :: and more!

Ask any dealer and he'll tell you that the best way to get someone hooked on your product is to give them a free sample, so here's just a small taste of what's coming your way when you click on the eleven gallery links to your left: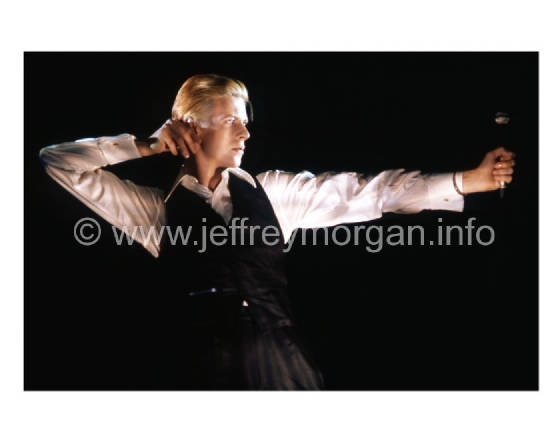 Thu, August 23, 2018 | link
Saturday, August 18, 2018
JEFFREY MORGANíS MEDIA BLACKOUT #639
JEFFREY MORGAN'S MEDIA BLACKOUT #639.282!
Sly & The Family Stone – Woodstock (Atlantic) :: Everybody's got their own favorite musical Woodstock moment and this hyperactive fourteen minute medley remains mine. Not only will the sheer level of exuberance on display keep you up at night for weeks, just one listen is convulsively callisthenic enough to make you shed all those excess pounds in the process. Say, whatever happened to Sly Stone anyway?
SIZZLING PLATTER OF THE WEEK: Sly Stone – I'm Back! Family & Friends (Cleopatra) :: 30 YEARS IN THE MAKING and ALL NEW RECORDINGS brazenly blares the superhype cover sticker only to 'fess up with a back cover blurb which admits that this ain't nothin' but an elpee of re-recorded gazillion year old greatest hits—and don't that just sound like a misguided recipe for sonic disaster even if it is ably aided and abetted by a buncha high profile guest stars ranging in rank from Jeff Beck and Ray Manzarek to Bootsy Collins and Johnny Winter?
Little Richard once pulled a similar stunt when he re-recorded his greatest hits live in the studio for a package called, oddly enough, Little Richard's Greatest Hits Recorded Live. And although that album actually managed to buck the odds by being the amped-up equivalent of his earlier studio work, let's face it: rare is the time that such revised recordings actually work—which is why I'm pleased as punch to report that this one works just as well.
The first reason why it works is because, like Richard's record before him, Sly's timeless classics are beyond any revisionary butchering.
The second reason is that the hired gun choices are well thought out vis-à-vis which song they're assigned to. F'rinstance, having Manzarek do the organ work on "Dance To The Music" is an inspired move that turns mischievous when he has the temerity to start his solo by tossing in the riff from "Light My Fire." Equally enthused is veteran saxsmith Ernie Watts' wailing work on "Stand!" And if John Dawson's work on "Thank You" is relatively invisible due to a mix down mishap, whatcha gonna do, brother, when Beckamania runs wild over "(I Want To Take You) Higher" with an insane outta control high octane intensity that sets the stage for his fellow Bootzilla Orchestra confrere Mister Collins, who likewise stomps all over "Hot Fun In The Summertime" with his registered trademark bass and vocals.
The third reason is that Sly's voice, while ragged, remains right enough to strike the proper funky tone just like it used to do.
In other words, I'm Back! is a sly way of reintroducing Sly to a brand new crowd. Whether it'll foreshadow a fresh era of Sly Stone musical inventiveness is anyone's guess but, despite his past proclivities, I sure wouldn't bet against the cat, would you?
Bonus points for indulgently including some radical eletrodub mixes that'll have you bouncing off the walls so fast it'll make your head spin.
Be seeing you!
Sat, August 18, 2018 | link
Saturday, August 11, 2018
JEFFREY MORGANíS MEDIA BLACKOUT #638
JEFFREY MORGAN'S MEDIA BLACKOUT #638.281!
Terry Riley – A Rainbow In Curved Air & Persian Surgery Dervishes (Columbia) :: Terry is the "Riley" in the Who's "Baba O'Riley" because he's the visionary musician who influenced Pete Townshend's ARP synthesizer sequencer work on Who's Next—and both of these innovative electric organ albums are the unrivaled apex of trippy hypnotic meditative trance music. By way of contrast, 1966's landmark A Rainbow In Curved Air is an iridescent triumph of intricate studio overdubbing while Persian Surgery Dervishes is an extraordinary amalgamation of two live performances that Riley gave in 1971 and 1972. Just make sure that you listen to both albums either through headphones or with your ears strategically spaced between two speakers to properly experience the full spiritual stereophonic effect.
Steve Reich – "Come Out" (Nonesuch) :: Now your mind is sufficiently lubricated to take on this equally-epochal phase-shifted spoken word transmogrification.
Bill Cosby – Is A Very Funny Fellow...Right! (1963) - I Started Out As A Child (1964) - Why Is There Air? (1965) - Wonderfulness (1966) - Revenge (1967) - To Russell, My Brother, Whom I Slept With (1968) (Warner Bros.) :: Others may have been the Rolling Stones or Doors of stand-up comedy but, back in the seminal '60s, Bill Cosby was the undisputed trend-setting ground-breaking Beatles of stand-up—and these six albums, released in six consecutive years, the latter half of which were recorded while Cos was co-starring with the equally urbane Robert Culp in I Spy, prove it. If you haven't heard them in decades, then it's about time that you heard them again. And if you've never heard them, then it's imperative that you do because Wonderfulness; Revenge; and To Russell, My Brother, Whom I Slept With are to comedy what Rubber Soul; Revolver; and Sgt. Pepper's Lonely Hearts Club Band are to music. And speaking of musical comedy...
SIZZLING PLATTER OF THE WEEK: Bing Crosby & Dinah Shore & Bob Hope & Frank Sinatra & Judy Garland & Jimmy Durante & The Andrew Sisters & Frank Morgan & Jerry Colonna – Dick Tracy In B Flat (Armed Forces Radio Service) :: This hour-long episode of Command Performance, which was originally broadcast to our brave men and women in uniform on Valentine's Day in 1945, is available as a free 'old time radio' public domain download and proves that they really don't make 'em like they used to. After all, where else can you hear Crosby as Dick Tracy and Hope as Flattop, exchanging dialogue like this:
HOPE: Drop that gun and turn around, Tracy!
CROSBY: If that voice belongs to who I think it does, I may never turn around.
HOPE: What a pleasure. I've always wanted to have a gun in this guy's back.
CROSBY: Yeah, and you can pull it up a little, too.
HOPE: Sorry, I was gonna blow your brains out.
Be seeing you!
GARLAND: Flattop, I appeal to you on bended knee!
HOPE: Kid, you appeal to me in any position.
Sat, August 11, 2018 | link
Saturday, August 4, 2018
JEFFREY MORGANíS MEDIA BLACKOUT #637
JEFFREY MORGAN'S MEDIA BLACKOUT #637.280!
Sonics Rendezvous Band – Live, Masonic Auditorium, Detroit, January 14, 1978 (Alive) :: This exhilarating, apostrophe deficient, comma-clad, louder than life lease-breaker was recorded in living mono on a lousy Maxell C-90 audiocassette and yet I still keep playing it habitually. Now that's what I call the hallmark of a truly great live rock 'n' roll album—and so will you as soon as you hear it.
SIZZLING PLATTER OF THE WEEK: James Williamson & Iggy Pop – Kill City (Alive) :: I bought this long-lost missing link between Raw Power and The Idiot when it first came out some zillion years ago, at which point I lauded it as quite the auditory accomplishment. But that's nothing compared to how enthused I am about Kill City now that it's finally been remixed from the original masters under the watchful eye of album producer Straight James himself—even if he isn't actually credited as such on the record; you can trust me on this one, folks.
You can also trust me when I tell ya that the new and drastically improved sound is more potent than a broken beer bottle heaved at your bobbing peroxide head. Purists may be peeved that a few songs get fiddled around with by fading up a few new multi-tracks in lieu of the older ones—most notably during the guitar passages on "Kill City"—but no matter how much you may have the original vinyl version burned into your brain, I guaranteed that your noggin will gladly accept these new values after only a few rotary motions. And while we're talking about the title track, it behooves me to point out that the handclaps now crack as crisply as a snappin' slave ship whip while the ragged backing vocals actually have a dissipated Exile On Main St. edge to them. Oh, and did I forget to mention the barely audible part of the proceedings wherein an agitated Igg apes Williamson's unreasonably abrasive guitar fills with his own inimitable imitative vocal screech just before he begins the vocals? I thought not.
As for the rest of the album—from the sax-soaked noir ballad of inoperable obsession "Johanna" to the clued-up cautionary street-walkin' tale "Sell Your Love"—Kill City remains a achingly mature work that eschews the brainy turn-of-phrase lyrics and brutal turn-of-stomach music of Raw Power in favor of a far more thoughtful and elegiac eleven step program of sanity survival.
And if things didn't quite work out exactly as planned, don't fault the two primary participants because they gave it their best shot while laboring under a stacked deck of circumstances that would've crushed lesser mortals like you and I into dust. That both James Williamson and Iggy Pop not only managed to subsequently survive but successfully thrive only proves that they are the greatest.
Iggy & The Stooges – Raw Power (Columbia) :: Because man does not live by achingly mature work alone.
Be seeing you!
Sat, August 4, 2018 | link
Saturday, July 28, 2018
JEFFREY MORGANíS MEDIA BLACKOUT #636
JEFFREY MORGAN'S MEDIA BLACKOUT #636.279!
Tiesto – Just Be (Magic Music) :: Eh, what a maroon. The sticker on the front cover brags that Tiesto's "The #1 DJ In The World" yet he begins track one with over three minutes of aimlessly anemic synthesized symphonic string music that would make even Jean Michael Jarre cringe with embarrassment. Three minutes? Dude, you lost your bass and drum audience at the 15 second mark. And take a letter, Maria: we like our B&D tracks blended and crossfaded into a single cohesive soundscape, not individually separated. Oh, and one more thing: if you're going to steal your album cover from Eno's Before And After Science, then you'd gosh darn well better live up to it instead of dishing out the usual high-hat disco dross clichés.
SIZZLING VIDEO OF THE WEEK – SIDE ONE: The Beatles – Let It Be: Deluxel 35mm Widescreen Stereo Edition (Double D) :: After spending big chunks of change to finally restore the Let It Be movie for public consumption, it figures that Paul and Ringo would then get cold feet and veto its release on the grounds that it makes the band look bad. Which is a nice way of saying that they both watched it and were horrified to find that it makes the bassman look like a domineering boss man and the drummer decidedly comatose.
Luckily you can watch this release instead, which is the most pristine copy you'll ever find—especially since it includes not only the original thin theatrical soundtrack but a new and vastly improved digital one that's been synced to the studio stereo multitracks and the original Nagra tapes. The back cover blurb says that the source material is a videotape which was recorded when the film was shown in widescreen format on the BBC back in 1982, but don't you believe it because the high visual quality says that this came from a good telecine of an original 35mm print. My friend, can you prove otherwise?
SIZZLING VIDEO OF THE WEEK – SIDE TWO: The Beatles – Get Back: The Outtakes (Double D) :: And while you're at it, make sure that you pick up this definitive two disc collection of Twickenham and Apple outtakes which contains just about everything that you'd want to see, from the infamous Goon Show encounter wherein a smack-smitten Lennon dispenses some timely personal advice to a bathroom-bound Peter Sellers: "Just don't leave the needles lying around, you know. We've got a bad reputation now with John getting busted and that!" to the mixing board moment when the band decides to release "Get Back" as their next 45:
George: Let's put it out as a single.
John: Okay, let's knock it off as a single then.
George: What was the last single?
Paul: "Hey Jude."
George: Let's finish it off as a single.
Paul: [slyly smiling] Oh yeah?
John: We'll do "Part Two" on the backside.
Paul: [slyly smiling] I'm easy, lads.
Ringo: zzzzzzzz
Be seeing you!
Sat, July 28, 2018 | link
Saturday, July 21, 2018
JEFFREY MORGANíS MEDIA BLACKOUT #635
JEFFREY MORGAN'S MEDIA BLACKOUT #635.278!
Alice Cooper – Alice Cooper Goes To Hell (Warner Bros.) :: Amateur.
Anna Atkinson – Mooniture (self released) :: So I'm spinnin' the first song and suddenly thinking that, no, the absolute last thing I wanna do is say that Anna is the new Nico 'cause she seems to be way too normal to be saddled with that kind of calamitous tag. But every time I hear the viola sonorously slither up beside her, I get flummoxed into thinking that I'm listening to some kinda vintage John Cale creation before remembering that, no, Anna seems to be way too normal to be saddled with that kind of calamitous tag. And then I'm spinnin' the second song which starts: "The inside of my head sounds like a choir of trumpets ever since the accident" and suddenly I'm thinking that, yes, Anna is the new Nico 'cause she's way too abnormal to be saddled with anything less than that kind of calamitous tag.
AC/DC – Highway To Hell (Atlantic) :: Amateurs.
Desmond Grundy – Oddly Enough (self released) :: So I'm spinnin' the first song and suddenly thinking that, no, the absolute last thing I wanna do is say that Desmond is the new Lou Reed 'cause he seems to be way too normal to be saddled with that kind of calamitous tag. But every time I hear the gnarly destorto guitar grinding up behind him, I get flummoxed into thinking that I'm listening to some kinda vintage Velvet Underground gradation. And suddenly I'm thinking, yes, that's cool because nobody sounds like Unca Lou anymore—not even the old reprobate himself 'cause he's way too normal these days to be saddled with that kind of calamitous tag.
Diamanda Galás – You Must Be Certain Of The Devil (Mute) :: Amateur.
SIZZLING PLATTER OF THE WEEK: Notar – Devil's Playground (Tyrannosaurus) :: When it comes to writing and rapping, Notar can go toe to toe with the best of 'em and then best the rest of 'em. What immediately elevates this admirable effort above and beyond all other recent rap records is the sheer ambitious scope of the studio production coupled with an accompaniment of eclectic instrumentation that effortlessly oscillates from track to track between hot snatches of Prince-style synthesizer; deep scratches of melodramatic Queen choir backing vocals; and wet splashes of Zeppelinesque guitar and strings.
But what really anchors the proceedings with a rock-solid foundation are the songs, which range in rage from the sulfuric subject matter of the cautionary title track to the social satire of the anthemic "Alcoholic" to the so-goofy-it's-great musical history lesson "Perseverance" which dares to narratively name-check a whole gaggle of groups from the Yardbirds and Velvets to Boston and Rush. Now that's what I call being a professional. Bonus points for having a name that, backwards, reminds me of a 1976 comedy album title.
Bill Cosby – Bill Cosby Is Not Himself These Days Rat Own Rat Own Rat Own (Capitol) :: Riiight!
Be seeing you!
Sat, July 21, 2018 | link
Saturday, July 14, 2018
JEFFREY MORGANíS MEDIA BLACKOUT #634
JEFFREY MORGAN'S MEDIA BLACKOUT #634.276!
Alyssa Reid – The Game (Wax) :: "I didn't see that coming" says a stock-sampled voice at the end of the first track, and it sure knows whereof it speaks because this one starts out with a plaintive solo piano paean in the sensitive style of Tori Amos only to shift into a brief church choir vamp that hints at a potential future as an art rock practitioner. Then everything belly-flops into a generic mung of breathy squeaky-voiced girl power angst-ridden ballads and mandatory guest star macho raps, all of which come straight outta Xerox Studios complete with embarrassing cringe-inducing lyrics like this one: "I feel like Spider-Man, you got me flyin' offa the wall." Calling Doc Ock!
Ramones – "Spider-Man" (Sire) :: Julie Taymor should've hired these guys instead. So what if they're all dead? They'd still do a better job.
UME – Phantoms (Modern Outsider) :: And so would these guys 'cause they crank out a power pop pulse that has absolutely everything you want to hear as the summer winds down and the winter winds up—and that includes a surfeit of jing-jangly guitars; chirpy-chick vocals; and skin-slammin' beats to keep your ten toes aligned and tappin' in time. Even better, they're not adverse to shifting gears and submerging into an echoing ethereal environment of evocative emotion. You know, kinda like a midnight meeting of the minds between Portishead and Sandii & The Sunsetz.
SIZZLING PLATTER OF THE WEEK: The Doobie Brothers – Live At The Greek Theatre: 1982 (Eagle) :: Brothers and sisters, I'm ashamed to admit it now but, back in the day, I had no time for these guys—which only goes to show what kind of a snooty stuck-up snob I was. Maybe if they'd called themselves the Coke Brothers instead, I might've been interested. And you can bet your bottom dollar that an old Glam Rock adherent like myself would've been there in a Jobriath heartbeat had they gone the blown tranny route and called themselves the Smack Sisters. Heck, even an inner city moniker like the Crack Cousins could've caught my attention but, c'mon, the Doobie Brothers? Oh, pshaw; it is to laugh.
Well, better late if ever I always say—and that's why I'm man enough to 'fess up and admit that I was as wrong as wrong can be when I lifted my leg on these guys 'cause this is one of the hottest and downright funkiest live albums I've ever had the pleasure of playing. Shucks, even the smooth-as-silk make out ballads have enough pudenda-pounding potential to make you wanna conduct your own baton-brandishing bedspring symphony, if you catch my drift. But whatever you do, don't make the same mistake that I did. Go out and buy this raucous rip-roarin' record now, while there's still time to save your musical soul.
I guess I should've listened to Frampton Comes Alive and Saturday Night Fever when they came out, too, huh?
Be seeing you!
Sat, July 14, 2018 | link
Saturday, July 7, 2018
JEFFREY MORGANíS MEDIA BLACKOUT #633
JEFFREY MORGAN'S MEDIA BLACKOUT #633.275!
Jim Morrison music by The Doors – An American Prayer (Elektra) :: Morrison Hotel may be the apex of his Doors career but, if you ignore the superfluous bonus tracks and stick with the original vinyl incarnation, this is Jimbo's finest solo moment, however posthumous. His surviving band mates did him good by crafting an album that's so restrained it sneaks up on you every time you think you've got it memorized. It's just too bad that the singer himself never got to hear it becaus—oh, that's right, I almost forget: Jim is alive, man!
Bad Company – Live At Wembley (Eagle) :: I saw them in the '70s on their first North American tour as the opening act for someone—maybe it was Screaming Lord Sutch—and they were so good that I walked out before the headliners even hit the stage—possibly it was the Masked Marauders—and went straight to my friendly neighborhood record store; shelled out $2.99 to buy a copy of their debut album; headed home; slapped it on the old Victrola; and was shocked by how dead ass dull it was compared to their dynamic live show. Well, this new offering is the butane barn-burner I expected to hear that night, from Paul Rogers' hyper-studly "Can't Get Enough" to Mick Ralph's Hoople-standard "Ready For Love" and beyond. Wait, I remember, it was Cat Mother and the All Night Newsboys!
The Prodigy – Live: The World's On Fire (The End) :: The only band that matters never sounded as bludgeoningly brutal as they do on this audio-video twofer. When the singer sagely says: "I hear thunder but there's no rain! This kind of thunder breaks walls and window panes!" he ain't talkin' about unbridled nature, he's talkin' about an unnatural aural assault propelled by a bowel-buffeting bass that's so severe it makes the bottom end on "Instant Karma" sound like a crumpled ball of tin foil by comparison. Despite ostensibly being a tour souvenir album inevitably infused with a surfeit of songs from Invaders Must Die, all the global game changers are accounted for, including the iconic "Firestarter" and the heroic "Smack My Bitch Up." The real Prodigy experience, however, is on the second disc's full-length video, which readily redefines what a live performance oughtta be.
SIZZLING PLATTER OF THE WEEK: James Lee Stanley and Cliff Eberhardt – All Wood And Doors (MVD Audio) :: Already they're calling this one a CSN version of the Doors, but that's just lazy shorthand by so-called "music journalists" who never heard of the Kingston Trio. C'mon, c'mon, c'mon, c'mon now; trust me, Babe: can't you see that I am not afraid to say that this tastefully acoustic guitar session is nothing less than a bluesy stripped-down symposium that showcases how truly timeless their greatest hits really are? Bonus points for being accompanied by erstwhile Doors members Robbie Krieger and John Densmore; plus previous Monkee Peter Tork. Hey hey, they're the Doorkees!
Stronger than dirt!
Sat, July 7, 2018 | link