Sunday, December 1, 2013
JEFFREY MORGANíS MEDIA BLACKOUT #396

SLUSH PILING JEFFREY MORGAN'S MEDIA BLACKOUT #396!

Jimmy Lynch – Nigger Please! (MVD Audio) :: Colorful!

Dweller – Good Morning Harakiri (Small Stone) :: Dawning!

Little Suns – Normal Human Feelings (High Romance) :: Illuminormal!

Deville – Hydra (Small Stone) :: Minky!

Redd Foxx – I Ain't Lied Yet! (MVD Audio) :: Truthful!

Larman Clamor – Frogs (Small Stone) :: Leaping!

Destroy This Place – Destroy The Place (Bellyache) :: Razing!

Dixie Witch – Let It Roll (Small Stone ) :: Spellbinding!

These Hearts – Yours To Take (Victory) :: Rending!

Five Horse Johnson – The Taking Of Black Heart (Small Stone) :: Captivating!

Sister Sin – Now And Forever (Victory) :: Eternal!

Sun Gods In Exile – Thanks For The Silver (Small Stone) :: Ramrodding!

The Virgin Marys – King Of Conflict (Wind-Up) :: Clashing!

Gozu – The Fury Of A Patient Man! (Small Stone) :: Raging!

Canned Heat – Live At Montreux 1973 (Eagle) :: Sterno!

Mother Of God – Anthropos (Small Stone) :: Ricoized!

Penguin Prison – Penguin Prison (Downtown) :: Elegant!

Momantha – Backwoods Payback (Small Stone) :: Squealing!

Don Nix – Living By The Days (Real Gone Elektra) :: Hawtlix!

Lord Fowl – Moon Queen (Small Stone) :: Lunachix!

Counterparts – The Difference Between Hell And Home (Victory) :: Parsing!

Lo-Pan – Salvador (Small Stone) :: Hi-Praise!

Sister Sin – Dance Of The Wicked (Victory) :: Gavotting!

Skanska Mord – Paths To Charon (Small Stone) :: Styxxy!

The Duke Spirit – Bruiser (Fiction) :: Two-Fisted!

Freedom Hawk – Holding On (Small Stone) :: Soaring!

Tear Out The Heart – Violence (Victory) :: Rending!

Nightstalker – Dead Rock Commandos (Small Stone) :: Kolchakking!

Bushmaster – Revolution Rhapsody (self released) :: Raptivating!

Abrahma – Through The Dusty Paths Of Our Lives (Small Stone) :: Chartopping!

Skillet & Leroy & Lawanda Page – 2 Or 3 Times A Day (MVD Audio) :: Insatiable!

Green Leaf – Nest Of Vipers (Small Stone) :: Biting!

SIZZLING PLATTER OF THE WEEK: Thomas Alexander – Piano Madness (self released) :: Gershwinnner!

Be Seeing You!
Sun, December 1, 2013 | link
Sunday, November 24, 2013
JEFFREY MORGANíS MEDIA BLACKOUT #395

I'LL KEEP IT WITH JEFFREY MORGAN'S MEDIA BLACKOUT #395!

Bob Dylan – Selfie (Columbia) :: As if remixing old albums wasn't bad enough, now they're retitling them.

John Foxx – Metamatic (Metal Beat) :: This decades ahead of its time concept album about the Kennedy assassination contains automated metal machine music that's so charmingly cold and coolly calculating it makes Gary Numan sound positively human by comparison. It's the perfect gift for the conspiracy theorist on your holiday shopping list who has everything—and so is this:

Vincent Bugliosi – Reclaiming History: The Assassination Of President John F. Kennedy (Norton) :: One volume. Five pounds. 1,600 pages. 1,000 additional pages of supplementary notes and sources on two portable document files on one compact disc. All this plus the greatest conspiracy joke on page 1,489? Case closed!

Andrew Lloyd Webber & Mick Jagger – Tumbling Dice, Superstar (Bialistock & Bloom) :: Which twin wins the Tony? Neither one since "Tumbling Dice! Tumbling Dice! Who are you? What have you sacrificed?" is the world's worst ill-advised Broadway lyric ever.

Various Artists – Annie: The Musical: The New 2012 Broadway Cast Recording (Shout! Factory) :: Because as every rock critic knows, you're never fully dressed without a simile.

SAINTLY PLATTER OF THE WEEK: The Sojourners – Sing And Never Get Tired (Little Pig) :: I saw these three cool cats strutting their barn burning stuff at Folk Alliance earlier this year so I'm more than pleased to testify that they've got a brand new long player out that continues to showcase their unique style of gospelized funk-fuelled spiritual three part harmonies. So do yourself a very big favor and pick up on what these number one soulful brothers are putting down because you could do a lot worse than spend some of your finite heartbeats listening to The Sojourners. Indeed, you probably already have so spin this platter pronto and set yourself on the road to redemption before it's too late!

SIZZLING PLATTER OF THE WEEK: The Flowers Of Hell – Odes (Optical Sounds) :: Word has it that Unca Lou loved this thematic tribute album to himself that came out in 2012—and rightly so, given that it cannily coalesces the best of his Velvet Underground excursions with some rare solo transmogrifications such as a rare first draft early lyric interpretation of "Walk On The Wild Side" that's well worth the price of admission alone. But Lou's dead so you'll have to take my word for it in 2013 that this is now the most poignant Lou Reed tribute album you'll hear this year. Bonus points for including a Nicoized version of "Mr. Tambourine Man" that would've sounded right at home on Chelsea Girl.

Be seeing you!
Sun, November 24, 2013 | link
Sunday, November 17, 2013
JEFFREY MORGANíS MEDIA BLACKOUT #394

DIANE, I'M READING JEFFREY MORGAN'S MEDIA BLACKOUT #394!

Nirvana – In Utero: The 20th Anniversary Super Deluxe Edition (DGC) :: As if it wasn't already one of the most intelligently and psychotically abrasive fingernails across a chalk board rock albums ever recorded, along comes Big Black guitarist and original producer Steve "Skinng" Albini to make it an even more intelligently and psychotically abrasive fingernails across a chalk board rock album. Ah, but is it the most intelligently and psychotically abrasive fingernails across a chalk board rock album of all time?

Big Black – Songs About Fucking (Touch & Go) :: Of course not.

SIZZLING ALBUM OF THE WEEK: Ollie Vee – Lonesome Girl (Dang Snapit) :: Here's a tattooed up the wazoo chicka-boom trio that knows how to slap an album design together and then slap a like-minded record inside it that easily evokes the album cover aesthetic that shows a tarted up solitary skirt longingly looking out a hotel room window at the obligatory blinking red neon sign that's bathing her deep blueness in shards of cascading crimson like she's in an Edward Hopper painting.

Lissen, any song that begins with the line: "Well, we get hopped up every night" like "Looking For A Fast Time" does is my kinda album. But lest you go thinkin' that this is some kinda Tonight's The Night dour downer, lemme tell ya that it's an uptempo rock-a-billy rave up that owes its more melancholy moments to the David Lynch and Angelo Badalamenti produced Floating Into The Night album that songstress Julee Cruise waxed way back in 1989. In fact, this entire baker's dozen of slinky swinging songs would be right at home on the jukebox at the Double R Diner. And if you don't believe me, just ask Norma Jennings the next time you drop by for a slice of cherry pie and—excuse me—a damn fine cup of coffee.

So if any wiseacre tries to brace you into thinking that Ollie Vee's Lonesome Girl is some kinda tremolo tribute to the late lamented likes of Roy Orbison or Handsome Ned, well, you just blow a thick pardon my dust plume of second hand smoke into their smug mugs 'cause hep cats like us, we both know a whole heckuva lot better, don't we? That'll be the day.

John Wayne – The Searchers (Warner Bros.) :: Exactly!

Kyle MacLachlan – Diane... The Twin Peaks Tapes Of Agent Cooper (Simon & Schuster Audio) :: Available, appropriately enough, only on analog audio cassette and nominated for a best spoken-word performance Grammy Award in 1990? Even the Lynchpin himself couldn't dream up something as wonderfully wonky as that.

I'll see you again in 25 years. Meanwhile...
Sun, November 17, 2013 | link
Sunday, November 10, 2013
JEFFREY MORGANíS MEDIA BLACKOUT #393

LIVE'R THAN JEFFREY MORGAN'S MEDIA BLACKOUT #393!

The Rolling Stones – 1962-2013 (51 Year Anniversary) :: "The Rolling Stones lasting twenty, thirty years—what a stupid idea that would be." – Lester Bangs, CREEM, December 1973

The Rolling Stones – Sweet Summer Sun: Hyde Park Live 2013 (Eagle Rock) :: Lissen bub, when it comes to historical audio-visual documentation, me and the Rolling Stones, we go way back.

That live archival audience recording of the Stones' matinee show at Maple Leaf Gardens on July 15, 1972 that's been making the bootleg rounds for the past forty years? Three guesses who tape recorded it from the Gardens' press box and has the two original audio cassettes and the press pass to back up his brag? You betcha boots.

Think you've seen every Rolling Stones photograph there is to see? Three guesses who shot close to two hundred color transparencies and black and white negatives of the Stones in 1975 and then promptly filed them away for safe keeping in a bank vault where they've remained sight unseen for the past forty years? You betcha boots.

So when it comes to the cinematic side of things, "that's no big surprise" that I've seen 'em all on The! Big! Screen! from Gimme Shelter and CS Blues to Ladies & Gents and Crossfire Hurricane—and if you've never seen any of those aforementioned flicks projected large'r than you'll ever be, then you just haven't seen them, son.

But don'tcha let an elitist attitude like that stop you from perusing the Stones' latest life affirming concert film which conceptually picks up where the end of Crossfire left off—and when I say "life affirming" you best believe that I dang nab mean life affirming. And you can set aside the ancient age factor 'cause these chain-smoking cats are spryer than a spring chicken on a roof of hot rocks, lemme tell ya. Louder, too.

But nobody ever attends a Rolling Stones concert just for the music, even if the band does play all their greatest hits with note-perfect precision, just like they did on the original studio recordings. So when it comes to matters of sartorial splendor, there are no flies on the singer who easily evokes the past by wearing a long-sleeved black top that's strikingly similar to the one he donned during the '69 tour, minus the astrological symbol. Then he daringly slips into something a little more comfortable; namely, a shortened knock off of the blousy white dress that he unabashedly adorned when he was reciting Shelley during his first Hyde Park performance—a few lines of which he also nostalgically reiterates for the poetry buffs in attendance. Why, he even goes so far as to tell the audience how "beautiful" they are in a nod to his infamous stage patter at Altamont.

All this plus the only guitarist to leave the Rolling Stones and live, Mick Taylor? You betcha boots, which is why not only is this the greatest retrophonic Rolling Stones concert film released this year, it's the perfect DVD gift for that recidivist reprobate on your seasonal shopping list who missed seeing it on The! Big! Screen!

So feel free to go ahead and disregard that above-noted short-sighted Bangsian quote because you don't have to be a staunch Stones supporter to know that they'll still be straddling stages and doing it to death a mere nine years from now when they saddle up for their 60th Anniversary Tour. After all, if the past half century has taught us anything, it's that you should never sell the Rolling Stones short when it comes to making music and making money.

Oh, and three guesses what song 70-year-old Mick "I Don't Want To Be Singing 'Satisfaction' When I'm 40" Jagger signs off with? You betcha boots.

Be seeing you!
Sun, November 10, 2013 | link
Sunday, November 3, 2013
JEFFREY MORGANíS MEDIA BLACKOUT #392

BREVITY IS THE SOUL OF JEFFREY MORGAN'S MEDIA BLACKOUT #392!

Chilliwack – Lights From The Valley (Mushroom) :: The liner notes say that Chilliwack means "Valley Of Many Streams" in Halq'eméylem.

Doucette – Mama Let Him Play (Mushroom) :: Papa make him stop!

Chilliwack –Dreams, Dreams, Dreams (Mushroom) :: And Wikipedia says that Chilliwack means "Going Back Up" in Salish.

Doucette – The Douce Is Loose (Mushroom) :: And if his name was Douchette this album woulda been called...

Chilliwack – Breakdown In Paradise (Mushroom) :: But judging from the small print that says: "We acknowledge the financial support of the Government of Canada through the Department of Canadian Heritage (Canada Music Fund) for this project," I think Chilliwack means "Taxpayerola" in Freedian.

The Sattalites – The Best Of Canadian Reggae (Solid Gold) :: Not to be confused with the Sunnalights; Monnalights; Tuessalights; Weddalights; Thurssalights; or Friialiites, these here Sattalights have been rolling their own funky brand of reggae longer than the Department of Canadian Heritage and Canada Music Fund has been providing financial support for decades-old deleted discs like this. So, before it gets drilled anew, you would do well to give it a spin and hear for yourself what the Canuckistan taxpayer is being forced to shell out and support these days against their collective will under the dubious guise of historical value.

SIZZLING PLATTER OF THE WEEK: Art Decade – Art Decade (self released) :: If you screw on your thinking cap, you just might remember what I said about these cat's début long player back in MB353 but, if not, I'll reiterate for ya:

"Art Decade – Western Sunrise (Eldest Only) :: A lesser league of leeches woulda called themselves "Chant Of The Ever Circling Skeletal Family" or "Homo From Aldebaran" but, the way I see it, if you're gonna name your band after an obscure '70s David Bowie instrumental, then choosing the atmospherically arch decadent "Art Decade" is definitely the way to go—and, boy howdy, does this excellent album ever live up to that makeshift moniker and go go go!

"The first two seconds sound like a James Brown intro before everything suddenly switches into a string-soaked Beatlesque art rock escapade which owes more than a lush nod to Queen Mercury in the vocal arrangement and songwriting department. There's also an admirable element of '80s symphonic synthesizer pop in place to spice up the proceedings—but don't think they're not capable of breaking out the big audio dynamite because the longer you listen, the louder things get.

"Bonus points for including a glossy full color twelve page booklet that contains nothing but twelve full bleed paintings which are completely devoid of text—and that's an extreme visual treat that even Eno and Peter Schmidt never attempted to do at their Taking Tiger Mountain (By Strategy) and Before And After Science art rock peak of perfection."

That's how they began the year last February and, wouldn't you know it, here they are again with a year-ending roundhouse to polish things off and lemme tell ya that it's a good 'un. If anything, it's even more of a string-soaked Beatlesque art rock escapade (Greylock Hill") which owes more than a lush nod to Queen Mercury ("Boredom") in the vocal arrangement and songwriting department. And while many a band from Badfinger and ELO to Cheap Trick and the Knack have successfully mined that particular pop vein at various points during their careers, keep in mind that it's by no means as easy to do as it sounds—just ask Brian Wilson.

So if you didn't take my advice at the beginning of the year, now's your chance to make amends unless, of course, you're waiting for the band to gnaw some blotter acid and "head" into their psychedelic period—which might not be such a bad idea. I mean, think about it, man. Aren't you curious about what a lysergically-soaked Freddie Mercury would sound like? I'm curious. I'm very curious. Are you curious?

Be seeing you!
Sun, November 3, 2013 | link
Sunday, October 27, 2013
JEFFREY MORGANíS MEDIA BLACKOUT #391

TWO FOR THE JEFFREY MORGAN'S MEDIA BLACKOUT #391!

SIZZLING CONCERT OF THE WEEK: Brian Wilson & Jeff Beck – Live At O'Keefe Center (October 25, 2013) :: That's right! Brian "Good Vibrations" Wilson and Jeff "Psycho Daises" Beck playing together! On the same stage! At the same time! In what would initially seem to be the most unlikely co-headlining tour of all time—until you realize that the conceptual ties which bind these two together are deeply rooted in the Kustom Kulture ethos of the '50s and '60s.

Unfortunately my Sunday deadline is too tight for me to tell you how truly great these two are together so you'll have to take my word for it when I tell you that they make the Indy 500 look like a Roman chariot race. But lest you forget why these two are such immortals, here's an unabashed appraisal of their most recent solo shows, as originally essayed in MB268 and MB286:

*** *** ***

Jeff Beck – Live At Massey Hall (October 18, 2011) :: Look, when it comes to rock 'n' roll record promotion, it's a proven scientific fact that most advertising copy ain't worth the pixels it's printed on. In fact, you can probably count on one rigid digit the number of times you've read a superhype saying that had even the slightest grain of truth to it—and I should know 'cause I used to write such foolish folderol myself for Columbia Records during my CREEM rock critic days.

But in 1975, no truer words were ever printed than those penned by another anonymous Columbia copywriter who was astute enough to slap these five words of wisdom on the full page magazine advertisement heralding Jeff Beck's first solo album Blow By Blow: RETURN OF THE AXE MANIAC. Sure it was an obvious ha ha turn of phrase, but it was also prescient beyond belief in that no guitar slinger has gotten louder and crazier and noisier and more technically adept as each decade does a lap than El Beckola.

Over the years I've seen Beck playing live in Beck, Bogart & Appice; at the start of his solo career; wailing away in tandem with Jan Hammer; and beyond, but I've never heard him sound as dexterously ferocious as he does now—and that's not hyperbole, that's a fact.

But don't take my word for it, just listen to Beck's hand-picked opening act, guitar prodigy Tyler Bryant, who takes perverse delight in warning the audience that Beck will "melt your face off whether you like it or not." That rock critic potential notwithstanding, what Tyler neglected to mention is that Beck's playing will also peel paint off a barn; sandblast brick; and bleach muslin at thirty feet. Now concert reviewing tradition dictates I that mandatorily mention how, musically, Beck rummages through most of his back catalog from "Rice Pudding" past "Rollin' And Tumblin'" and all points in between. But that's not the point because the real treat isn't listening to what Beck plays, it's paying attention to how he plays it.

Chuck Berry may sing about a guy who can play a guitar just like a-ringin' a bell, but watching Beck do his thing is such an education in execution that you can't help but get the feeling that Beck invented that bell; designed it; manufactured it; polished it; and then is able to ring it six ways from Sunday, hitting every possible tone it can create along the way with a maximum of ease and a minimum of effort. Unlike Mick Ronson, who grimaced as if each note he played had an actual physical weight; or Page, who literally sweats out every solo, Beck has such supreme technical mastery over his machine, it's as if he's calmly revving a supercharged muscle car that's so sensitive it responds to his slightest touch with a surgical level of hair-trigger precision that almost seems uncannily preternatural.

And I do mean flat-out red line revving because, even when he's playing softer nuanced numbers, you somehow sense that that's not the part of town where Beck really likes to hang his hat. For no matter how sonically sensitive his more melodious moods may be, it's like using Old Sparky with the juice turned down to warm up a pot of coffee. Sure it'll do the job, but you're always aware that behind that dialed down restraint there lurks enough unbridled pent-up energy to blast everything into smithereens.

That's always been the case but it's especially applicable now given that Beck is backed on this tour by his most powerful band ever, namely: legendary Mahavishnu Orchestra drummer Narada Michael Walden; bowel-buffeting bassist Rhonda Smith; and kinetic keyboardist Jason Rebello. Which pretty much explains why Beck's having so much gosh-darned fun on stage these days. I mean, the cat used to be downright dour at times, but no more. Beck talks! Beck smiles! Beck does slapstick shtick with the audience! Will wonders never cease? About the only thing he doesn't do during his two hour tenure in front of the footlights is warble a few bars of "The Nazz Is Blue" and, who knows, he just might even do that the next time he comes to Your Town.

Oh, and did I mention that it's worth the price of admission alone just to see him strap on a Les Paul and then play "How High The Moon" with Les Paul?

*** *** ***

Brian Wilson – Live At Massey Hall (June 18, 2011) :: Beginning with The Beatles back in 1964, I've been fortunate enough to have been in the same room with countless musicians over the past five decades. Some were technically proficient while others were terribly pretentious. Some made a living by being supreme showmen while others made a living by being cunning con men. But of all the acts I've seen over the decades, a scant few deserved to be described with the mighty mantle of genius.

The Rolling Stones will be the first ones to tell you that they don't qualify because that's not their job; indeed, the Stones' only talent for genius seem to lie in their uncanny ability to have survived relatively unscathed for the past fifty years.

As for The Beatles—who didn't even last a decade, let alone an entire half century—they only qualify in large part due to the fact that half the group were superior songwriters lucky enough to have had George Martin around to make their music manifest. Would The Beatles have been nearly as necessary had their albums been produced by Andrew Loog Oldham or Kit Lambert? And one listen to Let It Be provides ample evidence of what the Fabulous Four were able to come up with when left to their own dithering devices: not much, which is why, humbled with hat in hand, they had to beg a skeptical George Martin back into the studio to produce Abbey Road for them.

Dylan? See "cunning con men" above ref.

And then there's Brian Wilson, a man truly touched by genius who had only himself to rely on when it came to getting his music out of his mind and onto Beach Boys records. Unlike the Stones and Beatles, who at least had the option of infighting as a means of deflecting personal aesthetic blame, Wilson's only rhetorical recourse in times of creative crisis was himself, however debilitating the results.

So when I found out that Brian Wilson was coming to town to play his own classic compositions as well as those by another American icon, the venerated George Gershwin, I knew that I had to go and pay witness to these two generations of genius, housed under one historic roof. What I didn't expect, however, was what I got: a two and a half hour extravaganza that easily ranks right up there as one of the most extraordinarily intelligent and fun concerts I've ever had the honor of attending.

For the first hour and a quarter, Wilson played just about every major song from his catalogue that you'd want to hear, backed by a bravura nine piece band which, in turn, was ably augmented by an additional string quintet.

Oh, and if you're looking for a testament as to just how deep the Brian Wilson songbook is, look no further than the fact that Wilson could afford to effortlessly toss away major masterpieces like "God Only Knows," "California Girls," "Heroes And Villains" and "Good Vibrations" in the first half of the show instead of saving any of them for encore material. Now that's confidence. So is the fact that Wilson could seamlessly intersperse his own material with a few choice Beach Boy covers, namely one from his sonic mentor Phil Spector ("Then I Kissed Her" from the Summer Days (And Summer Nights!!) album); and Bobby Freeman's "Do You Wanna Dance" (from The Beach Boys Today!).

Playing the above-noted four epics early also provided a good frame of reference for the strength of Wilson's compositional skills when compared against those of George and Ira Gershwin, whose music was showcased during the second hour long half of the show. As might be expected, they compare more than favorably; what you might not be ready for though is the surreal sight of Wilson singing such standards as "Summertime," "Bess, You Is My Woman Now," and "Someone To Watch Over Me."

But because Wilson's voice and range is so strong, he actually manages to pull it off with ease, solidly anchored by a genuine historical respect for the material that's nonparallel. Equally uncanny is his ability to take a classic like Gershwin's "I Got Rhythm" and arrange it with his patented "Wall Of Sand" harmonies to the point where it sounds as if Wilson wrote it as a Beach Boys single. Then again, what else would you expect from a man who dares to play "I Got Plenty Of Nothing" as an instrumental—with the missing vocal line played on a harmonica?

Probably that he's the same kind of man who, as noted above, would perversely play all his big hits at the beginning of the show—during which he shyly allows that he's "kinda proud" of "California Girls"—and instead dig deep into left field for encores of Chuck Berry's "Johnny B. Goode" (via 1964's Beach Boys Concert); "Help Me, Rhonda," "Surfin' USA," "Fun, Fun, Fun" and the unexpected surprise of the night: a giddy as all get out, rip-snortin' version of "Barbara Ann."

Whether he's sitting at his Yamaha; strapping on a Fender; or inexplicably getting the audience to gleefully sing "Row, Row, Row Your Boat" for no other reason than just because, Brian Wilson continues to prove beyond a shadow of a doubt that his heart is every bit as big as his limitless talent—and if anyone ever tries to tell you different, you just tell 'em it ain't necessarily so!

Be seeing you!
Sun, October 27, 2013 | link
Friday, October 25, 2013
JEFFREY MORGANíS ROCK íNí ROLL PHOTOGRAPHS
JEFFREY MORGAN'S ROCK 'N' ROLL PHOTOGRAPHS

While you're visiting, don't forget to view the dozens of essential selections from my vast archive of
hundreds of extremely rare and previously unseen rock 'n' roll photographs from the 1970s and 1980s—all of which were taken by myself from my front row center seat at various venerable venues; vintage historical portraits which include the following rock stars caught in their youthful prime:


David Bowie
(1976 Station To Station tour) :: Lou Reed (1974 Sally Can't Dance tour) :: Iggy Pop (1977 The Idiot tour) :: Bob Dylan (1978 Street Legal tour) :: George Harrison (1974 Dark Horse tour) :: Paul McCartney (1976 Wings Over America tour) :: Pete Townshend (1976 The Who By Numbers tour) :: Johnny Winter (1976 Captured Live! tour) :: Jeff Beck (1975 Blow By Blow tour) :: KISS (1977 Love Gun tour) :: Alice Cooper (1975 Welcome To My Nightmare tour) :: Freddie Mercury (1977 News Of The World tour) :: Amanda Lear (1975 Sweet Revenge tour) :: Rod Stewart (1977 Foot Loose & Fancy Free tour) :: Mick Jagger (1975 It's Only Rock 'n Roll tour) :: New York Dolls (1975 Tokyo Dolls Live tour) :: Keith Richards (1975 It's Only Rock 'n Roll tour) :: Ian Hunter (1989 YUI Orta tour) :: Elton John (1974 Caribou tour) :: Mick Ronson (1989 YUI Orta tour) :: Steven Tyler (1977 Draw The Line tour) :: Sparks (1975 Indiscreet tour) :: James Brown (1986 Gravity tour) :: Miles Davis (1985 You're Under Arrest tour) :: Roger Daltrey (1976 The Who By Numbers tour) :: Bruce Springsteen & Clarence Clemons (1975 Born To Run tour) :: John Entwistle (1976 The Who By Numbers tour) :: Keith Moon (1976 The Who By Numbers tour) :: The Who (1976 The Who By Numbers tour) :: and more!

Ask any dealer and he'll tell you that the best way to get someone hooked on your product is to give them a free sample, so here's just a small taste of what's coming your way when you click on the eleven gallery links to your left: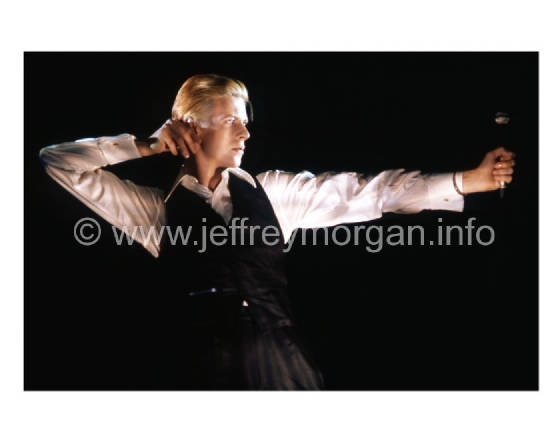 And you thought I was only a writer...
Fri, October 25, 2013 | link
Sunday, October 20, 2013
JEFFREY MORGANíS MEDIA BLACKOUT #390

MY SUNDAY JEFFREY MORGAN'S MEDIA BLACKOUT #390!

SIZZLING CONCERT OF THE WEEK: Ian Anderson – Live At Massey Hall In Toronto (October 18, 2013) :: Meanwhile back in the year 2008:

JEFFREY MORGAN: I don't suppose I could talk you into mounting a touring road show of A Passion Play to show those ABBA and Queen musicals what real rock theater would be like.

IAN ANDERSON: [laughs] Well...

MORGAN: I mean, this is the ideal time.

ANDERSON: I think you just hit on the problem with my objections to anything like that because of the words rock theatre. There was a time when the idea of a more theatrical form of rock music did seem as if it was quite fitting. And I suppose in 1972 and 1973 it seemed to me that it was possible to do. But the trouble was that, while we went down that route ourselves—in a humorous way, I mean, it was never meant to be sort of serious; it was always meant to be a bit tongue in cheek and a bit fun...

MORGAN: Well, some of us got that.

ANDERSON: Yeah! Well, this was the era of Monty Python and the Flying Circus and it was all that surrealistic British humor sort of finding an outlet. But the theatricality of it, after a couple of years, made me feel uncomfortable. Especially because...in the wake of that...I suppose...probably Alice Cooper 'round the same time as Jethro Tull was doing that kind of slightly theatrical approach to rock music.

But it seemed that very quickly people were jumping on that bandwagon and the big production tours started happening and people were going bigger and louder and brighter and it seemed somehow to get away from the spirit of what the music was about. And I think somewhere around that time I think I persuaded myself that, really, it was better to be minimizing the theatre to just the occasional use of props or personality kind of moments, rather than it being theatrical in the sense that there were stage sets and carpenters and electricians and all kinds of people you had to have along in order to put something together that became very calculated and very choreographed and scripted which was something that I didn't feel very good about. Because the improvisation aspect of playing music is something I've always felt should extend to the performance as a whole.

So I kinda went 180 degrees away from the theatrical side of presentation. But what I do today, I'm well aware that there's a theatricality in the way I present it. But it's really a theatricality in personality terms rather than involving other people or involving other elements of presentation. I mean, big, glitzy productions are just something that make me feel uncomfortable.

*** *** ***

Meanwhile back in the year now, I'm pleased to see that Ian Anderson finally took my advice and is putting his money where his props are, even if it doesn't involve his performing A Passion Play in its entirety with Nightcap's "Chateau D'Isaster" as a chaser. For not only is he currently traipsing around performing the one and only legendary parody prog rock masterpiece Thick As A Brick in its dual-sided entirety, he's also giving a bonus full-length recital, live, at no extra charge to the paying public, of the exhaustively titled but no less significant sequel TAAB2: Thick As A Brick 2: Whatever Happened To Gerald Bostock?

Now I'm sure that every man jack of you knows all about Thick As A Brick but, for those of you who are arriving a little late to the soirée, I'll have you know that 2012 marked both the factual 40th anniversary of the original TAAB album and the fictitious 50th birthday of the album's ten-year-old "lyricist," precocious prodigy Gerald Bostock.

Which was more than reason enough for Ian Anderson to create a new prog rock concept album that dares to posit half a dozen different possible alternate universe scenarios of what Gerald might have done with his life over the past 40 years—with several overt and oblique nods to such past Tullian triumphs as Aqualung and the often aforementioned A Passion Play along the way.

Of course, the big tip off that the proceedings, although serious, aren't to be taken too seriously, is the album's official attribution to Jethro Tull's Ian Anderson which tags this ambitious effort as being neither a canonical Tull record nor an extra-curricular solo Anderson album.

Eschewing the unbanded vinyl single song cycle that defined both TAAB and APP, the new TAAB2 is divided into 17 separate songs, only one of which—"Gerald Goes Homeless: Adrift And Dumbfounded"—truly sounds as if it had been recorded back in 1972. Which only goes to show that Ian could easily have expertly aped his back catalogue had he wanted to. That he chose not to live in the past and come up instead with something that sounds thoroughly modern while still evoking echoes of the past, is a testament to the man's continual creativity—but that's nothing compared to what awaits you when you see him perform both compositions on stage.

For one thing, at age 66, Ian Anderson is without a doubt not only The Hardest Working Man In Progressive Rock but The Most Energetic Man In Progressive Rock as well. And although he always seemed to have cut a spry figure, in retrospect it's now obvious that Ian Anderson's '60s and '70s stage attire of coat and boots and codpiece and long hair only slowed him down! For having since divested himself of all such sartorial weight, he now bounds about with a lighter than air vim and vigor that men half his age only wish they could muster on their best days.

This explains how, during the course of a double header that lasts well over two hours, Ian Anderson has the bravura stentorian stamina to faithfully duplicate every single lead line and fill that you have memorized off both albums—which means he's playing the flute during a full 90% of the show. Being no brainy Bostock, all figures are approximate.

But it's not all punny wordplay and complex key signatures because the entire proceedings are continually interwoven with the above-noted Andersonian sense of humor, which manifests itself with impeccable split second timing in almost every aspect of the production, from the upstage lock-step choreography; to the out of his element frogman footage; to the audience participation Prostate Exam and public service announcement which concludes with a sober visual cautionary tribute to such similarly lost luminaries as Dennis Hopper, Johnny Ramone and Telly Savalas.

Who loves ya, baby? Ian Anderson does, sweetheart.

Listen, when it comes to "bigger and louder and brighter" prog rock concept concerts I've seen 'em all at their biggest and loudest and brightest from Welcome To My Nightmare and Brain Salad Surgery to Tales From Topographic Oceans and Diamond Dogs to Journey to the Center of the Earth with the National Philharmonic Orchestra and Choir of America, which is why I'm more than qualified to tell you that never before have I ever seen anyone do more with less than Ian Anderson and his crackerjack band do on this tour.

So whatever you do, wherever you are, check your local listings and if Ian Anderson is coming to your town, you owe it to yourself to buy a ducat and pick up on what he's putting down. Because that's not opportunity you hear knocking, that's a telephone ringing—if all you long time Jethro Tull fans catch my drift.

Be seeing you!
Sun, October 20, 2013 | link
Sunday, October 13, 2013
JEFFREY MORGANíS MEDIA BLACKOUT #389

BUDDY GONNA JEFFREY MORGAN'S MEDIA BLACKOUT #389!

Beach Boys – "Shut Down" (Capitol) :: Geddit?

SIZZLING PLATTER OF THE WEEK: Levin Minneman Rudess – Levin Minneman Rudess (Lazy Bones) :: If I've said it once, I've said it three times: a chronological glance at your record collection will prove that, as rock 'n' rollers get older, it's utterly inevitable that they get softer—and I'm not talkin' about virility in the sack, I'm talkin' about volume in the studio.

As maxims of maturity go, TURN IT DOWN seems to be their overriding axiom of aging because, with the obvious aberrant exception of Jeffrey Beck, every single raucous rock musician who ever lived has lived to see the day come when their sonic six-guns were hung up in exchange for a pipe and slippers.

Even such much-vaunted volume advocates as Neil Young and Jimmy Page have had disconcerting bouts of flaccidness recently—assuming that they even bother to wake up to show up. And don't you start me talking about former noise boy Miles Davis, who prematurely blew all his goo on Dark Magus only to thereafter be reduced to the sad spectacle of shooting blanks, as evidenced by such sterile secretions as You're Under Arrest and Doo-Bop.

But there's always an exception to the rule, and this fourteen track all-instrumental album is it, with a certifiable emphasis on the mental because Levin Minneman Rudess takes everything that you thought you knew about complex progressive art rock and effortlessly transmutes it from traditional fusion into a new element of audio contusion that you won't find on any heavy metal periodical table. But please don't let me be misunderstood: I'm not talkin' about mental as in crazy coo-coo mental, I'm talking mental as in sonically supernatural Magneto-style metal manipulating mental. I could go on, so I will.

"Marcopolis" is the scene-setting first track and it's the heaviest Wired outtake that Jan Hammer and the aforementioned Mr. Beckola never had the radical wherewithal to wax.

"Twitch" is the aptly-named second track and it's an epileptic stutter-step that easily evokes Rick Wakeman as his most operatically speed freak soused.

"Frumious Banderfun" is the frisson-fusing third track and it's an eerily evocative echo of Frank Zappa during his hellacious jazzbo phase with a side order of Oriental-themed crunge-o-phonics thrown in for bad measure.

For those of you keeping score at home, that's just the first three frames and already we're talking about a skillfully impressive Heinie Manush-style on-base slugging percentage—with eleven innings left to play. So break out some peanuts and Cracker Jack and hear for yourself how effortlessly the spasm-inducing All Star team of Levin Minneman Rudess takes the field and commands a one-sided rout that rookies a quarter of their age only wish they could muster. Batter up!

Be seeing you!
Sun, October 13, 2013 | link
Sunday, October 6, 2013
JEFFREY MORGANíS MEDIA BLACKOUT #388

TACH IT UP! TACH IT UP! JEFFREY MORGAN'S MEDIA BLACKOUT #388!

Due to a lapse in funding, the U.S. federal government has shut down.

During the shutdown, JeffreyMorgan.info will not be updated, but the website will be available. You can also get answers to questions Monday through Friday between 8 AM - 8 PM (Eastern Time) by calling 1-800-SEE-YA.

Be seeing you!
Sun, October 6, 2013 | link
Sunday, September 29, 2013
JEFFREY MORGANíS MEDIA BLACKOUT #387

TESTIFYING WITH JEFFREY MORGAN'S MEDIA BLACKOUT #387!

SIZZLING COMBO PLATTER OF THE WEEK: John Tefteller's Blues Images – 2014 Classic Blues Artwork Calendar including 1920's Blues Classics Volume 11 (Blues Images) :: Brothers and Sisters, I know times are tough! Pay checks keep on getting shorter all of the time while dole queues keep on getting longer all down the line! But I'm not here to tell you something that you already know! I'm here to once again tell you that there's a way for you to escape your worryin' woes! I'm here to tell you that it's time to stand up for your rights as a consumer! I'm telling you that it's time to make the most important purchasing decision of the entire year! Namely, choosing which 2014 wall calendar you're gonna hang in your hovel to cover that unsightly .32-20 peephole that the doxy next door "accidentally" drilled into your headboard. She says.

Now you can either be a right square who saves up his hard-earned shekels all year long, only to blow them by buying something meshugana like a transitory twelve month pictorial of bug-eyed velvet paintings—or, being hepper than hip, you can choose wisely instead and spruce up your swingin' smack shack with the latest educational calendar and accompanying blues album, both of which have been expertly complied with an obsessively unreasonable attention to detail by none other than America's eminent blues historian and world-class collector Mr. John Tefteller.

Tefteller, who specializes in preserving the hot 78 rpm sides that Paramount pressed in the late '20s and early '30s, has spent the last ten years putting his coveted collection to excellent use by restoring a heapin' helpin' of the thousands of priceless sides he's acquired over the decades—many of which are so scarce that Tefteller's got the only copy in existence—and then reissuing the remastered results every year on a bonus long player that provides the perfect aural accompaniment to each month's advertising graphics on his annual Blues Images calendar.

And, boy howdy, what images they are! Fellow 78 collector and pioneering underground comix legend Robert Crumb ain't whistling in Dixie when he waxes rhapsodic about the superb source material from which the visuals are derived: namely, Paramount's profusely illustrated Race record catalogues.

Even better, every calendar page depicting sob songs of wanton wimmens and griftin' gents is just loaded with licentious lyrics and an insightful explanatory section that puts both the artist and the song into historical context—not to mention the detailed day by day delineations which mark the secular arrivals and spiritual departures of all the blues greats.

But as enlightening as the first decade has been, Tefteller's epochal 2014 Eleventh Anniversary Edition tops them all with an unsurpassed selection of sides that you literally can't find anywhere else. You better listen to me 'cause I'm tellin' you what's being put down so you best pick up on it: at a mere twenty bucks a pop for both the big twelve inch twelve month calendar and the accompanying twenty-four track compact disc—which comes complete with full color graphics and expert annotations—you can't afford not to ring in 2014 with two dozen deified Delta denizens including:

Washboard Walter ("She's A Long, Tall, Disconnected Mama"); Charley Patton ("Mean Black Cat"); Mississippi Sheiks ("Crackin' Them Things"); Blind Blake ("Miss Emma Lisa"); Henry Thomas ("Bull Doze Blues"); and my own personal favorite, Mother McCollum's "Jesus Is My Air-O-Plane."

And if you really can't afford it, sell some food stamps and go here and buy it anyway; that way you'll have something suitably salacious to spin while you're breaking in your new headboard—like Luella Miller's "Rattlesnake Groan"!

Be seeing you!
Sun, September 29, 2013 | link
Sunday, September 22, 2013
JEFFREY MORGANíS MEDIA BLACKOUT #386

CROSS-BORDER JEFFREY MORGAN'S MEDIA BLACKOUT #386!

Jefferson Starship – Live In Central Park NYC May 12, 1975 (RCA/Real Gone Music) :: As if that newly found color footage shot by Jean-Luc Godard of the Airplane playing on an LA rooftop in 1968 wasn't good enough, we now have this newly found recording that comes straight from the archives of the latter day law firm of Slick, Balin, Kantner & Creach. I shutterbugged this particular iteration of the band when they hit My Town back in 1975 so I can testify with unimpeachable impunity that this twofer perfectly encapsulates that incarnation at the height of their arena-packing prowess, right down to the insightful inclusion of "Better Lying Down" from El Slicko's Manhole album. Bonus points for the far out fab-o-phonic 1964 era mixola which idiosyncratically isolates the vocals on one channel while exiling most of the band to the other.

Claudia Lennear – Phew! (Real Gone Music) :: And while we're on the topic of titanic pioneering rock 'n' roll women, if you're not already familiar with Claudia Lennear's vocals calisthenics on the Concert For Bangladesh and Mad Dogs & Englishmen films, then maybe it's high time that you got yourself freshly reacquainted with this benchmark album from 1973 which was waxed by one of the landmark ladies of the genre at the top of her game. Backed by such stellar studio stalwarts as ace axe maniac Ry Cooder; pneumatic traps master Jim Keltner; and New Orleans legend Allen Toussaint, this is one of the most rawest and high octane butane blistering pieces of music that you're likely to hear in this lifetime or any other lifetime for that matter. And if you're of the opinion that the only big letdown to this story is that Lennear never recorded a second album, don't worry 'cause even she'd never be able to top this one for sheer out 'n' out peerless perfection personified.

SIZZLING PLATTER OF THE WEEK: Johnny McLeod – If You're Living (self released) :: In a perfect world, Johnny McLeod would need no introduction. But since this is a less than perfect world, allow me to set the audio table for you by reiterating what I said about him in the August 1985 issue of CREEM: America's Only Rock 'n' Roll Magazine, wherein I wrote:

Johnny MacLeod with The Young Pioneers – Dynamite In The Stove (True North/CBS) :: Even though I live in Toronto, you can count on one hand the number of times I've bent your ear about Canadian talent in the ten years I've been writing for CREEM, so bear with me on this one because Johnny is the only singer-songwriter I'd put serious money on. He released one album (Every Twist Reminds) in 1980 with his former band the G-Rays, and has spent the last half decade leading up to this triumphant moment. The man's lyrical and musical depth knows no equal, so I'm not going to give you a comparison against which you can judge him. But considering the current value of the U.S. dollar against the Canadian dollar, I'd say that a trip across the border to buy this album would be more than worth your while.

Thirty years later I stand by those words—especially the parts about the money and the lyrical depth. However, with the release of this new album, I would add one extra word which is not to be bandied about lightly:

Poet.

I happen to know a few things about poetry, which is why I'd like to point you in the direction of a few song titles which grace this heartfelt confessional because they alone should give you a good indication of the kind of emotional insight we're dealing with here: "Never Is Your Soul Alone." "The Pleasures Life Reveals." "If You're Living." "More Than I Can Do."

Oh, and then there's "Here's Your Moment" which begins:

"Your reluctance is feeble and thin. Soon its weight will cave itself in. Go and bid your reward to begin. Here's your moment. Here's the offer that hangs from your name."

And that's why I'd still put serious money on Johnny MacLeod—and so should you because, both spiritually and intellectually, odds are you won't get a better rate of return for your dollar.

To get a copy of If You're Living, contact Johnny at: Box 113, 31 Adelaide Street East, Toronto, Ontario, Canada M5C 2H8

Be seeing you!
Sun, September 22, 2013 | link
Sunday, September 15, 2013
JEFFREY MORGANíS MEDIA BLACKOUT #385

2 LEGIT 2 JEFFREY MORGAN'S MEDIA BLACKOUT #385!

Arsenio Hall – The Arsenio Hall Show (Syndication) :: Don't it always seem to go that you don't know what you've got 'till it's gone for 20 years?

John Lennon/Plastic Ono Band with Elephants Memory and Invisible Strings – Woman Is The N-Word Of The World (Apple) :: Silly, innit?

Ice Cube – "The N-Word Ya Love To Hate" (Priority) :: Silly, innit?

The Last Poets – "Run, N-Word" (Douglas) :: Silly, innit?

Ice Cube – "The Wrong N-Word To F-Word With" (Priority) :: Silly, innit?

The Last Poets – "N-Words Are Scared Of Revolution" (Douglas) :: Silly, innit?

Ice Cube – "D'VOIDOFPOPN-WORDFIEDMEGAMIX" (Priority) :: Silly, innit?

The Last Poets – "Wake Up, N-Words" (Douglas) :: Silly, innit?

Lewis Carroll – Through The Looking Glass, And What Alice Found There (1872) :: "Which is to be master? You or the word?"

Chuck D & M1 & Gregory Porter – "Occupy Planet Earth" (Motéma) :: They've raised this incendiary single up the "Socially-Conscious Rap" flag pole and I'm snapping to attention and saluting it 'cause this is the most insightfully evocative seditious side your ear will hear this side of Public Enemy's heady heyday so do yourself a flavor and pick up on what they're putting down.

SIZZLING BOOK OF THE WEEK: David Anthony Kraft's Comics Interview – The Complete Collection: Volume 1 & Volume 2 (CO2 Comics) :: Back in the good old days—ask your Mom—then-recent rags like Playboy and Rolling Stone would periodically publish multi-volume collections of their sporadic high-brow interviews in a vain attempt to try and fool The Establishment into thinking that they weren't the filth peddlers that everybody made them out to be.

Meanwhile, although they didn't rank nearly as high on the smut scale as their underground comix brethren, regular run of the mill comic books also had an uphill slog to likewise convince The Establishment that they too should be given some upscale respect.

But if comic books have indeed achieved that lofty goal over the decades, it's due in large part to David Anthony Kraft who had the prescient wherewithal back in the early '80s to start a pioneering magazine called, appropriately enough, Comics Interview that was dedicated exclusively to nothing but interviews with the most diverse display of comic book creators extant—and each of these mammoth, five pound, phone book-sized, 700 page volumes, does just that, beginning with the very first issue in 1983 and ending with the last issue in 1995.

For those of you keeping score at home, that's a whopping 15 volumes, reprinting the entire run of 150 issues, containing 700 interviews, spread over 100,000 pages. Impressive, I know.

But not nearly as impressive as the endless array of interviewees because everybody who is anybody is contained herein, from Stan "The Man" Lee and Frank "Sin City" Miller to Alan "Watchmen" Moore and Howard "Black Kiss" Chaykin to Berke "Bloom County" Breathed and Steve "Howard The Duck" Gerber—plus additional insight from such long-time comic book fans as Gene "The Dean" Simmons, Robert "I Spy" Culp, and everybody's friendly neighborhood cardigan-slinger Mr. Rogers. That's right, Mr. Rogers. And remember: that's just the first two volumes.

Even better than that is the fact that Marty W. Herzog, who was Comics Interview's very own Canadian Correspondent right from the very first issue, is the same Marty "The Zog" Herzog who hired me to edit Canada's Only Rock 'n' Roll Magazine back in 1975 while I was writing for CREEM.

So when series editors Bill Cucinotta and Gerry Giovinco call this compendium "The Greatest Collection of Interviews in the History of Comic Books" they might actually be selling themselves short because this is also the greatest reference archive that comics has ever known.

But don't take my word for it when you can heed the always acerbic advice of Howard Chaykin who says in issue number three: "I find that the idea of talking about comics, or talking about anything that's visual, is silly."

In other words, you'd think that people would have had enough of silly comic book interviews. But I look around me and I see it isn't true. So go here instead and get in on the ground floor of what is truly the most toweringly monumental educational edifice in comic book history.

And what's wrong with that? I'd like to know.

Be seeing you!
Sun, September 15, 2013 | link
Sunday, September 8, 2013
JEFFREY MORGANíS MEDIA BLACKOUT #384

AH, SO! JEFFREY MORGAN'S MEDIA BLACKOUT #384!

Mike Myers – Supermensch: The Legend Of Shep Gordon (Nomoneyfun Films) :: Finally, the sequel to The Love Guru.

Dengue Fever – Venus On Earth (M80) :: What starts out as a Klaus Schulze synthesizer space-out immediately morphs into a Jefferson Starship psych-out before finally ending up perched on a rice paddy next to a finger-snappin' mini-skirted Cambodian chanteuse who coolly coos sweet foreign-tongued somethings in your ear against a slinky bongo beat—and that's just in the first 45 seconds. Stick around and you'll hear an eclectic blend that's one part sensual Sade, one part suave Japan, and one part pop tart Dee-Lite. Sounding as if it slowly sashayed out of a Tarantino flick, this is one air-borne virus you won't want to be inoculated against.

Johnny Hollow – Dirty Hands (Orange) :: Imagine longtime Hitchcock composer Bernard Herrmann reincarnated as two gals and a guy and you'll have a pretty good idea of just how spooky this album is. That's 'cause Johnny Hollow have what it takes to be the world's preeminent Goth band—and on Dirty Hands they prove it by cleverly carving out one of the finest examples of the genre since Siouxie & The Banshees' landmark A Kiss In The Dreamhouse. Merging NIN-nuanced electro-atmospherics with a lush surfeit of strings that accentuate a multiplicity of instrumentation, Dirty Hands is uneasily the most eerily haunting record you'll hear all year.

Lori Cullen – Buttercup Bugle (self released) :: If you heard Calling For Rain, Lori Cullen's last album of classic covers, then you know that she has one of the purest voices in a generation and more than enough talent to become the next premier interpreter of our time. That's because when Lori sings, she lives every song without the slightest hint of ironic inflection. And on her new record Buttercup Bugle she offers up a delightful bouquet of gentle brass-backed melodies which are light and airy, just like windswept love is supposed to be. This clever Cupid's got a hammer and she's swingin' it all over this land.

SIZZLING PLATTER OF THE WEEK: Judith Owen – Lost And Found (Courgette) :: Bein' a rock critic these days is just like bein' a cheroot chompin' music publisher back in the old Tin Pan Alley era a hundred years ago. The only difference bein' that instead of havin' to suffer through a never endin' array of auditionin' piano players plyin' their songs on an upright in your office, nowadays y'gotta suffer through the endless ordeal of listenin' to hundreds of new records. But now as then the name of the game remains the same: to hear somethin' so unique it'll snap open your saggin' eyelids and elevate your interest level a notch or two above the usual albatross dross.

And nothin' peeled my pooped peepers faster this month than hearin' this woman belt out a torchy nightclub version of Deep Purple's goofy guitar classic "Smoke On The Water." Backed by only a tinkly piano, Judith manages to wrap her well endowed pipes around the most inane rock lyrics ever written and make them sound as if they were penned by the great Sammy Cahn. I know you're not convinced yet but by the time the accordion solo kicks in, you will be.

Be seeing you!
Sun, September 8, 2013 | link
Sunday, September 1, 2013
JEFFREY MORGANíS MEDIA BLACKOUT #383

MY NAME'S NOT JEFFREY MORGAN'S MEDIA BLACKOUT #383!

As alluded to earlier, I chewed up a good chunk of last weekend in Toronto at Fan Expo XIX, which is nothing less than Canada's largest comic book slash sci-fi slash anime slash horror convention.

Despite a court-enforced restraining order from Alive Enterprises preventing me from doing so, I managed to sneak into Fan Expo and surreptitiously hang out near the booth where special invited guest Alice Cooper was making a four day appearance.

When he wasn't on the prowl staging spontaneous East vs. West dust ups with the great James Hong of Blade Runner and Big Trouble In Little China fame, Alice was dutifully taking care of business by autographing a ton of photos for his unworthy fans—that is, when he wasn't busy dispensing his own brand of hardcore justice to at least one hack rock critic who was caught loitering with intent.

However, the previous time Alice was an invited guest of honor, back in 2006, Fan Expo XII was so precariously teetering on the brink of busting out of its block-long britches that one comely organizer confided to me how the local Fire Marshal had twice threatened to shut the show on the very first day due to some serious excess overcrowding—a sure sign of future success if there ever was one. Indeed, this year's Fan Expo was so mammothly mega-gargantuan that even it barely fit into the two immense convention halls that attempted to house it.

Meanwhile, those in the know are still talking about the time in 2006 when Yours Truly had recklessly barged through a door that I thought led to one of the unisex washrooms—only to come face to face with none other than the aforementioned Alice Cooper and Austin Powers star Verne Troyer having a top secret tête-à-tête in the Fan Expo XII VIP Hospitality Suite. Luckily, hack rock critic that I am, my steno pad was already out, which is how I managed to jot down the following candid exchange:

VERNE: [yelling angrily] The next guy who calls me Mini-Me is gonna get it! My name is Verne, not Mini-Me!

ALICE: [nodding sagaciously] I know. People still come up to me and call me Vince. My name's not Vince!

VERNE: [picking up a Sharpie to autograph a glossy photograph of himself as Mini-Me] Who do you want me to make this out to?

ALICE: [pauses] Coop. [pauses] Just make it out to Coop.

It was at this point that Verne looked up and, seeing me taking notes, threw his Sharpie at my head—which caused Alice to look over. Seeing the Boy Howdy! logo on my CREEM rock critic shirt, Alice snapped his fingers and pointed me out to a giggling enforcer in a double-breasted sharkskin suit.

"Udo?" he snarled. "Get this guy outta here."

The sawbones in emergency had me patched up and back on the street in time to get banned from Fan Expo XIII.

Be seeing you!
Sun, September 1, 2013 | link
Sunday, August 25, 2013
JEFFREY MORGANíS MEDIA BLACKOUT #382

MEANWHILE... JEFFREY MORGAN'S MEDIA BLACKOUT #382!

I don't have time to write a column today because I'm busy spending Sunday visiting Alice Cooper in Toronto at Fan Expo, which is nothing less than Canada's largest comic book convention; more about that next week. Meanwhile, this seems as good a time as any to take a look back and remember the man who created one of the world's first comic book conventions back in 1968.

"Captain George's Comic World Reprint (B&W) – This magazine, and several others with similar titles, contained bootleg reprints of famous old comic strips and illustrations, all published by "Captain George," a Canadian with more aesthetics than scruples. The only Spirit story he ran was lifted, without regard to copyrights, from Harvey Kurtzman's Help!, complete with intro!"

-- cat yronwode, The Spirit Checklist, 1979

"Comics historian Captain George Henderson provided an invaluable service to fans around the world when he reprinted a Spirit story from Harvey Kurtzman's Help! in Captain's George's Comic World but, aside from that one benevolent bone, the pickings were slim."

-- Jeffrey Morgan, CREEM, 2005

And that, ladies and gentlemen, is a perfect example of what happens when someone (the lower-cased cat yronwode) with a vested interest in protecting someone else's legacy (Will Eisner's) comes up smack dab against someone else (the upper-cased Yours Truly) with an equally vested interest in protecting someone else's legacy (Captain George Henderson's)—and, of course, we're both right.

Now as much as I've loved cat's Eisner-related work over the years, I just gotta set the record straight about yronwode's benign besmirching of the good Captain. Did Captain George reprint old comic strips "without regard to copyrights" as cat says? You bet he did. However, George was genuinely under the mistaken impression that the copyrights had expired on the strips he was reprinting—something that King Features Syndicate corrected when they served George with an injunction for reprinting KFS strips without their permission.

That may have put the kibosh on Captain George's Comic World, but it certainly didn't put George out of business. That's because George's business was running Memory Lane, which was nothing less than Canada's first nostalgia store that specialized in selling old movie posters and comics.

Prior to George's setting up shop at 594 Markham Street on Mirvish Village in the Toronto of the mid '60s, George ran an earlier proto-nostalgia store called Viking Books at the corner of Queen and University. It was there that I used to buy old DC comics for a nickel a pop, as well as a copy of Superman number 60, in good condition, for the then-unheard of price of a whole dollar—big money for 1966.

Actually, I was going to buy an early issue of Batman instead, but George changed my mind when he handed me the issue of Superman and told me that the Man of Steel had been co-created by Joe Shuster. "He's a Canadian, you know," George added with a smile.

In 1968, George organized Triple Fan Fair, which was Canada's first comic book convention. True to its name. Triple Fan Fair was a celebration of comics, old movies, and science fiction. No less a personage than Stan Lee was the guest of honor—and Stan brought with him literally dozens of pages of original Marvel art for display, from Kirby's Fantastic Four to Steranko's Nick Fury, some of which had yet to be published. It would prove to be the first time I'd meet Stan—and if you don't know what big a deal that was to a 14-year-old card-carryin' member of the MMMS, then you have no right reading this.

In 1971, George opened up The Whizzbang Gallery, Canada's first art gallery devoted exclusive to comic book and cartooning art. George's first guest of honor? None other than legendary EC and MAD Magazine creator Harvey Kurtzman. I got Kurtzman to sign some of my vintage ECs, but when he saw my Canadian edition of MAD number 3, he proceed to do an enlightening in-depth technical critique of Canadian printing practices in the '50s as compared to those in America. It was just another example of the kind of learning environment that Captain George fostered over the years.

So yeah, if you wanna make a federal case out of it, Captain George Henderson did unknowingly print some old comic strips illegally. But because he did, hundreds of young comic books fans were provided with their first real education in the field of comic books and comic art—an education that ran the complete aesthetic gamut from Winsor McCay's Little Nemo to S. Clay Wilson's Checkered Demon. Besides, it's not like George ever made any money with his monthly reprints. On the contrary, Captain George's Comic World and Captain George's Whizzbang both lost money, as did his weekly Captain George's Penny Dreadful. It was Memory Lane the store that paid for memory lane the experience.

Harvey Kurtzman knew that Captain George had reprinted that Spirit story from his magazine Help! and you know what? He didn't care. Kurtzman was smart enough to understand that Captain George was providing an educational service and he approved of it. Had he not, do you think for a moment that Kurtzman would ever have come to Toronto for the opening of George's Whizzbang Gallery? Of course not.

As a teenager, I had the pleasure of working for George at Memory Lane for several years during the summer, and it was truly an education in the history of comics and movies. George Henderson was a stand-up guy who didn't think twice about giving me the run of the store while he was away organizing another convention—such as the one that was attended by the likes of serial Superman Kirk Alyn and writer Isaac Asimov. This time around, Stan lent me original Marvel art to display.

Back in the late '60s I once described George's Memory Lane store and his Vast Whizzbang Organization publications as being the Grand Central Station of comics fandom: a place where all styles and eras converged in harmony. And even though George is no longer with us, that depiction still rings true today because his influence lives on. Ask anyone in Canada of a certain age who has made their mark in the field of comic books and comic art, and they'll tell you the undisputable and undeniable fact that Captain George Henderson is the pioneering founding father of comic book fandom in Canada.

He's a Canadian, you know.

Be seeing you!
Sun, August 25, 2013 | link
Sunday, August 18, 2013
JEFFREY MORGANíS MEDIA BLACKOUT #381

WHAT? JEFFREY MORGAN'S MEDIA BLACKOUT #381!

Of course, what with me being under my usual brain-crushing weekly deadline, I plumb forgot to list two additional concerts which shoulda made my Top Ten list last week but didn't. So here they are in all their unabashed glory for your reading and dancing pleasure:

Kraftwerk – Massey Hall (1975) :: As indicated last week, David von Bowie tried to be quite the innovating avant garde artiste with his Krautverkian Station To Station presentation, but he was a minor league penne ante piker compared to the band that provided his original aesthetic influence.

So Bowie's idea of an opening act was to run a silent surrealistic film before he took the stage? Big deal. When Kraftwerk played Massey Hall on their Autobahn tour, they had no opening act. Instead, the house lights stayed up for almost two hours past the starting time while the audience amused themselves by reading rock magazines and throwing a Frisbee back and forth between the first balcony and the ground floor.

That is, what little audience there was because nobody had heard of these guys except for a scant few hundred of the die hard Krautrock contingency who got their education by faithfully buying both Ralf & Florian and Autobahn as a high priced import—and even then not all of them could afford the $6.60 ducat price after that. As such, the venerable old hall was only a quarter to half full, if that.

As for the two hour wait time it took for the group to take the stage, that's because when Kraftwerk left their hotel to walk to the gig, they took a wrong toin at Albuquerque and promptly got lost in the hustle and bustle of downtown Toronto whereupon they wandered around aimlessly until they ended up inadvertently sightseeing in Chinatown.

So Bowie's idea being visually innovating was to use nothing but arcs of white light to illuminate his stage? Big deal. Kraftwerk went him one better by using no stage lights whatsoever. No spot lights, no foot lights, no nothing but those four dinky little plastic boxes that spelt their first names out in neon; you know, the ones on the back cover of the Ralf & Florian album. That and a few pin lights shining on their keyboards and drum pads. I tell ya, a Halloween pumpkin woulda provided more luminosity.

Meanwhile, Bowie's idea of being musically innovative was to perform music off his most recent album. How daring. Kraftwerk, on the other hand, cleaned his conceptual clock by performing "Trans Europa Express" in its full-length entirety—two long years before it would appear on any album.

Now that's German efficiency.

John Entwistle's Ox – Massey Hall (1975) :: Exactly three months earlier, The Who's bassist stormed the same stage for what was truly one of the most legendary nights in rock history—for all the wrong reasons. This time there was an opening act and, if there ever was a night when there shouldn't have been one, this was that night.

The place was packed to capacity and the poor no-name schlubs who opened for Entwistle had to suffer through a non-stop barrage of torrential abuse from a crowd of hardcore Who fans who were there for one reason and one reason only—and it sure wasn't the opening act.

"GET OFF THE FUCKING STAGE!" some callous brute yelled before the hapless group had even plugged in and things only got worse after that. "This is from our new album," a band member helpfully explained at one point. "DELETE THE FUCKING ALBUM!" came the immediate screamed reply. No matter what they tried to play, dozens of unsolicited requests for "BORIS THE FUCKING SPIDER!" would rain down upon them. Indeed, the only applause they received was when they haplessly announced that the next song would be their last number of the night.

Finally the headliners came on and it only took a few songs, if that, for me to realize, even with my Norton Sonic 2 earplugs securely screwed in, that the volume seemed to be a tad on the loud side. A few songs later, I was morbidly worried that my ears would start bleeding if I didn't immediately get up and leave. I didn't, but any thoughts that I was simply imagining things were quickly dispelled upon seeing the next morning's newspaper headline:

OX GORES EARDRUMS

A few weeks later I found out that, because his regular band wasn't touring at the time, Entwistle had hired The Who's sound man to mix the shows for his solo tour. And of course, because the guy's as deaf as a post, he automatically used the same volume settings to mix the sound for a 2,000 seat hall as he would to mix The Who in a 20,000 seat arena.

Now that's rock 'n' roll.

Be seeing you!
Sun, August 18, 2013 | link
Sunday, August 11, 2013
JEFFREY MORGANíS MEDIA BLACKOUT #380

IT'S THE BLOODY JEFFREY MORGAN'S MEDIA BLACKOUT #380!

I was recently waxing wroth with an old colleague of mine about how inane "Top Ten" lists are—whereupon I naturally got to thinking about making a "Top Ten" list of my own; namely, a chronological accounting of the ten greatest shows I've even witnessed.

Of course, objectivity isn't what it used to be, so you'll have to excuse me if my selections seem somewhat biased. I've seen who knows how many hundreds upon hundreds of concerts during my lifetime, but these are the ones that seem to have stuck in my cranial craw more than any others.

And if it seems that I haven't seen anything of note since the late '70s, well, that's because rock 'n' roll isn't what it used to be, either. Actually, truth be told, it's been downhill all the way after I attended my first rock concert. That's what happens when you start at the top; there's nowhere else to go but down.

The Beatles – Maple Leaf Gardens (1964) :: To quote their bass player, who also happens to be their biggest fan: "It's the bloody Beatles. Shut up!"

Bill Cosby – O'Keefe Centre (1968) :: At the absolute peak of his stand up career, and with I Spy still riding high in the television ratings, Cos toured to support his new album To Russell My Brother, With Whom I Slept. Which he proceeded to perform in its entirety, along with a selection of pre-recorded favorites. I'd had the new album at home for a week prior to the show, but I kept it factory sealed for my protection to ensure that the first time I'd hear it would be live. Needless to say, it was worth the wait.

Bob Hope – O'Keefe Centre (1968) :: Not just merely Bob Hope, mind you, but The Bob Hope Show wherein Old Ski Nose cracked wise not only during a topical opening monologue but while introducing a number of ancillary acts, none of whose names I can remember. Then again, I can't remember who was on the same bill as The Beatles, either.

Johnny Cash – Maple Leaf Gardens (1969) :: Not just merely Johnny Cash, mind you, but The Johnny Cash Show, which means The Man In Black plus June Carter plus Carl Perkins plus the Tennessee Three plus the Statler Brothers. Now who wouldn't remember a lineup like that? If you want to know what it was like, watch Johnny Cash At San Quentin, which was filmed nine months earlier the same year, the only difference being that, thanks to an absence of armed guards, the Gardens crowd was rowdier.

Jefferson Airplane – O'Keefe Centre (1970) :: This performance during the Volunteers tour was made memorable for a number of reasons, not the least of which was due to the fact that Grace Slick's dress kept coming undone, which caused her to make several impassioned pleas as to whether anyone in the audience had a safety pin. Luckily, no one did.

Creedence Clearwater Revival – Maple Leaf Gardens (1970) :: I actually timed this one on my watch and, from start to finish, it lasted a seriously svelte 40 minutes long, during which CCR performed pretty much every single song in their catalog that you'd want to hear, including two extended throwdowns on "I Heard It Through The Grapevine" and "Susie Q," each of which must have hit close to the extravagantly long five minute mark. When all your songs clock in at two and a half minutes apiece or less, you can afford to stretch your legs like that and still get off stage in record time.

Grand Funk Railroad – Maple Leaf Gardens (1970) :: If you have to ask, you'll never understand.

Leon Russell – O'Keefe Centre (1971) :: Wherein I managed to catch up with The Master Of Space And Time fresh from the Mad Dogs tour but just on the cusp of his arena packing potential. Everybody in the band gets to share in the holy rolling spotlight save for bassist Carl Radle who, in a move that made Bill Wyman look like an extrovert by comparison, insisted on standing at the back of the stage right behind the raised lid of Leon's grand piano.

Rolling Stones – Maple Leaf Gardens (1972) :: It's the bloody Rolling Stones. It's the Exile On Main St tour. Shut up!

Bob Dylan & The Band – Maple Leaf Gardens (1974) :: After his motorcycle accident, many of us thought we'd never get to see him; now we can't get rid of him. Resplendent in a grey suit with matching long scarf, Bob's biggest audience ovation of the night came when he yelled: "But even the President of the United Sates must have to stand naked!" Then again, Richard Nixon mailed me an autographed photo so if you're wondering if I was one of those cheering, it wasn't me, babe.

Alice Cooper – Maple Leaf Gardens (1975) :: So the guy on stage runs into a movie screen, becomes part of the movie, and then runs out of the movie screen and back onto the stage again? That's good enough for me.

Lou Reed – Massey Hall (1975) :: A year earlier he showed up in dyed blond hair and black nail polish on the pandering Sally Can't Dance tour. A year later he was back to the basics on the no nonsense Coney Island Baby tour. When the audience, who is looking for the cartoon character they'd seen the year before, gets what they didn't want, things slowly edge to an explosive confrontation.

David Bowie – Maple Leaf Gardens (1976) :: Whadda joker this guy is. First he plays a loop of Kraftwerk's Radio-Aktivität album for an hour over the PA system while the plebes are taking their seats. Then, for the opening act, he dims the lights and screens Salvador Dali's silent 1929 surrealist film Un Chien Andalou to an unsuspecting audience of twenty thousand, almost all of whom are blissfully unaware of the eyeball-slitting scene they're about to behold. Knowing what's coming, I close my eyes and patiently wait for the audience's audible reaction—which was a beaut. Everything after that was a bonus.

Bob Marley & The Wailers – Convocation Hall (1976) :: Hey, it's Bob on the Rastaman Vibration tour so, as you can very well imagine, the show is pretty much everything that you'd want it to be—and if you don't believe me, you can listen to the show online and hear the aural evidence for yourself. That said, the real entertainment came when the dreadlocked matinee crowd refused to leave and the dreadlocked audience for the evening show—which, in classic payola promoter fashion had been seriously oversold—arrives.

The Who – Maple Leaf Gardens (1976) :: It's the bloody Who. It's their last-ever performance in front of a paying audience with Keith Moon. Pete smashes his guitar. Shut up!

Perry Como – O'Keefe Centre (1977) :: If you have to ask, you'll never understand.

James Brown – The Music Hall (1980) :: Strangely believe it, back in 1980, nobody knew who JB was anymore. This was before his "Living In America" comeback when his most recent albums were non-sellers like The Original Disco Man. So when he came to town to play a midnight show in a derelict part of town in a rundown former movie theatre, photographer Tom Robe and myself had to go. By the time Mr. Brown hit the stage, it was well past one in the morning. Even so, it wasn't until a few songs into the set that my friend and I realized we were literally the only two white guys in a standing room only crowd of hundreds. Every so often, a black brother in his Superfly threads would turn around, give these two long haired whities in their denim jackets the once over, silently nod his approval, and turn back to watch the show. I never felt safer in my life.

Be seeing you!
Sun, August 11, 2013 | link
Sunday, August 4, 2013
JEFFREY MORGANíS MEDIA BLACKOUT #379

THE RETURN OF JEFFREY MORGAN'S MEDIA BLACKOUT #379!

Before I thank Machine Rock for ghost writing this column over the past month, I'd like to reprint something I wrote in 2008 that originally appeared on pages 172 and 173 of the exhaustively-titled hardcover coffee table tome Queen: The Ultimate Illustrated History Of The Crown Kings Of Rock:

Queen – Hot Space (Elektra) :: This is it, fight fans: the moment you've all been waiting for! Vegas touts have bet fat bundles of bucks that most of you machismo mustachioed Mustaphas turned to this page first just to see which unlucky pug drew the short straw and had to be dragged into the ring to tackle this, the most contentiously divisive long player in the entire history of Queen's decades-long undisputed heavyweight reign.

Well, get ready to take a back catalogue bath if you bet the farm expecting a first round canvas-kissin' dive because not only did I ask for this unwanted undertaking, I'm more than eminently qualified to wax rhapsodic about it, seeing as how I was first on the front lines when I similarly assigned it to myself for review in the October 1982 issue of CREEM: America's Only Rock 'n' Roll Magazine. You could look it up—but just in case you're still too 'luded out to look, I'll save you the trouble and reiterate for ya what I wrote over a quarter of a century ago:

"Hot Space is Queen at their high-techiest: a chrome 'n' glass altar paean to contemporary, vacuous lifestyles. Side one preaches a fairly cool gospel of dance 'n' sexuality which can be sung to any gender, age or species you choose to name; while side two is a moral exercise in 'keep yourself alive' polemics, capped by the nth appearance on vinyl of 'Under Pressure,' the survivalists' anthem of the 'ME' decade—a decade too late.

"This is (no snickering please) a concept album, whose central core suddenly becomes clear when one realizes how the last song on side one musically reiterates the previous melodic passages while its lyrics foreshadow those about to heard on side two."

What a load of malarkey, right? Mebbe so, but I'm willing to wager that those two breathless paragraphs gave Hot Space far more respect than an unsympathetic listener like you ever did. Besides, any album that can so thoroughly polarize a populace has got to have something going for it. I could go on, so I will.

The key to decoding this vexatious vinyl lies in its cover design—an ostensibly innocuous pattern which nevertheless was deemed important enough to merit its own special credit: Album package concept by Freddie Mercury. And although the untutored eye might very well wonder just exactly what kind of concept could possibly be divined in such a deceptively simple squaring off of four primary colors, the answer becomes apparent when one realizes that the cover of Hot Space is nothing less than Queen's enthrallment with the 1978 Milton Bradley game Simon made manifest.

Simon was an electronic musical memory game that became an immediate worldwide pop culture phenomenon, the likes of which lasted well into the '80s. It's no coincidence that Milton Bradley was prescient enough to unveil the subliminally seductive Simon at New York's notorious discothèque Studio 54, which was disco's hedonistic headquarters for rampant drug ingestion and promiscuous public sex—and it's no coincidence that pop culture vultures Queen latched onto that hip happening as an apposite means of expressing themselves both musically as well as stylistically.

Talk about playing the game: by cleverly crafting the cover of Hot Space as a Simonesque simulacrum that precisely duplicated the game's color coding and sequencing, Queen was signaling their use of Simon's capricious flashing lights and repetitive robotic tones as an aesthetic template for their own foray into the increasingly extreme hedonistic characteristics of the genre—a fearless infusion of buxom beats and overly-endowed sounds coupled with an overtly socio-sexual subtext of calculated carnality.

Paradoxically, Hot Space's one flaw is that it demurely holds back instead of lustfully going all the way. By prematurely pulling its punches and hedging its bets with a second side serving of servile rock songs, Queen stray from their salacious source material and opt instead to placate their audience by adhering to their public persona as preeminent pop purveyors rather than stay faithful to their true nature as aural carousers.

Of course we can only imagine what an unfettered and unabridged version of Hot Space would've sounded like; one that bawdily broke free from societal customs and held no truck nor trade with the staid conventions of classic rock. But let's at least be thankful for what we do have: a ribald record with a licentious legacy that rarely receives any respect; a debaucherous disc whose unfortunate fate can best be summarized in two words:

No sympathizers.

SIZZLING VIDEO OF THE WEEK: Queen – Queen On Fire: Live At The Bowl (Eagle Vision) :: But that was then and I'm back in the here and now to tell ya that Queen On Fire: Live At The Bowl is the absolute greatest Queen video mine eyes have seen the glory of—and I've eyeballed 'em all from the long-haired Hammersmith Odeon yuletide tempests; to the short-shorn Rio and Barcelona bacchanalias; to what up until now had been my own personal favorite: the rarely seen, by invitation only, private party footage from Robert Frank's decadent Queen: Nuremberg Night Rally documentary.

So when I said five years ago that "we can only imagine what an unfettered and unabridged version of Hot Space would've sounded like; one that bawdily broke free from societal customs and held no truck nor trade with the staid conventions of classic rock," little did I know that this video would be about as close to having that prayer answered as we're likely to get.


That's because
Queen On Fire: Live At The Bowl
was filmed, you guessed it, in England during the Hot Space tour, which means we're treated to no less than three out of the five songs which comprised that album's first side, all of which get the aforementioned unfettered and unabridged classic rock transcending treatment thanks, in no small part, to the discothèque ticking of Mott The Hoople's very own Morgan Fisher rocketing on the 88s.


But if you're not a Hot Space adherent like I am, don't worry 'cause there's over twenty other numbers to round out the set, thus ensuring that just about every essential Queen sports anthem you'd want to hear is here—including "Guitar Solo" which has never appeared on any Queen studio album to date.


Unfortunately, if you are a Hot Space adherent like I am, you'll still be in mourning that band dropped "Staying Power" and "Back Chat" and "Action This Day" like a hot spud after The Works came out, making this is the only chance you'll ever have to see those songs performed live.

And speaking of bearing witness, as if that wasn't bad enough, to add insult to injury, the guitarist actually has the unmitigated gall to knock the singer's ten gallon sombrero right off his noddin' noggin during the middle of the solo in "We Will Rock You"—all without missing a beat.

And you're still wondering why
Freddie recorded Mr. Bad Guy.


Be seeing you!
Sun, August 4, 2013 | link
Sunday, July 28, 2013
JEFFREY MORGANíS MEDIA BLACKOUT #378

FEED MY JEFFREY MORGAN'S MEDIA BLACKOUT #378 MACHINE ROCK'S MEDIA BLACKOUT #4!

EDITOR'S NOTE: Jeffrey Morgan (@CREEM) is on vacation. Ghost writing his column for the next few months will be valued colleague MACHINE ROCK (@MachineRock) who promises to try and ape, as closely as possible, Mr. Morgan's idiosyncratic; emdash-addicted; comma-eschewing; alliterative; run-on sentence style of writing. Let's see how well he shovels it this week:

Susan Tyler Hitchcock – Frankenstein: A Cultural History (W.W. Norton & Company) :: Not since Martin Tropp's Mary Shelley's Monster: The Story of Frankenstein; and the Marcia Huyette illustrated edition of Leonard Wolf's The Annotated Frankenstein; and the Bernie Wrightson illustrated edition of Mary Wollstonecraft Shelley's Frankenstein; has there been such an essential volume on the subject as this one. Not only does Hitchcock exhume every last bit of monster minutia there is to find, she stitches it all up into a socio-political pop culture context that's never dry and always entertaining. Even if you think you know everything about the novel's creation and its subsequent appearances on stage; in print; on screen; in the courtroom; and beyond, you'll find an additional wealth of fascinating facts harbored herein that you never knew existed.

But in a book full of horrors, the most terrifying fact of all can be found on page 263 wherein Hitch writes: "Alice Cooper disappeared from the music scene for more than a decade soon after his 1971 hit record Love It To Death. But he blasted back in 1986 with a new album, Teenage Frankenstein."

These words she speaks are true. After he released Love It To Death, the career of Alice Cooper went to Hell thanks to such back-to-back bombs as Killer (1971); School's Out (1972); Billion Dollar Babies (1973); Muscle Of Love (1973); and his worst selling album ever: the vastly unpopular, arena-emptying, delete bin denizen Welcome To My Nightmare (1975). Good thing he recorded that comeback album Teenage Frankenstein, huh?

Alice Cooper – Constrictor (MCA) :: Includes the hit single "Teenage Frankenstein."

SIZZLING PLATTER OF THE WEEK: Tim Curry – Fearless (A&M) :: And speaking of Frank N. Furters, what an undisputed heavyweight champ this guy is. Graduating at the top of his class with an honors degree in summa camp smartass from the Dean Martin "Who Gives A Shit?" school of music, he waxes three albums and then calls it quits before the ennui sets in. Meanwhile, hailing from 1979, Curry's second solo squib after Rocky Horror is his undisputed dizbuster best in that contains all three of his urban mondo manifestos: "I Do The Rock" and "Paradise Garage" and "Charge It."

Never content to sing one note straight when half a dozen bent ones will do, Curry proves that he's the master of arch theatrical enunciation powered by a projected to the cheap seats delivery. Which explains why, when he's not busy quoting from Lou Reed or sniping off a series of ad-libbed asides worthy of Ian Hunter, he's happily hamming up his wittier than thou lyrics with an over the top scenery chewing ethno dialect that makes David Lee Jagger's neo-Negroid vocal affectations seem positively phoneticist by comparison.

Besides, anyone who can successfully sell a fractured rhyme such as "I've always liked DiMaggio and Rockne's pretty Knute, you know?" with a straight face deserves a spot in your record collection.

Be seeing you!
Sun, July 28, 2013 | link
2013.12.01
2013.11.24
2013.11.17
2013.11.10
2013.11.03
2013.10.20
2013.10.13
2013.10.06
2013.09.29
2013.09.22
2013.09.08
2013.08.25
2013.08.18
2013.08.11
2013.08.04
2013.07.28
2013.07.21
2013.07.07
2013.06.30
2013.06.16
2013.06.02
2013.05.26
2013.05.19
2013.05.12
2013.05.05
2013.04.21
2013.04.07
2013.03.31
2013.03.24
2013.03.17
2013.03.10
2013.03.03
2013.02.24
2013.02.17
2013.02.10
2013.02.03
2013.01.27
2013.01.20
2013.01.13
2013.01.06
2012.12.30
2012.12.23
2012.12.16
2012.12.09
2012.12.02
2012.11.25
2012.11.18
2012.11.11
2012.11.04
2012.10.21
2012.10.14
2012.10.07
2012.09.30
2012.09.23
2012.09.09
2012.09.02
2012.08.26
2012.08.19
2012.08.12
2012.08.05
2012.07.29
2012.07.22
2012.07.15
2012.07.08
2012.07.01
2012.06.24
2012.06.17
2012.06.10
2012.06.03
2012.05.27
2012.05.20
2012.05.13
2012.05.06
2012.04.29
2012.04.22
2012.04.15
2012.04.08
2012.04.01
2012.03.25
2012.03.18
2012.03.11
2012.03.04
2012.02.26
2012.02.19
2012.02.12
2012.02.05
2012.01.29
2012.01.22
2012.01.15
2012.01.08
2012.01.01
2011.12.25
2011.12.18
2011.12.11
2011.12.04
2011.11.27
2011.11.20
2011.11.13
2011.11.06
2011.10.30
2011.10.23
2011.10.16
2011.10.09
2011.10.02
2011.09.25
2011.09.18
2011.09.11
2011.09.04
2011.08.28
2011.08.21
2011.08.07
2011.07.31
2011.07.24
2011.07.17
2011.07.10
2011.07.03
2011.06.26
2011.06.19
2011.06.12
2011.06.05
2011.05.29
2011.05.22
2011.05.15
2011.05.08
2011.05.01
2011.04.24
2011.04.17
2011.04.10
2011.04.03
2011.03.27
2011.03.20
2011.03.13
2011.03.06
2011.02.27
2011.02.20
2011.02.13
2011.02.06
2011.01.30
2011.01.23
2011.01.16
2011.01.09
2011.01.02
2010.12.26
2010.12.19
2010.12.12
2010.12.05
2010.11.28
2010.11.21
2010.11.14
2010.11.07
2010.10.31
2010.10.24
2010.10.17
2010.10.10
2010.10.03
2010.09.26
2010.09.19
2010.09.12
2010.09.05