Saturday, July 25, 2015
JEFFREY MORGANíS MEDIA BLACKOUT #480
JEFFREY MORGAN'S MEDIA BLACKOUT #480.90!
5ive – Versus (Tortuga) :: Alan Swann says: "Stone, this very heavy medieval instrumental thud-rock sounds just like the second coming of Kyuss. Mucho recommendo!"
The Velvet Underground – "Sister Ray" (Verve) :: One of these things...
Mad Violet – Caravan (Passenger Sounds) :: Obviously we've entered into a new renaissance of excellent countrified folk music that's written and sung by highly intelligent women who are confident enough to passionately and expertly express their heartfelt emotions.
Pilate – Caught By The Window (Wrangled) :: These fem-sensitive guys wear their naked hearts on their sleeves so plaintively that I mutated into a weepy, sundress-wearing hippie chick just by listening to them.
Motörhead – Orgasmatron (Bronze) :: Fortunately, I had an antidote.
MC5 – "Sister Ann" (Elektra) :: ...is not
Gasoline Heart – You Know Who You Are (Mono Vs Stereo) :: Although Louis DeFabrizio got Steve Albini to ably tape his smart-sounding album, he obviously never saw Albini's exquisite Chuck Jones-inspired album art to Big Black's Atomizer album because his record is sheathed in the usual limp-dick dreck.
Jacksoul – My Soul (Sony BMG) :: Thin White Dave craved ebony acceptance and butchered "Ashes to Ashes" and "Knock on Wood." Phat Black Jack craves ivory acceptance and butchers "Ashes to Ashes" and "Knock on Wood."
Little Richard – "Ooh! My Soul" (Specialty) :: Trust the original crossover cross-dresser to get it right.
Jobriath – "Sister Sue" (Elektra) :: ...like the other.
SIZZLING PLATTER OF THE WEEK: Black Stone Cherry – Black Stone Cherry (Roadrunner) :: Benjy Stone says: "Mr. Swann, even if BSC are only half as heavy live as they are on this record, they'd still sound twice as heavy as most other bands." King Kaiser concurs: "Swannee, if you ever wondered what would have happened had Jimmy Page been a spittle-flecked speed freak who formed Motörhead instead of Led Zeppelin, well, now you know, Ace—in spades."
Be seeing you!
Sat, July 25, 2015 | link
Saturday, July 18, 2015
JEFFREY MORGANíS MEDIA BLACKOUT #479
JEFFREY MORGAN'S MEDIA BLACKOUT #479.89!
Robert Christgau – Christgau's Consumer Guide (RIP) :: Somewhere, George Harrison is smiling. A+
The C.R. Avery Band – Chainsmoking Blues (self-released) :: Tom Waits says: "Avery is terrific!" Jeffrey Morgan says: "It's not every day you hear someone who can sing like Neil Young, Bruce Springsteen and Lou Reed all at the same time!" B-
Eddie Turner – The Turner Diaries (Northern Blues) :: Memo for Turner: Now that Stephen Stills says you're a "monster guitar player who reminds me of my good friend Jimi," how about recording an album that's as good as Rainbow Bridge instead of one that's better than War Heroes? C+
The Outline – You Smash It, We'll Build Around It (Fearless) :: This is what Metal Box would've sounded like if John Lydon grew up listening to Genesis and Ultravox instead of Alice Cooper and had actually been able to sing. B+
Hella – Acoustics (5RC) :: The most retarded band in America is back with yet another stoop-abandoned basket case of insanely disjointed music. As long as they're wanking in the studio, they won't be walking on the street. C
Prince – 3121 (NPG) :: Miles Davis at his most smack-addled never hallucinated synapse-snappin' music like this—and Betty Davis at her hellcat horniest never wrote lavacum lyrics like: "You'll be screaming like a white lady when I count to three." A-
Derek And The Dominos – Layla And Other Assorted Love Stories (Polydor) :: Quaaludes. A
SIZZLING PLATTER OF THE WEEK: Jimmy Sturr – The Greatest Hits Of Polka! (Rounder) :: Growing up behind the Iron Curtain, the only music we heard was polka music. Every night we'd huddle around the oil lamp to keep warm and listen to everyone from Walter Ostanek and Frankie Yankovic to my particular favorite, Jimmy Sturr. Every classic song you'd want to hear is here, from "Beer Barrel Polka" to the BBW national anthem "She's Too Fat for Me!" Toss in some guest stars like saxer Boots Randolph, doper Willie Nelson, and stutterer Mel Tillis and you've got one primo percolating polka party platter! B
Be a-a-alliterating you!
Sat, July 18, 2015 | link
Saturday, July 11, 2015
JEFFREY MORGANíS MEDIA BLACKOUT #478
JEFFREY MORGAN'S MEDIA BLACKOUT #478.88!
Buckaroo Banzai & The Hong Kong Cavaliers – No Matter Where You Go There You Are: Live at Artie's Artery (Yoyodyne) :: Includes the hit singles "Since I Don't Have You" and "Rocket 88." More power to them!
Scissorfight – Jaggernaut (Hydra Head) :: Chuck "Barfly" Bukowski once wrote an alkie article in CREEM about the Stones named "Jaggernaut." Sadly, this watered-down disc doesn't live up to the potential of that 100-proof title.
Velvet – The Juggernaut (Double Decker Bus) :: But this one sure does! Soaring harmonies and chiming music make this an intelligent guitar-fueled modern melodic version of Crosby, Stills, Nash & Bolan.
Hour Of The Wolf – Power Of The Wolf (Limekiln) :: Ramones meet Metallica. Ingmar Bergman meets his lawyer.
Arma – A Century's Remains (Rthmtc) :: If these two guys could sing a fraction as well as they play, they just might be contenders. Next time, either hire a singer with an original personality or stick with the heavy art rock instrumentals.
Tacoma Redd – A Momentary Misfortune (Skylar) :: The local torso-tossin' cleavage heaver says she loves to peel down to this kind of panty-wetting power pop 'cause her tappin' toes tell her to go with her flow.
Olivia Elton John – Physical (Rocket) :: And a girl should always listen to her body talk, body talk.
Bill Cosby – Bill Cosby Is A Very Horny Fellow (Warner Bros.) :: RIGHT!
SIZZLING PLATTER OF THE WEEK: The 88 – Over And Over (EMK/Mootron) :: One of the hardest vibes for modern music practitioners to get right is that classic '70s Brit glam rock sound, but these crazy 88s have managed to beat the odds by merging the best of Davies' cobblestone pub soap operas, Hunter's crash street love stories and Bowie's lady grinning theatour days in one primo produced package that's brimming with enough intelligent rock music to knock you for a loop—so stop reading this hackneyed run-on sentence and go buy it now. Oh, and there really aren't 88 of them, they just call themselves that. I guess they think it sounds cool.
Be seeing you!
Sat, July 11, 2015 | link
Saturday, July 4, 2015
JEFFREY MORGANíS MEDIA BLACKOUT #477
JEFFREY MORGAN'S MEDIA BLACKOUT #477.87!
The Gersch – The Gersch (Tortuga) :: Pinioned pig on the front. Hung human on the back. Pseudo demento guitar rock betwixt.
The Win – The Win (Georgeira) :: Geddit?
Blacklisted – The Beat Goes On (Deathwish) :: Dumb keep poundin' jism to the lame.
Jim Noir – Tower Of Love (My Dad) :: Wouldn't it be nice if Brian Wilson and the Beatles recorded a jaunty pop album together?
Brian Wilson – "The Spirit of Rock 'n' Roll" (unreleased) :: Wouldn't it be nicer if Brian Wilson and Bob Dylan actually did record a song together?
Brian Wilson – Sweet Insanity (unreleased) :: Wouldn't it be nicest if the solo album it appeared on had actually been released?
Antler – Nothing That A Bullet Couldn't Cure (Small Stone) :: The rock 'n' roll maniacs at Small Stone are back with another hard rockin' record that just might be the Best Western-themed album since the James Gang checked in. But the next time you cowpokes pose for a photo, make sure you lose the sunglasses and toque first, eh?
Mugison – Mugimama! Is This Monkey Music? (Ipecac) :: No Lucy, this is cacaloo Ricky Retardo music. It's also further proof that yesterday's insane asylums are today's independent music labels. If Frances Farmer were alive today, she'd be signed to Trans-Orbital Records.
Professor Murder – Professor Murder Rides The Subway (Kanine) :: Do you like cowbells? (Say, what if Eno had produced Malcolm McLaren's Duck Rock?) Do you like synthesizers? (Say, what if Malcolm McLaren had produced Eno's Here Come The Warm Jets?) Do you like Devocals? (Say what?)
SIZZLING PLATTER OF THE WEEK: Old Crow Medicine Show – Big Iron World (Nettwerk) :: In the best Masked Marauders tradition, "Down Home Girl" effortlessly combines the freewheelin' drawl of Dylan, the hard day's harp of Lennon and the moonlight guitar of Krieger. But Dylan never wrote a line like "I swear your perfume baby is made outta turnip greens, every time I kiss you girl it tastes like pork and beans." Come to think of it, neither did Jim "Dandy" Mangrum. And that's just the first song.
Be seeing you!
Sat, July 4, 2015 | link
Saturday, June 27, 2015
JEFFREY MORGANíS MEDIA BLACKOUT #476
JEFFREY MORGAN'S MEDIA BLACKOUT #476.86!
The Philosopher Kings – Castles (Sony BMG) :: This is the album of the year!*
The Brought Low – Right On Time (Small Stone) :: Dual guitar stereo high jinks in the sonic service of some hooch-swillin' Southern-fried blues rock.
Cult Of Sue Todd – Kelsey Grammer Loves Us (NachoBake) :: Geeky atonally adenoidal spasmodal nerd music that shoulda been called "Cult Of Gerry Todd" in tribute to SCTV's legendary video pioneer.
The Sharp Ease – Remain Instant (Olfactory) :: As much as I liked their first album, I like this new one a whole lot more 'cause it's a feminized version of analog Television, only with an additional upgrade of HDTV girl power.
Mothra – Mothra (self-released) :: Ah, so! Preased to be ristening to this furious female screamo that could kick Reptilicus' scales in a Japanese minute!
Imaad Wasif – Imaad Wasif (Kill Rock Stars) :: The front cover shows him pecking out his lyrics on an old Underwood as if he were the acoustic second coming of Joseph Strummer—or maybe even better.
Porcelain Youth – The Therapy Sessions EP (V2) :: Super chunk heavy thunk from Korny punks who…I can't even think up a word that rhymes.
Panurge – Walking In The Fog (Last Gang) :: There ain't nobody who conjures the mischievous art rock spirit of Kevin Ayers better than Panurge, so I'm pleased as punch to report that they're back with yet another soft machine of clever ethereal pop. Bonus points for taking my advice and getting better album cover art.
SIZZLING PLATTER OF THE WEEK: Five Horse Johnson – The Mystery Spot (Small Stone) :: I was gonna crack wise about stallion wangs squirtin' out hot shot spots of unknown origin. Then I listened to this album and realized it was no joke 'cause this Led Steppenwolf studfest is nothing less than filthy blues rock at its absolute sleaziest, well-hung, ball-blastin' best. Recorded in Ferndale. Overdubbed in Ypsilanti. Mastered in Ann Arbor. But of course.
*If you like emasculated sensitive girly-man music.
Be seeding you!
Sat, June 27, 2015 | link
Saturday, June 20, 2015
JEFFREY MORGANíS MEDIA BLACKOUT #475
JEFFREY MORGAN'S MEDIA BLACKOUT #475.85!
The Damnwells – Air Stereo (Zoë) :: Which is funnier: a) that they open their album singing: "I've got you, babe. Diamonds and pearls, babe. More than a feeling, babe. Radar love, babe. I want you to want me, babe. Kick start my heart, babe. Sweet child of mine, babe. Wanna be starting something, babe," or b) that they have a major recording contract and you don't?
Throttlerod – Nail (Small Stone) :: Ten over-amped distorto guitar-driven scream screeds that reek with the distinctive raw power patina of early Iggzapoppin'.
Trent Reznor – Quake (id Software) :: Say, didja know that if you take the original installation disc from id's first Quake game and slot it in a standard audio player you can hear NIN's greatest album in its full-length instrumental entirety?
Kraftwerk – "The Robots" (Kling Klang) :: And speaking of slotting it in, I betcha Rosie screws Bender to this.
Edgewater – We're Not Robots (Forevergreen) :: On "Caught in the Moment" they prove that they can excel at dumb rock as well as anyone else. On "Rock Is Dead" they just excel at being dumb.
Xrayok – Like Life (self-released) :: A dash of jangling guitar here, a pinch of lush synth texture there, the kind of arch Euromantic tunes that "Street Life" Ferry and "Quiet Life" Sylvian used to croon to make 'em swoon.
SIZZLING PLATTER OF THE WEEK: Amps for Christ – Every Eleven Seconds (5RC) :: Trust these holy amplifiers to come up with their most eclectic album yet. Where to begin? With the Velvets distorto of "Augmented Demented"? The skilled Oldfield meets Hendrix of "Out on the Moon (slight return)"? The gonzo spoken word tribute "Thompson Hunter"? The country pickin' of "El Corazon de San Vicente"? The dental drill diatribe "I Hate This Dumpster"? The bagpipe pneumatics of "Scotland the Brave"? The Ravioli Shankar sitar of "Proof Man"? The trans-orbital shock treatment of "The Crossing"? The banjo pickin' "Sweet Dove"? The Neil Young & Crazy Horse parody "WIB"? The psycho Prince prototype "Monkeys Gone Wild"? You tell me, babe.
Be seeing you!
Sat, June 20, 2015 | link
Saturday, June 13, 2015
JEFFREY MORGANíS MEDIA BLACKOUT #474
JEFFREY MORGAN'S MEDIA BLACKOUT #474.84!
Leon Russell – Leon Live (Shelter) :: Most creative album title ever!
Ray Davies & The Shelter People – The Kinks Of Leon (Cola) :: Geddit?
Ambulance Ltd – New English EP (TVT) :: Their last record sucked cockney but this new one shows an impressive maturity that's derivative of the Rubber Soul fabs.
North And South – The Spirit That Guides Us (Goodfellow) :: They don't pay me enough to listen to faceless immature twaddle like this.
So They Say – Antidote For Irony (Fearless) :: Really they don't.
The Fenians – Every Day's A Hooley (Mizen Head) :: The Irish Rovers bedding Boiled in Lead is how endearing this fifth of Fenians is. Even better, the title track is a sly sequel of sorts to the old Kingston Trio hit "Tom Dooley," so don't hang down your head and cry.
The Rolling Stones – Exile On Sesame St. (Children's Television Workshop) :: OK, now you can hang down your head and cry.
Oxbow – Love That's Last (Hydra Head) :: Hey kids, do you like violence? Well, I'm kinda Fonda this Oxbow incident, so step right up and hear the bitch battle of the century as Diamanda Galás meets Marianne Faithful in a slaughterhouse slugfest.
Paris Hilton – Douchebag Über Alles (Hansa) :: Heil der neu Nico!
The Salads – The Big Picture (Kindling) :: Pantera power-pounding meets Van Halen guitar dexterity meets Peter Gabriel social scruples meets a smood dasha de island beat, mon.
David Bowie – David Live (RCA) :: Most creative album title ever!
SIZZLING PLATTER OF THE WEEK: Derek Miller – The Dirty Looks (Curve) :: A veritable studio sound track to his live show, Derek cranks out his distinctive brand of guitar-fueled barn-burnin' blues rock with all the possessed intensity of a man who's made midnight deals at every sulphuric crossroads from here to hell and back. That's why I gotta give the devil his due and say that this hard rockin' record delivers on all counts. Better loosen that tie, 'cause things are only going to get a lot hotter from here on in.
Be seeing you!
Sat, June 13, 2015 | link
JEFFREY MORGANíS ROCK íNí ROLL PHOTOGRAPHS
JEFFREY MORGAN'S ROCK 'N' ROLL PHOTOGRAPHS

While you're visiting, don't forget to view the dozens of essential selections from my vast archive of
hundreds of extremely rare and previously unseen rock 'n' roll photographs from the 1970s and 1980s—all of which were taken by myself from my front row center seat at various venerable venues; vintage historical portraits which include the following rock stars caught in their youthful prime:


David Bowie
(1976 Station To Station tour) :: Lou Reed (1974 Sally Can't Dance tour) :: Iggy Pop (1977 The Idiot tour) :: Bob Dylan (1978 Street Legal tour) :: George Harrison (1974 Dark Horse tour) :: Paul McCartney (1976 Wings Over America tour) :: Pete Townshend (1976 The Who By Numbers tour) :: Johnny Winter (1976 Captured Live! tour) :: Jeff Beck (1975 Blow By Blow tour) :: KISS (1977 Love Gun tour) :: Alice Cooper (1975 Welcome To My Nightmare tour) :: Freddie Mercury (1977 News Of The World tour) :: Amanda Lear (1975 Sweet Revenge tour) :: Rod Stewart (1977 Foot Loose & Fancy Free tour) :: Mick Jagger (1975 It's Only Rock 'n Roll tour) :: New York Dolls (1975 Tokyo Dolls Live tour) :: Keith Richards (1975 It's Only Rock 'n Roll tour) :: Ian Hunter (1989 YUI Orta tour) :: Elton John (1974 Caribou tour) :: Mick Ronson (1989 YUI Orta tour) :: Steven Tyler (1977 Draw The Line tour) :: Sparks (1975 Indiscreet tour) :: James Brown (1986 Gravity tour) :: Miles Davis (1985 You're Under Arrest tour) :: Roger Daltrey (1976 The Who By Numbers tour) :: Bruce Springsteen & Clarence Clemons (1975 Born To Run tour) :: John Entwistle (1976 The Who By Numbers tour) :: Keith Moon (1976 The Who By Numbers tour) :: The Who (1976 The Who By Numbers tour) :: and more!

Ask any dealer and he'll tell you that the best way to get someone hooked on your product is to give them a free sample, so here's just a small taste of what's coming your way when you click on the eleven gallery links to your left: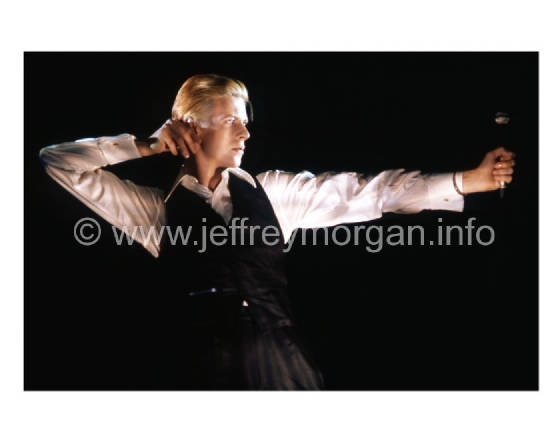 Sat, June 13, 2015 | link
Saturday, June 6, 2015
JEFFREY MORGANíS MEDIA BLACKOUT #473
JEFFREY MORGAN'S MEDIA BLACKOUT #473.83!
Everlovely Lightningheart – Everlovely Lightningheart (Hydra Head) :: A single 40-minute track consisting of a tinny piano-cored music box melody that weaves through myriad underwater caverns before cross-fading into a convergent realm of mysterious melodies and concrete sounds in the haunting tradition of Basil Kirchin and Gavin Bryers.
The Cinematics – "Break" (TVT) :: I bet the new Bryan Ferry record isn't half as hip as this glamatronic go-round.
Tommy Emmanuel – The Mystery (Favored Nations) :: Finally, the virtuoso acoustic guitar equivalent of Rick Wakeman's The Six Wives Of Henry The Eighth.
Snoop Dogg – Love Don't Live Here No More (Atria) :: "Street lit" mah azz. But I can't find it in me to hate a guy who took his name from Hanna-Barbara's classic cartoon characters Super Snooper and Doggie Daddy.
Pete Townshend – Horse's Neck (Faber & Faber) :: And as Billy Altman astutely pointed out, Cyrano nicked his guitar smashing act from Hanna-Barbara's classic cartoon character El Kabong—aka "Queeks Draw" McGraw.
Desi Arnaz – "Babalu" (Desilu) :: Baba Looey, geddit?
Roman Candle – The Wee Hours Review (V2) :: Springstonesish anthemic storytelling rock. Bonus points for having a guitarist named Nick Jaeger. Really.
The Flintstones – The Original TV Soundtracks! (Colpix) :: Didja know that back in the early '60s, a half century before the luxury of complete season DVD box sets, Columbia released a series of long-playing original soundtrack albums of Hanna-Barbera's most popular cartoon shows?
Keith Richards – "I Could Have Stood You Up" (Virgin) :: He had a gay old time. Really; listened to the lyrics lately?
SIZZLING PLATTER OF THE WEEK: Milky Ways – Milky Ways (Alive) :: Back in punk's halcyonic heyday, I used to spend every night lurching from one dingy, rat-infested hellhole to another, listening to a buncha snotbox bands who sounded just like these wonderfully wasted kids. So if you like your rock served raw with a side order of primitive cool, you're gonna love these guys 'n' dolls to deaf, 'cause these Milky Ways ain't no Milky Duds—and that's nothing to Snickers at.
Be seeing you!
Sat, June 6, 2015 | link
Saturday, May 30, 2015
JEFFREY MORGANíS MEDIA BLACKOUT #472
JEFFREY MORGAN'S MEDIA BLACKOUT #472.82!
Rae Spoon – White Hearse Comes Rolling (Washboard) :: You've got this critic in a whirl. I'm not sure if you're a boy or a girl. Hey babe, you sound alright. Hey babe, you've recorded a countrified album that makes Harvest sound like Ace Of Spades. You tacky thing.
Sonic City – Sonic City (self-released) :: Pre-pubescent guitar dizbuster Danny Sveinson wears a Ramones T and has classic gabba four producer Ed Stasium twiddling the knobs. But the resemblance stops there because this album—which has Generic Arena Rock written all over it—is grievously unfocused and sorely lacking in direction. Talent is an asset and little Danny has it. Too bad he doesn't know what to do with it yet.
Digging Roots – Seeds (Jericho Beach) :: Funky native music fuelled by a sexy soulful blend of reggae 'n' blues.
Crime In Stereo – The Troubled Stateside (Nitro) :: "Kids! We're in this together. You're my new consumer and I don't want to move back home. Put a big black sticker on the front that says 'For Fans Of:' and you can donate a penny to my future pension. So download all the songs we wrote and hype it up with some bullshit quotes. Yeah, we're on a roll." Boy, and they call me cynical.
SIZZLING CHANTEUSE OF THE WEEK: Lori Cullen – Calling For Rain (Maple Nationwide) :: If you only buy one album this year by a female jazz and pop singer, make sure it's this one because Lori Cullen has one of the purest voices in a generation. Once you've heard her, you'll recognize that she has more than enough talent to become the next premier interpreter of our time. Most women who sing standards these days are little more than opportunistic posers cashing in on a nostalgia fad. Every time they open their mouths you can see them mentally watching themselves sing while they pretend to live in another swankier era. But when Lori Cullen sings, she lives every song without any ironic inflections.
Be seeing you!
Sat, May 30, 2015 | link
Saturday, May 23, 2015
JEFFREY MORGANíS MEDIA BLACKOUT #471
JEFFREY MORGAN'S MEDIA BLACKOUT #471.81!
Agoraphobic Nosebleed – PCP Torpedo / Anbrx (Hydra Head) :: The most distorted screamo album ever made opens with a foul-mouthed excerpt from a Richard Pryor movie. Then they strike up the band and put the dialogue to a mess age of musick.
1986 – Nihilism Is Nothing To Worry About (Palentine) :: I was worried that the band 1986 would be as musically dull as the year 1986 was. But not to worry because they sound as if Elliott Murphy had replaced Unca Lou after Loaded and then recorded a fifth Velvet Underground studio album.
Slow Motion Reign – Slow Motion Reign (Surgical Strike) :: Kinda like Obscure Alternatives Japan with a hint of early melodic Queen and the languid loopy charm of Hunky Dory Bowie. That said, they have an earnest and ambitious neo-prog sound that's all their own and well worth a listen. Worth a listen? Why, it's more fun than freebasing with a polyester shirt on!
Hot One – Hot One (The Music Of Nato) :: The really sexciting songs on this album sound like a pouty punky cross between Nick Gilder's Sweeney Todd ("Get Your Priest On!"), Michael Hutchence's INXS ("Sexy Soldier") and Prince's NPG ("Fu*k*n'"). Needless to say, the really boring ones don't.
Person – Entitled (Echelon Productions) :: On "You Ain't Hot," this nattily dressed synthesizer trio rips a page outta Morris Day's little black book and then ups the ante by using enough feelthy lingo to make Prince turn three different shades of lavender. Are you ready for the new sex-soaked Bee Gees?
SIZZLING PLATTER OF THE WEEK: Mstrkrft – The Looks (Last Gang) :: And speaking of getting soaked, this anonymous glory hole happening between S'Express, Kraftwerk, Giorgio Moroder, and 808 State is nothing less than a wet dream hook-up for horny hedonists aching to relive the coke-soaked '80s—and that's nothing to sniff at.
Tiga – Sexor (Last Gang) :: More très fey syntho electro. Beulah, crack me another amyl.
Jan Hammer – Miami Vice (MCA) :: Give me Librium or give me meth!
Be snorting you!
Sat, May 23, 2015 | link
Saturday, May 16, 2015
JEFFREY MORGANíS MEDIA BLACKOUT #470
JEFFREY MORGAN'S MEDIA BLACKOUT #470.80!
J.R. Ewing – Maelstrom (Dim Mak) :: You're not dreaming in a prison shower, this unreasonable metal screamonstrosity sounds just like Ozzy 'n' Alice 'n' Ig, oh my!
The Adored – A New Language (V2) :: Ramonesish perky percolating power pop guaranteed to purify your aural palette.
Knut – Alter (Hydra Head) :: Think their band name is clev—oh, sorry, I already used that one-liner. Well then, suffice it to say that these 14 tracks have enough remixed industrial menace to make Farmer's Market sound like Pete Seeger on valium.
Flattbush – Seize The Time (Koolarrow) :: I'm told that these hammer and sickle-sporting screamanicacs "bring Filipino political rage hard and raw to the States." Good thing I live in Canada.
Grant-Lee Phillips – nineteeneighties (Zoë) :: This is the on-the-nod acoustic album Eric Clapton would record today if old Spikehand were still strung out on smack and had a craving to carve up 11 antique melodies ranging from "Wave Of Mutilation" to the anal sex classic "Love My Way."
Toni Basil – "Mickey" (Capitol) :: And speaking of anal sex classics, she's still the only woman to offer to take it up the ass on Top 40 radio.
Led Zeppelin – In Through The Out Door (Swan Song) :: What did you think the title meant?
Prince – "Raspberry Beret" (Paisley Park) :: What did you think "She walked in through the out door" meant?
Led Zeppelin – "Since I've Been Loving You" (Atlantic) :: What did you think "I open my front door, hear my back door slam" meant?
The Doors – "Back Door Man" (Elektra) :: Yeah, yeah, yeah! Priddy neat, priddy neat! Priddy good, priddy good! Alright!
Greeley Estates – Far From The Lies (Record Collection) :: Music to take prison showers by. Careful with that soap, Eugene…
SIZZLING PLATTER OF THE WEEK: Blood Brothers – Love Rhymes With Hideous Car Wreck (V2) :: Are you ready for a quirky spastic cabaret cross between the Clash and Marilyn Manson? How about Suicide and Diamanda Galás? Either way, the hills are alive with the sound of stuck pig music.
Be squealing you!
Sat, May 16, 2015 | link
Saturday, May 9, 2015
JEFFREY MORGANíS MEDIA BLACKOUT #469
JEFFREY MORGAN'S MEDIA BLACKOUT #469.79!
Sizzling Autopsy Result Of The Week: New York Dolls – One Day It Will Please Us To Remember Even This (Roadrunner) :: Don't be so sure because everyone who had a hand in the creation of this steaming pile of fly-infested aural excrement—all of whom should have known better, from the two surviving members (David JoHansen, Sylvain Mizrahi) to the pandering producer (Jack Douglas) to the gratuitous guest stars (Michael Stipe, Iggy Pop)—should be ashamed of themselves.
But of course, they won't. Every single one of them will cravenly defend this wretched album to the death even though they all know, deep down in their hearts, that it's a horrible soulless debasement and utter betrayal of everything they used to stand for. And if they don't know that, then they're even dumber than I thought.
Because this isn't a New York Dolls record. It's a 10th-rate, too-little-too-late, David JoHasbeen solo album full of the same pre-fabricated melodramatic schmaltz that he used to pass off as rock on slick sellout albums like In Style. In fact, this trite tripe isn't even good enough to be a bad Buster Poindexter record.
If the rasping atonally flat vocalist isn't busy recycling his old ook-ook jungle act and aping Soupy Lee Roth on "Dance Like A Monkey," he's shamelessly stealing from Andrew WK on "Gotta Get Away From Tommy." Meanwhile, the cloying castrato background vocals that vandalize this album throughout are appallingly inane; the facile sterile guitars that try oh-so-hard to duplicate Johnny Thunders' sloppy smackhead style fail miserably; and the lyrics are a litany of lazy half-baked hackwork rhymes like "Exorcise your demons with that monkey grin, 'cause we're gonna inherit the wind" and "Try to find some comfort what I find instead, like changing my position on a semen bed."
Maybe if we ignore them they'll go away for good this time. So whatever you do, don't buy this record because it'll only encourage them. Instead, walk this schlock right out the door and give it a great big miss.
Be mourning you!
Sat, May 9, 2015 | link
Saturday, May 2, 2015
JEFFREY MORGANíS MEDIA BLACKOUT #468
JEFFREY MORGAN'S MEDIA BLACKOUT #468.78!
Demented Are Go — Hellbilly Storm (Hep Cat) :: Stray Cats meet Alice Cooper. So go.
Anajani — Blue Alert (Columbia) :: After seeing Anajani One-Name and her boy toy slash co-writer slash producer Leonard Cohen performing together last month, a good friend who knows his stuff reported back that she sure can sing. And because his word is good enough for me, I'm saved the trouble of having to slash the shrink wrap and actually listen to this one myself.
Danielle Miraglia — Nothing Romantic (CD Freedom) :: "When I cry out loud you stick a dollar in my mouth," she laments. "I suck the nipple dry until I realize that there's no milk coming out." Now I ask you: was ever an album more aptly titled?
Iggy & The Stooges — Raw Power (Columbia) :: Yes.
Schulz — What Apology (Sudden Death) :: Guenter Schulz splits from the KMFDM bawdy politick and hires Jeff Borden to sing this witty set of wiry muscular guitar-driven pop rock that's utterly delightful.
nearLY — reminder (Kufala) :: Jerome Dillon splits from the NIN nihilism schism and hires Claudia Same to sing this somber set of suicidal songs that, although beautifully recorded, are utterly malignant. Do not be seduced by the dark side. Choose light.
Exene Cervenka & The Original Sinners — Sev7en (Nitro) :: Doxy Exy stumbles out of bed with a tangy twangy dissipated disc full of sloppy schlockabilly songs that reek of cheap cooch and watered-down hooch. The money's on the dresser. Now get out.
SIZZLING PLATTER OF THE WEEK: The Playwrights — English Self Storage (Sink & Stove) :: Not since Sparks in their high-octane speed-freak heyday or Yes at their most vexingly complex has such a delightful album been recorded that doesn't pause to catch its breath. Not a moment of dead space exists as the swirlwind of lyrics merges with the vertiginous music; all in all, a very impressive feat given that even Russell Mael and Jon Anderson had to come up gasping for air once in a while.
Be seeing you!
Sat, May 2, 2015 | link
Saturday, April 25, 2015
JEFFREY MORGANíS MEDIA BLACKOUT #467
JEFFREY MORGAN'S MEDIA BLACKOUT #467.77!
Stereophonics – Live From Dakota (Vox Populi) :: I never realized how much the lead singer sounds like Marilyn Manson and the band like INXS until I heard this twofer. Which means they sound alright. Wholly unoriginal, but quite alright.
Jesu – Silver (Hydra Head) :: The marathon melodrama of "Purple Rain" fused with the claustrosonic soundscapes of "Closer."
Tagaq – Sinaa (Jericho Beach) :: Sparse challenging repetitive primitive chants by a woman who can use her voice much in the same way that Philip Glass can use a keyboard. Only the sellout Cutty Sark salesman was never aided and abetted by the ice queen Bjorkasaurus.
Thee More Shallows – Monkey vs. Shark (Turn) :: These seven somber songs aren't bad but the laughably wretched amateur album cover art will deep-six this disc before it ever gets a chance to be heard. Helen Keller with an empty box of crayons could do better. Remember kids: You're supposed to be independent, not incompetent.
An Albatross – Blessphemy (Of The Peace Beast Feastgiver And The Bear Warp Kumite) (Ace Fu) :: King Crimson meets screamo.
David Bowie – The Rise And Fall Of Ziggy Stardust And The Spiders From Mars (RCA) :: Well, there goes my word count.
Marc Bolan & T. Rex – Zinc Alloy And The Hidden Riders Of Tomorrow (Or a Creamed Cage In August) (T. Rex Wax Company) :: I give up.
SIZZLING PLATTER OF THE WEEK: SSM – SSM (Alive) :: Why do these guys rate a SPOTW? Well, first they have a short album title that doesn't chew up my valuable word count. Second, they have an equally brief band moniker that stands for Szymanski (cheesy Farfisa) Shettler (snappin' traps) Morris (guttural guitar)—three rock star names if I ever heard them. Third, they have a "96 beers" sound that consists of swirling, mind-bending psychedelics that are so charmingly primitive they make Grand Funk Railroad sound like Emerson Lake & Palmer. Fourth, "Sick" is the catchiest punk song Todd Rundgren never recorded. Fifth, "2012" is the best sci-fi masterpiece The Doors never recorded.
Be seeing you!
Sat, April 25, 2015 | link
Saturday, April 18, 2015
JEFFREY MORGANíS MEDIA BLACKOUT #466
JEFFREY MORGAN'S MEDIA BLACKOUT #466.76!
Neil Young – Living With War (Reprise) :: Commie.
Dixie Chicks – Taking The Long Way (Open Wide) :: Pinko.
John Wayne – America, Why I Love Her (MPI) :: Patriot.
SIZZLING PLATTERS OF THE WEEK: Dave Rave – Anthology: Volumes 1 & 2 (Bullseye) :: One night I was waiting for an under assistant West Coast promo man to drop by and listen to some songs I'd recorded back in the '70s when I heard a rapping, a gentle tapping, at my chamber door. Sure enough it was the promo man, but he was unexpectedly accompanied by one of Canada's most well-respected rockers, the one—and you'd better believe only—Dave Rave.
Now I'd long known about Dave but never had the pleasure of meeting him until he strolled in out of the blue to plop his lanky frame onto my living room couch and give my music the critical once-over. Considering I was being judged by a guy who'd been there and back since the heady post-new wave days of the early '80s, I was relieved to have passed the audition.
But enough about me because Bullseye Records has just released two new separate discs of Dave's life work under the collective title Dave Rave: Anthology – Volumes 1 & 2. Together they contain 37 of the purest percolating pop songs you'll hear in a long time. Echoing everyone from the best of the UK invasion to U.S. sun-soaked songs and beyond, this music is so full of youthful fun, it'll make you feel like a rambunctious kid again.
Spearheading one band after another, Dave's planted the seeds of his good-time music everywhere he's gone: from the Shakes and Crashtones to fronting Teenage Head to his latter day work with Lauren Agnelli—aka CREEM rock critic Trixie A. Balm. Equally impressive is that Dave was the first North American musician invited to Russia to record for the USSR's Melodiya record label.
That kind of experience can't be bought, and it sure shows in every joyous note played and sung on these two exuberant albums. Which is why Dave Rave: Anthology will have you remembering why you fell in love with rock 'n' roll in the first place.
I'll be seein' ya, Pilgrim!
Sat, April 18, 2015 | link
Saturday, March 28, 2015
JEFFREY MORGANíS MEDIA BLACKOUT #465
JEFFREY MORGAN'S MEDIA BLACKOUT #465.75!
Lou Reed & Don Cherry - The Velvet Underground Railroad (ESP Disc) :: Includes the hit single "Gil Scott Heroin."
Minmae - le grand essor de la maison du monstere (Greyday) :: Minmae match the Underground sound by duplicating everything from the Velvet's whiplash sonic verities to Unca Lou's wavering sonorous vocals. Oh, and just in case you were wondering, the translated title says "Big Escort Monster House Party."
Led Zeppelin - "Immigrant Song" (How The West Was Won) :: Funny how I think of Tony Curtis every time I hear Robert Plant warble "Val Haller I yam cummy yee ying yeah."
Public Enemy - "A Letter To The New York Post" (Def Jam) :: And the Maya Hersholt Hip-Hop Humanitarian Award for best rap lyric goes to Flavor Flav for "It only brings agony, ask James Cagney, he beat up on a guy when he found he was a fagney." And they call Dylan a poet.
No Trigger - Canyoner (Nitro) :: The next stop is Ramonesville Station! Ramonesville Station! Change here for some upbeat screamo thrasho that'll plaster a stunned smile on your thundermug!
Voodoo Blue - Smile N Nod (DCide) :: Tonight's main event is scheduled for 14 rounds of musical angst. It's Nirvana versus Aerosmith with the local tout saying the smart money's on the boys from Boston. And there's the bell!
Lemmy Kilmister - Battlescar Killhackedica (FOX) :: You can thank Roger Corman for this Conan knockoff that has Motörhead's maim man carving carnage on the small screen every week, deaf forever to the battle's din.
Tony Curtis - Sings Led Zeppelin (Bronx Bomber) :: Yonda lies da music of my fadda.
Led Zeppelin - Outhouses Of The Holy (Swan Song) :: Includes the hit single "D'yer Rh'ea."
SIZZLING HEAD ON A PLATTER: Motörhead - "King Of Kings" (Columbia) :: "On your knees, dog!" rasps Lemmy at the beginning of his latest chainmail melody. "The traitor lost both his name and his face!" But it's the catchy chorus of "Bow down to the King!" which is destined to overthrow "We Are The Champions" as the No. 1 victory anthem in blood sport arenas around the world. This meïsterwack of medieval mayhem appears on the World Wrestling Entertainment album Wreckless Intent and I promise you-no, I guarantee-that it's worth every bloody red cent.
Be seeing you!
Sat, March 28, 2015 | link
Saturday, March 21, 2015
JEFFREY MORGANíS MEDIA BLACKOUT #464
JEFFREY MORGAN'S MEDIA BLACKOUT #464.74!
Cheap Trick - Rockford (Big 3) :: This is Jim Rockford. I can't take your call because I'm busy investigating why a once-great musical combo is using my name on their latest lousy album. At the tone leave your name and message, I'll get back to you.
FIZZLING PLATTER OF THE WEEK: Cheap Trick - Rockford (Big 3) :: Hey, Jimbo, it's Angel. Look, I know how you feel because I can't even begin to tell you how sick and tired I am of these guys constantly aping the Beatles and ELO. Heaven knows they managed to pull it off to perfection three decades ago on Heaven Tonight, but if they don't know how to make a classic Cheap Trick album anymore-you know, one that actually sounds like Cheap Trick-then maybe they should just pack it in. I could produce a better Cheap Trick record than this dreary dreck by putting "Come On Come On Come On" as the first track and then making them write another 35 minutes of equally blistering rock 'n' roll that doesn't sound like a bunch of lame rejects by George Harrison ("Perfect Stranger"), Queen ("This Time You Got It"), and Aerosmith ("One More Day"). Sure they're playing better than ever, but the singing is too affected and the songwriting is too awful. Zander needs to sound more like himself and the band needs to write some classic Cheap Trick rock 'n' roll songs that are fun, not a bunch of de-balled Beatle ballads. There are many here among us who feel this album's a joke. So to those who made this treacly tripe, I say there is no hope. NO HOPE. Bye-bye! So long! Farewell! Small dick, indeed.
Be seeing you!
Sat, March 21, 2015 | link
Saturday, March 14, 2015
JEFFREY MORGANíS MEDIA BLACKOUT #463
JEFFREY MORGAN'S MEDIA BLACKOUT #463.73!
Paul McCartney - McCartney (Apple) :: Includes the hit single "Maybe I'm Amazed."
Todd - Comes To Your House (Southern) :: The craziest experimental horror album of the year. John Oswald's Plunderphonic meets Ed Gein's kitchen. Care for some...vittles?
John Oswald - Plunderphonic (self-released) :: In an unprecedented act of brazen censorship, the Canadian government actually seized and destroyed the remaining print run of this legendary 1989 record. But some of them escaped the crusher so I've got an original mint condition copy for sale if you're interested in buying it.
Paul McCartney - McCartney 2 (Apple) :: Includes the hit single "Temporary Secretary."
Moth - Immunity To Gravity (Hey Domingo!) :: Infectious raw 'n' raucous power pop that evokes Elvis Costello at his early ironic best.
Soupy Sales - Blaa-Oh Blaa-Oh Blaa-Oh (Rhino Handmade) :: It's bad enough that David Lee Roth stole his entire act from Jim "Dandy" Mangrum, but this album shows that Roth also stole his whole style of speaking from Soupy!
Black Oak Arkansas - "Moonshine Sonata" (Atco) :: Song title of the century.
Paul McCartney - McCartney 3, Wife 2 (Apple) :: Includes the hit single "Peg O' My Heart."
STACKED PAIR OF THE WEEK: Janiva Magness - Do I Move You? (Northern Blues) :: Janiva's got a big set of tits and she's not afraid to lie on her stomach and show them off on her album cover if it means selling a few extra copies. And on jizz-soaked tracks like "A Man Size Job" and "Stealin' Sugar" she shows that she's also got a very big voice. Not as big as her tits, mind you, but big.
Paul McCartney - McCartney 64, Wife 0 (Zapple) :: Includes the hit single "No More Nagging Nights."
Be suing you!
Sat, March 14, 2015 | link
Saturday, March 7, 2015
JEFFREY MORGANíS MEDIA BLACKOUT #462
JEFFREY MORGAN'S MEDIA BLACKOUT #462.71!
Dozer - Through The Eyes Of Heathens (Small Stone) :: I anticipated a side order of screamo but got a heapin' helpin' of bone-pulverizing thud rock instead. And because I do love my thud rock, that's no bull.
David Bowie - Heathen (Columbia) :: Every time I revisit this album expecting to be sorely disappointed, I always come away pleasantly surprised by its emotional depth and maturity. Which says less about how good an album it is than it does about my inexplicable ongoing utter lack of faith in it.
Brian Byrne - tuesdays, thursdays and if it rains (Kindling) :: I'm not saying that this uplifting album was influenced by Mick Ronson or anything, but it sure sounds like it to me. Not that it matters because I'll take my uplifting music anywhere I can find it.
Roxanne Potvin - The Way It Feels (Alert) :: Lissome lungs and horny horns provide a percolating pulse that's part blues, part R&B soul and all heartfelt passion. WARNING: Playing this album may set off your stroke detector
Dozer - Through The Eyes Of Heathens (Small Stone) :: Bull! Dozer! Bulldozer! I almost had a gag there, son! Joke, that is...
SIZZLING PLATTER OF THE WEEK: David Wall - The Spell I Was Under (Black Hen) :: Ellis Hooks once recorded the best early Rolling Stones album that the Stones never recorded. Now it's David Wall who's tapped an Exile On Main St. vein and come up with a soulful blues album that's well worth hearing if only to dig the latent Leon Russell gospel vibe and background bleatin' country honkin' babes.
Be seeing you!
Sat, March 7, 2015 | link