Saturday, May 26, 2018
JEFFREY MORGANíS MEDIA BLACKOUT #627
JEFFREY MORGAN'S MEDIA BLACKOUT #627.267!
Brainkiller – The Infiltration (Rare Noise) :: I got this one because the title reminded me of that old Andrew Dice Clay movie Brainsmasher—you know, the one directed by Albert "The Hawaiian" Pyun with a soundtrack featuring the Forbidden Pigs and Madelynn von Ritz—so I figured I was in for some kinda hellacious hellspew of sound that'd send me staggering into the middle of next week. Instead, I got this unexpected session of destorto jazzbo noir noodling that fuses trumpet and keys into a suitably squirrely hypothetical score for the second Mike Hammer movie that writer Mickey Spillane, regrettably, never got to star in.
Roy Rowland – The Girl Hunters (Colorama) :: And as we all know, Mickey Spillane is Mike Hammer. Happy 100th birthday, Mick!
Andrea Ramolo – The Shadows And The Cracks (Thorniac) :: Y'gotta love a woman who's got the temerity to start off an album by audaciously rhyming "Greece" with "philosophies" as Andrea does on "O Brother." The only problem being that, as equally adept as the rest of the album is, it never quite kinetically lives up to that initial harp-wailin' opening track. Granted, that's probably more my problem than it is hers; however it's obvious that Andrea's able to rock out any time she likes yet inexplicably deigns to say nay—and that's problematical.
Revis – "Save Our Souls" (NRG Artists) :: Classic guitar-wailin' power rock with a emblematic chorus that veers a little too close into generic angst rock territory for my liking. Still, it's anthemic enough to make the grade as a Class A fist-pumpin' BIC-flickin' concert staple.
The Postelles – The Postelles (+1) :: Pleasing power pop with an anchoring dash of de islands, mon—and that's just the first track. Delve deeper and you'll find a eleven more witnesses who're willing to testify to the wittiness these Postelles' deliver within.
CINEMATIC PLATTER OF THE WEEK: Daniel Jamison's Danjam Orchestra – Sudden Appearance (OA2) :: From Clint Eastwood's Sudden Impact to JCVD's Sudden Death, it's long been a proven scientific fact that anything with the word "Sudden" in its title is bound to be a bona fide hit—and this album is guaranteed to be no exception to that beholdin' rule even though this ain't no moving picture by a long shot. But it is a soundtrack of sorts in that your brain will be conjuring up an endless array of cinematic images nonetheless, thanks to the evocative assortment of selections that saxman Danjam's swingin' jazz band essays. From the frantic ten minute rain-soaked noir bop of "Alone Together" to the hepper than hip twelve minute title track to the sensitive and sensuously smooth take given the Charlie Chaplin standard "Smile" this is one album that'll be in heavy rotation on your turntable for weeks. Bonus points for admitting in your liner notes that you had the good taste to be inspired by Rob McConnell's legendary Boss Brass—because that's what this excellent album is in a word: Boss.
Be seeing you!
Sat, May 26, 2018 | link
Saturday, May 19, 2018
JEFFREY MORGANíS MEDIA BLACKOUT #626
JEFFREY MORGAN'S MEDIA BLACKOUT #626.266!
The Von Ehrics – Two Foot Stomp (Lucky Buck) :: From Von Iva and Von Dutch to Von Bodé and Von Halen, it's a well-known historical fact that the greatest rock 'n' roll bands in the world have always had a much-coveted "Von" in their names—and these here Von Ehrics ain't no exception to the grindhouse gruel 'cause their Texas-tough brand of guitar-driven block-brawlin' beats is cast iron certain to keep you on the edge of your teetering bar seat until you find yourself tipped over and suckin' sawdust. Points deducted for not getting Von Wood to give 'em some neck.
Rory Block – Shake 'Em On Down: A Tribute To Mississippi Fred McDowell (Stony Plain) :: Speaking of serious necking, you don't want to miss this new album by one of the world's premier country blues practitioners. As you might expect from someone who's been fingering frets since the early '60s and has over 25 albums to her credit, Rory does Fred justice but, even better, she's written her own excellent odes to the man—which is only fitting considering that she actually met Fred, just like she met Son House who she likewise lionized on an earlier album. Best of all, this living historian of the genre gets it done just by using her signature Martin and her signifying voice.
SIZZLING PLATTER OF THE WEEK: Bootsy Collins – The Funk Capitol Of The World (Mascot) :: I'll always consider bassman Bootsy's riotously inventive and utterly unorthodox synth-soaked funxperimental album Ultra Wave to be his ace masterpiece, but there's no denying that this new educational encapsulation of what's been going on in the hierarchy of hip is the first fresh fusion funk bomb of the decade. And although guest star appearances on an album are usually a sure-fire death-knell declaration of aesthetic bankruptcy, who could possibly argue with the delirious dream team that Casper's assembled; an all star selection so sonically stellar that even a partial accounting deserves to have a paragraph all its own:
Bobby Womack! George Clinton! Jimi Hendrix! Chuck D! Ice Cube! Snoop Dogg! Sheila E! Catfish Collins! Buckethead! Béla Fleck! plus over a dozen more, including the unlikely likes of Samuel L. Jackson (!) telling hometown tales on "After These Messages" and rapmeister Reverend Al Sharpton (!!) who—don't laugh—actually delivers the goods six ways from Sunday on the GFOS accolade "JB-Still The Man."
From the mortarboard dissertation "Hip Hop @ Funk U" that lives up to its name to the rock machination "Minds Under Construction" that picks up where Bootzilla's collaboration with Jeff Beck on "The House Of The Blue Danube" left off, this one's got it all—and there's only one thing you can say about the soulful make out music that ends the album, the likes of which haven't been heard since the sensuously smooth sound cracks waxed by the lubricous love firm of Hayes & White Incorporated:
A-well-a-ruh, that's alright!
Be seeing you!
Sat, May 19, 2018 | link
Saturday, May 12, 2018
JEFFREY MORGANíS MEDIA BLACKOUT #625
JEFFREY MORGAN'S MEDIA BLACKOUT #625.265!
The Rolling Stones – Stones In The Park (Grenada) :: This vintage television documentary on the Stones' free Hyde Park concert of July 1969 shoulda been called Their Stupidic Altamont Dress Rehearsal instead 'cause the band cooked up a Grade-A recipe for disaster: Schedule a free afternoon rock concert; garnish with a gargantuan crowd of stoned hippies; and liberally spice with security provided by everybody's favorite law-abiding enforcers, the Hells Angels. Then repeat five months later in America and slowly simmer all day until the whole lot suddenly boils over in the middle of the night and scalds everyone. Serves a quarter million.
So when the tough guy singer—funkily festooned in a frock no less—bellows out "ALLLLLLL RIGHT!" only to have the entire audience actually obey him and shut up, he clearly gains enough crowd control confidence to think that he can later likewise quell an irate Altamont audience...at two in the morning...while remaining blissfully oblivious to the fact that US Angels aren't twee like their UK counterparts. Serves him right.
Dado Moroni – Live In Beverly Hills (Resonance) :: Classic—in the truest sense of the word—jazz as played by a trio of hip hyper-proficient proponents. But what elevates this offering above the ordinary is the accompanying disc that visually documents the audio only disc. Hearing them is one thing, but actually seeing pianist Moroni, bassist Marco Panascia and traps master Pete Erskine interact on stage is another enlightening thing altogether.
John Entwistle – Smash Your Head Against The Wall (Decca) :: From its 'alkie artiste wearin' a transparent death mask whilst staring through a lung cancer x-ray' cover photo; to its affably inviting album title; to its 'mortality meets the devil' subject matter, this is the most downright cheerful downer album ever recorded. Aided and abetted by fellow Who inmate Keith Moon; Humble Pie's Jerry Shirley; Ruttle Neil Innes; and Dave "Cyrano" Langston—who I still think is Pete "The Beak" Townshend—this is one of the mellowest hard rock albums ever interred in wax.
SIZZLING PLATTER OF THE WEEK: Christine Jensen Jazz Orchestra Featuring Ingrid Jensen – Treelines (Justin Time) :: At first listen I was gonna tag this one as a smooth distillation of Miles' early excursions with Gil Evans, only to see in the liner notes that bandleader Jensen actually name checks Evans as being "an early influence and one of the coolest sound shapers in music history." Which should clue you in as to what these eight exceptional tracks sound like, the big difference being that there's an implicit aura of majesty present in these recordings that I don't always hear in some of those early Davis recordings; doubtless an inevitable result of the virtuoso playing by saxophonist Christine and trumpeter Ingrid, both of whom have done their jazz homework well and are equally adept at aesthetically applying what they've learned in a classic way that few are capable of attaining these days.
Be seeing you!
Sat, May 12, 2018 | link
Saturday, May 5, 2018
JEFFREY MORGANíS MEDIA BLACKOUT #624
JEFFREY MORGAN'S MEDIA BLACKOUT #624.264!
Duff McKagan's Loaded – The Taking (Armoury) :: Y'gotta love a legendary substance abuser who's got the temerity to have a band name like that and an album that contains song titles like "Cocaine" and "Follow Me To Hell" while staying true to his archetypal classic rock roots. Granted, it may not be nearly as much of a high-octane hoot to listen to as either Steve Stevens' Atomic Playboys or Vince Neil's Exposed still are, but considering that both of those albums were recorded decades ago in a much kindler and gentler world, it only makes sense that Duff's soberific new underTaking would more accurately reflect what's going on today.
Cycle Sluts From Hell – "Speed Queen" (Epic) :: Best hard rock song about a washing machine ever.
SIZZLING CONCEPT OF THE WEEK: Various Complainers – Complaints Choir (Smog Veil) :: I'll be the first to admit that I shoulda reviewed this one many moons ago—but you'd be late too if you hadda listen to three compact discs and watch a full-length DVD movie, which is exactly what this jam-packed package contains. Conceptually, it's the greatest naïve audiophonic idea since the dawn and demise of the late lamented Portsmouth Sinfonia. Musically, it's a travelling recorded road show that goes from continent to continent and captures the citizens of city after city as they record vast litanies of, you guessed it, everyday complaints, all put to music.
Amongst the stellar selections are those performed by the rhyming Memphis Complaints Choir ("I don't think I like your tone, please put your boss on the phone!"); the philosophical Singapore Complaints Choir ("What's not expressly permitted is prohibited!"); and the predictably merciless New York Complaints Choir ("Babies! There's a place for them! It's called Nebraska!"). With dozens of cities represented, you can rest assured that there's a gripe here for everyone, including you. And if you don't like it, you can form your own Complaints Choir!
Sparks – "Complaints" (Island) :: It's my department.
Portsmouth Sinfonia – The Portsmouth Sinfonia Plays The Popular Classics (Island) :: Exactly!
SIZZLING PLATTER OF THE WEEK: Dawn Richard – A Tell Tale Heart (mixtape) :: Wherein one of Dirty Money's dynamic Diddy divas delivers a fifteen track throwdown that'll throw you for a loop. We're talkin' bravura vocals backed by seamless synth-sweetened block-rockin' electro-techno-vocoder beats that sound as cutting edge today as the sonic squibs that the Bomb Squad was detonating back in the '80s—with a seductive side order of Malcolm McLaren's Zulu Nation libations and Prince's First Avenue antics to go. And when I say "bravura vocals" I'm not just whistling in Dixie because one listen to Dawn's astonishing aural a cappella acrobatics on "Superhero" will leave you literally slack-jawed in awe. Then, by the time she follows it up with the playful ramp rage calisthenics of "Runway" and the come-hither call of "Vibrate," you'll be recovered and ready to follow her anywhere—assuming, of course, that she'll let you.
Be seeing you!
Sat, May 5, 2018 | link
Saturday, April 28, 2018
JEFFREY MORGANíS MEDIA BLACKOUT #623
JEFFREY MORGAN'S MEDIA BLACKOUT #623.263!
Ralph Peterson's Unity Project – Outer Reaches (Onyx) :: Man oh man, does drummer Peterson ever have a treat in store for you! Although ostensibly a tonal homage to the organ and trumpet mastery of jazz greats Larry Young and Woody Shaw, Outer Reaches transcends the tribute tag by being an album for the ages that'll grow on you with each successive spin. Bonus points for ending with the seriously spiritual standard "We Three Kings" and the seriously spatial "Spectrum" by John McLaughlin.
Larry Young & Jimi Hendrix – "Young/Hendrix" (Reprise) :: They're still arguing whether this track off Nine To The Universe is "proof" that Hendrix would've gone jazzbo had he lived. Who knows, mebbe he woulda recorded a tribute album to Robert Johnson too!
Eric Clapton – Me And Mr. Johnson (Warner Bros.) :: Exactly!
SIZZLING PLATTER OF THE WEEK: Ben Waters – Boogie 4 Stu: A Tribute To Ian Stewart (Eagle) :: As you can see, tribute albums are a dime a dozen these days and most of them only make you wanna ditch the disc you're playing and listen to the original artist instead...but not this one! That's because this tribute to the Rolling Stones' late lamented co-founder and ace ivory tickler is not only a more than worthy heartfelt tip o'the hat to the man, it's an exemplary exercise in the kind of countrified boogie blues rock that Stu excelled in playing all his life.
You've heard Stu if you own any Rolling Stones album recorded prior to 1985 and you might have actually seen him play if you ever attended a Stones concert prior to 1982. But if those credentials aren't heavy enough for ya, lemme hasten to add that he also played on Led Zeppelin's archetypal track "Rock And Roll" and was actually name-checked by the band on "Boogie With Stu," which explains where this album's title came from.
Enter keyboardist Waters who used to play with Stewart and who, charmingly more by accident than design, stumbled up the perfect group of musicians to help him record his rockin' requiem: The Rolling Stones. That's right, for the first time in a decade, you can hear Mick Jagger (vocals and harp); Keith Richards (guitar and vocals); Ronnie Wood (guitar and vocals); Bill Wyman (bass); and Charlie Watts (drums) playing together on an album, aided and abetted by the likes of Jools Holland (keyboards and vocals), P.J. Harvey (vocals and sax); and a dozen and a half other equally excelling musicians—including none other than Ian Stewart himself!
Sauté with a Glyn Johns mix and garnish with an album cover specially painted for the occasion by legendary artist and designer Peter Blake and you've got an eleven track triumph that's about as polar opposite from Jamming With Edward! as you can possibly get. Besides, aren't you the least bit intrigued as to what a Rolling Stones version of Dylan's "Watching The River Flow" sounds like? I thought you might.
Be seeing you!
Sat, April 28, 2018 | link
Saturday, April 21, 2018
JEFFREY MORGANíS MEDIA BLACKOUT #622
JEFFREY MORGAN'S MEDIA BLACKOUT #622.262!
Oh Susanna – Soon The Birds (Outside Music) :: Ain't nothin' I like to do more on a gloomy day than listen to a large-lunged songstress with the ethereal voice of an angel casually croon lines like: "Black is the color of your dark, dark soul" and "They've come much too late for by rope I am hanged" and "Your wretched face you cannot scour" and... Hold on, I think the pilot light on my gas oven is out; lemme go light a match and look.
Diamanda Galás – "Wild Women With Steak-Knives: The Homicidal Love Song For Solo Scream" (Mute) :: Exactly!
Martha's Trouble – Anchor Tattoo (Aisling) :: It's not often I hear an album that's an authentic joy to listen to, but I'll be gosh darned if this isn't one of them. Not only is the uplifting music refreshingly bright and poppy, but Jen Slocumb's distinctively charming vocals shine through with a bright light of their own that perfectly compliments the proceedings. Best of all, the insightfully inspiring lyrics won't let you down when you require a much-needed lift.
True Widow – As High As The Highest Heavens And From The Center To The Circumference Of The Hearth (Kemado) :: As if getting the "Longest Album Title Of The Year" award wasn't enough, True Widow have managed to build on that impressive accolade by creating the most disconcerting disc of the year to date. The ponderous melancholy music is a heavier than heavy dirty destorto cross between Leigh Stephen's Blue Cheer and Jimmy Page's Led Zeppelin—impressive, I know—while the echoey female vocals sound like Nico auditioning for Portishead and the echoey male vocals sound like Lou Reed auditioning for Nirvana—addictive, I know. And when they both duet...
SIZZLING PLATTER OF THE WEEK: Gangpol & Mit – The 1000 Softcore Tourist People Club (Ipecac) :: I've got a good mind to join this club and beat myself over the head with it because this is nothing less than the craziest retroactive synthesizer album you're likely to hear this year. You'll turn on to its classic primitive Telex pedigree! You'll tune in to its even cooler Casio meets ARP aesthetic! You'll drop out to its Tull meets Crimson prog rock passages! Then you'll awaken to its eerie Walter Carlos lounge lizard Theremin vibe and anxiously ask yourself that timeless musical question: Well, how did I get here?
Timothy Leary – You Can Be Anyone This Time Around (Douglas) :: I bet you wish you'd recorded an acid rap album with Jimi Hendrix, Buddy Miles, Steven Stills, and John Sebastian!
Mark Farner – Grand Funk: Live Album (Capitol) :: "Hey, I keep getting shocks off this mic, can you switch the ground around? I know it's a hell of a rush but I can't take too many!"
Be seeing you!
Sat, April 21, 2018 | link
Friday, April 20, 2018
JEFFREY MORGANíS ROCK íNí ROLL PHOTOGRAPHS

JEFFREY MORGAN'S ROCK 'N' ROLL PHOTOGRAPHS

While you're visiting, don't forget to view the dozens of essential selections from my vast archive of hundreds of extremely rare and previously unseen rock 'n' roll photographs from the 1970s and 1980s—all of which were taken by myself from my front row center seat at various venerable venues; vintage historical portraits which include the following rock stars caught in their youthful prime:

David Bowie (1976 Station To Station tour) :: Lou Reed (1974 Sally Can't Dance tour) :: Iggy Pop (1977 The Idiot tour) :: Bob Dylan (1978 Street Legal tour) :: George Harrison (1974 Dark Horse tour) :: Paul McCartney (1976 Wings Over America tour) :: Pete Townshend (1976 The Who By Numbers tour) :: Johnny Winter (1976 Captured Live! tour) :: Jeff Beck (1975 Blow By Blow tour) :: KISS (1977 Love Gun tour) :: Alice Cooper (1975 Welcome To My Nightmare tour) :: Freddie Mercury (1977 News Of The World tour) :: Amanda Lear (1975 Sweet Revenge tour) :: Rod Stewart (1977 Foot Loose & Fancy Free tour) :: Mick Jagger (1975 It's Only Rock 'n Roll tour) :: New York Dolls (1975 Tokyo Dolls Live tour) :: Keith Richards (1975 It's Only Rock 'n Roll tour) :: Ian Hunter (1989 YUI Orta tour) :: Elton John (1974 Caribou tour) :: Mick Ronson (1989 YUI Orta tour) :: Steven Tyler (1977 Draw The Line tour) :: Sparks (1975 Indiscreet tour) :: James Brown (1986 Gravity tour) :: Miles Davis (1985 You're Under Arrest tour) :: Roger Daltrey (1976 The Who By Numbers tour) :: Bruce Springsteen & Clarence Clemons (1975 Born To Run tour) :: John Entwistle (1976 The Who By Numbers tour) :: Keith Moon (1976 The Who By Numbers tour) :: The Who (1976 The Who By Numbers tour) :: and more!

Ask any dealer and he'll tell you that the best way to get someone hooked on your product is to give them a free sample, so here's just a small taste of what's coming your way when you click on the eleven gallery links to your left: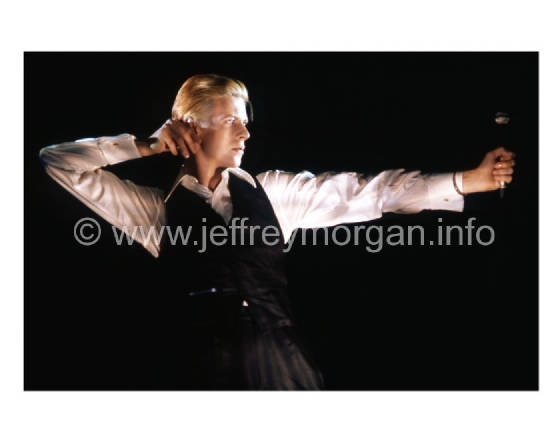 Fri, April 20, 2018 | link
Saturday, April 14, 2018
JEFFREY MORGANíS MEDIA BLACKOUT #621
JEFFREY MORGAN'S MEDIA BLACKOUT #621.261!
Pushking – The World As We Love It: A Rock And Roll Journey (Armoury) :: Y'know, I gotta be honest with ya when I tell ya that at first listen I didn't have the faintest idea what this was supposed to be until heard between the lines and subsequently sussed out that these here Pushkings are a long-time Russkie rock band who decided to celebrate their comrade accomplishments by getting a buncha bona fide rock stars to help them re-record their songs—which wouldn't be no big deal except for the fact that they actually did manage to recruit an all-star roster that includes the likes of Alice Cooper, Paul Stanley, Billy Gibbons, Glenn Hughes, Steve Vai, Steve Stevens, and Dan McCafferty, amongst others. The end result sounds like nothing less than some kinda inadvertent over-wrought progressive rock album the likes of which puts lesser wheezes to shame.
Zodiac Mindwarp And The Love Reaction – Tattooed Beat Messiah (Mercury) :: These days he's probably known only for co-writing Alice Cooper's "Feed My Frankenstein" on Alice Cooper's 1991 album Hey Stoopid, but this long player from three years earlier shows you in part why Zodiac Mindwarp got that gig. Imagine if you will—if you can—a seriously unhinged hybrid between the booze-bathed shamanism of Jim Morrison; the hook-laden pop of Marc Bolan; the sex-obsessed lyrics of Ted Nugent; the guitar-powered rock of Van Halen; plus the sleaze-sodden style of Lemmy Kilmister, and you might have an idea of what Tattooed Beat Messiah sounds like. If not, then perhaps song titles like "Skull Spark Joker" and "Spasm Gang" and "Holy Gasoline" will do the trick 'cause Zodiac makes Zombie sound like Zsa Zsa.
Stratovarius – Elysium (Armoury) :: Hey, you can trust me when I tell you that nothing says prog rock better this year than the eighteen minute title track that concludes this aurally adventurous album from Finland. From archetypal soaring vocals to prototypical dexterous guitars and synths, this one's got pretty much everything that you'd want to hear, y'hear?
SIZZLING PLATTER OF THE WEEK: Obscura – Omnivium (Relapse) :: This album is your absolute worst nightmare come true—and I mean that in nicest possible way. The ominous Giger's Alien meets Lovecraft's Cthulhu front cover and attached booklet just reek of high production values, from the multiple foldouts to the enameled spot printing on every page. In fact, it's such a much welcomed dose of visual relief in this day and age of aesthetic bankruptcy that artist and designer Orion Landau deserves to win a slew of awards for his work, which looks like nothing less than Roger Dean on a very bad trip. As for the music, it's a technically adept blend of growling progressive death metal speed thrash that takes the Metallica template best exemplified on Master Of Puppets and then exponentially ups the ante by injecting itself into a radically hyper-proficient realm that's actually sonically intimidating.
Be seeing you!
Sat, April 14, 2018 | link
Saturday, April 7, 2018
JEFFREY MORGANíS MEDIA BLACKOUT #620
JEFFREY MORGAN'S MEDIA BLACKOUT #620.260!
David Lynch – Twin Peaks: The Definitive Gold Box Edition (CBS) :: Achievement is its own reward; pride obscures it.
Tony Castles – No Service (Famous Class) :: Like Jethro Tull and Englebert Humperdinck before them, this Tony Castles ain't just the name of a real guy, it's also the name of an honest to Abe band—and on this five tracker they wax dreamy ethereal tunes that'll go down good whilst watching dreamy ethereal Lynchian creations backwards on mute.
Angelo Badalamenti – Soundtrack From Twin Peaks (Warner Bros.) :: Exactly!
A Skylit Drive – Identity On Fire (Fearless) :: What promisingly starts out like Pete Townshend playing piano for Queen rapidly dissolves into the usual generic tattooed teen angst anthems, replete with the customary constipated vocals. Hey kids! More harmony vocals! Less growling! More synthesizers! Less double time drum beats! Do that and you'll really have a unique identity that'll ignite on fire!
Angelo Badalamenti – Twin Peaks: Fire Walk With Me (Warner Bros.) :: Exactly!
Darlings – Warma (Famous Class) :: An extended player with five pop paeans so powerfully primitive they make Lou Reed's Velvet Underground sound like Arturo Toscanini's NBC Symphony Orchestra—and the fact that they have a guitar player who looks like Jimmy Page circa '77 don't hurt none neither.
David Lynch – Industrial Symphony No. 1: The Dream Of The Broken Hearted (Warner Home Video) :: Initially available for twenty years only on VHS, this short 1990 sequel of sorts to Wild At Heart features Nicolas Cage, Laura Dern, and The Man From Another Place. So why it was summarily drilled and dumped into the 99 cent delete bin mere minutes after it was released I'll never know.
Go Radio – Lucky Street (Fearless) :: Tramps like these, baby they were born to record pseudo-Springsteeninsh power popsicles primed to make all the mung dudes pump their puds with hyper-hormonal haste while all the stung dudettes cream their jeans with pre-pubescent passion.
Julee Cruise – Floating Into The Night (Warner Bros.) :: Lynch's languid production produces an eerie ethereal aural apogee of dream pop where emotions melt and synapses soften.
SIZZLING PLATTER OF THE WEEK: Norma Jean – Meridional (Razor & Tie) :: With songs like "Kill More Presidents" and "Deathbed Atheist" you'd be hard-pressed to guess—even after reading the lyrics which are printed in such teensy tiny type that only an angel dancing on the head of a pin could read them—that these guys are a Christian metal band but, strangely believe it, it sho 'nuff seems that they are. Not that it matters a whit, given that this is some of the best metal I've met since Pantera gave up the ghost.
Kyle MacLachlan – Diane... The Twin Peaks Tapes Of Agent Cooper (Simon & Schuster Audio) :: Available only on cassette and nominated for a best spoken-word performance Grammy Award in 1990? Even the Lynchpin himself couldn't dream up something as wonky as that.
Owl'll be seeing you!
Sat, April 7, 2018 | link
Saturday, March 31, 2018
JEFFREY MORGANíS MEDIA BLACKOUT #619
JEFFREY MORGAN'S MEDIA BLACKOUT #619.308!
Bruce Springstone – Greetings From Bedrock Park (Hanna-Barbera) :: Includes the hit single "Quarry Days." Rest in peace, Bill.
Jethro Tull – Draculung (Chrysalis) :: They all laughed when Ian Anderson announced that he was going to write a progressive art rock opera about a rummy child molesting vampire. Well, they're not laughing now.
Blue Öyster Cheer – Agents Of Eruptum (Phillips) :: I wish!
The Who – Who's On First (Track) :: They all laughed when Pete Townshend announced that he was going to write a rock opera about Abbott and Costello. Well, they're not laughing now.
Aerostones – It's Only Rock In A Hard Place (Toxic Glimmer) :: They all laughed when rock's big-lippers finally united. Well, they're not laughing now. Includes the hit single "Dude (Looked Like Lady Jane's Got A Gun)."
Don Kirshner Presents – The Byrds, The Beatles & The Monkees (Colgems) :: They all laughed when Mr. Rock Concert reunited three of the world's greatest bands. Well, they're not laughing now.
Led Zeppelin – Led Zeppelin XI: Live At Carnegie Hall (Atlantic) :: They all laughed when Bun E. Carlos replaced John Bonham on this box set. Well, they're not laughing now.
The Doors – Manzarek, Densmore, Krieger & Jones Ltd. (Camden) :: They all laughed when Davy Jones was hired to replace Jim Morrison. Well, they're not laughing now. Includes the hit single "The Doors Into Summer."
David Byrne & Brian Eno – My Life In The Bush Of Your Wife (Sire) :: They all laughed when these aging art fops decided to record music for adulterers. Well, they're not laughing now.
Black Oak Sabbath – Paranoid Mutha (Atco) :: I wish!
Styx & Stones – Break My Bones (Plaster Caster) :: They all laughed when Dennis DeYoung and Mick Jagger waxed some tracks together. Well, they're not laughing now.
Cars Traffic Jam – 4 Way Stop (Motown) :: They all laughed when Ric Ocasek, Steve Winwood, and Paul Weller created a new supergroup. Well, they're not laughing now.
The Clash – Sandradeesta! (Rocket) :: They all laughed when Elton John re-formed The Only Band That Matters. Well, they're not laughing now.
Tom Scholz & Hugh Cornwell – Boston Stranglers (Death Row) :: They're definitely not laughing now.
Keith Richards – "Don't Fall Out Of The Apple Tree" (Fiji Gin) :: It only hurts when he laughs.
Phyllis Dylan – Fang On Fang (Columbia) :: I wish!
Ted Nugent – The Ted Offensive: Triple Live Gonzo In Afghanistan (Armed Forces Radio Network) :: You were waiting for that, weren't you?
SPLATTER PLATTER OF THE WEEK: Nirvana – Arrivederci! (Swan Song) :: Recorded in Rome, this final vinyl features cover versions of: "So Long It's Been Good To Know Ya," "Suicide Solution," "Auf Wiedersehen," "Don't Try Suicide," "I Feel Like I'm Fixin' To Die Rag," "Rock 'n' Roll Suicide," and "Lay Down And Die, Goodbye." Includes the hit single "Dead Man's Kurt."
The Rolling Boulders – Get Yer Yabba Yabbas Out! (Hanna-Barbera) :: Includes the hit single "No Excavations." Rest in peace, Joe.
Be fooling you!
Sat, March 31, 2018 | link
Saturday, March 24, 2018
JEFFREY MORGANíS MEDIA BLACKOUT #618
JEFFREY MORGAN'S MEDIA BLACKOUT #618.259!
Eisley – The Valley (Equal Vision) :: Wherein this uncanny valley dares to ask the following musical questions: 1. What if Kurt Cobain had written for The Beatles instead of John Lennon and Paul McCartney; 2. What if three women sang those songs instead of John, Paul, and George; and 3. What if Prince had produced them instead of George Martin? The answer is: 4. It's about as good as you'd like to think that it is.
Rhino Bucket – Who's Got Mine? (MVD Audio) :: What can you say about four recidivist reprobates who have managed to stay sober long enough to spew out a suitably snotty sonic hellspew of a hard rock album that sounds like an alternate universe booze-based tribute to the bile and tribulations of Bon Scott? You *hic* shed it!
John Entwistle – "Whiskey Man" (Decca) :: Exactly!
Pete Townshend – "However Much I Booze" (MCA) :: Exactly!
Bob Wills And His Texas Playboys – The Tiffany Transcriptions (Collectors' Choice) :: Although he's not nearly as accomplished a songwriter by any stretch of the imagination, popular radio and silver screen bandleader Bob Wills was nevertheless, in his own unique way, the Duke Ellington of country music: a man who managed to transcend and transform the limitations of his genre to become the King Of Western Swing—and the timeless tunes heard herein cover the apex of his accomplishments during 1946 and 1947. That's why this exciting ten disc box set is a rip-roarin' rotatin' roundup that only a city slickin' tenderfoot dude would dare dismiss. However, just the very fact that these tracks were recorded some 65 years ago begs yet another musical question: Who gives a flying hoot about Bob Wills today?
SIZZLING PLATTER OF THE WEEK: Hot Club Of Cowtown – What Makes Bob Holler: A Tribute To Bob Wills And His Texas Playboys (Proper) :: They've been around for many a moon, but this is the first time that the Hot Clubbin' trio of Elana James, Whit Smith, and Jake Erwin have documented their affection for the King Of Western Swing in such an overt manner—and it's an accolade that's well worth the wait because each one of these fourteen tracks will transport you back to the much simpler days when all manner of swing was king and country swing in particular ruled the roost.
Even better, I'm pleased to report that almost half of the album is dedicated to covering a number of classic Willis original compositions that span Bob's entire career from 1935's "Maiden's Prayer" to 1950's "Faded Love." There are also a few song selection surprises along the way, most notably the inclusion of the Hot Club's toe tappin' take on Bob's very first Vocalion single "Osage Stomp."
Now if all that doesn't make you want to toss your ten gallon hat high up in the air and holler a rip-snortin' "Aw-haw!" then I plumb reckon that I don't rightly know what will.
Be seeing you!
Sat, March 24, 2018 | link
Saturday, March 17, 2018
JEFFREY MORGANíS MEDIA BLACKOUT #617
JEFFREY MORGAN'S MEDIA BLACKOUT #617.258!
Various Artists – Sin-atra (Armoury) :: Not since fellow inmates Charles Manson and Phil Spector went into Corcoran State Prison's recording studio to record Evilis: A Burning Tribute To The King has there been such a cloven collection of cover versions! These twelve over the top metal permutations of every Old Screw Eyes classic ranging from "New York, New York" to "Strangers In The Night" are warbled by twelve over the top metal performers ranging from Twisted Sister's Dee Snider ("It Was A Very Good Year") to Cheap Trick's Robin Zander ("Fly Me To The Moon"). Take it from me, pallie: this is one platter that's sizzling whether you like it or not!
David Lee Roth – "That's Life" (Warner Bros.) :: Meanwhile, back in 1986, Diamond Dave was paving the way with this Sinatra single that hit number 85 on the Billboard Hot 100 chart.
Warm Ghost – Uncut Diamond (Partisan) :: I don't know which is the more amazing achievement: that this six track EP dares to merge the synth suaveness of Gary Numan via the mordant melodies of Trent Reznor and the arch artiness of David Sylvain via the doomed romanticism of Bryan Ferry—or that it all somehow actually manages to work.
The Jeff Healey Band – Get Me Some (Eagle Records) :: Sure this one's over a decade old now but, strangely believe it, it's still fresh enough to sound like it was recorded five minutes from now. Prepare to get deliriously giddy with delight as you listen to how Healy effortlessly switches gears from rock to blues to ballads with equal authoritative aplomb.
Marillion – Live From Cadogan Hall (Eagle Records) :: If you're one of those snooty prog rock adherents who always felt that Marillion died when Fish left, then it's time to undrape the crêpe and embrace the saving grace that this double disc offers. With a sound quality that's past pristine and a song selection that's practically pluperfect in every way, there's no reason why you should wait any longer at the window for your favorite former singer to reappear so douse that candle before you torch the curtains, kid.
SIZZLING PLATTER OF THE WEEK: Krissi Moses – Freak! (self released) :: She coos...just like a woman, yes she does. She chirps...just like a woman, yes she does. And she cajoles...just like a woman. But she breaks your balustrade into a puddle of oozing mush like a little girl with a sledgehammer in her vengeful mitts because this titanic tart isn't a super freak by any stretch of your feeble imagination: she's a super ultra mega freak who reeks with enough pouty 'n' perky vocal punk attitude to slaw your drooling slack-jawed visage a permanent skin peel while her band cranks out enough primo power pop to make you wanna grab her by the hand; track down a preacher man; and change her name so that you can be her next willing victim.
Be seeing you!
Sat, March 17, 2018 | link
Saturday, March 10, 2018
JEFFREY MORGANíS MEDIA BLACKOUT #616
JEFFREY MORGAN'S MEDIA BLACKOUT #616.257!
Third Place – Welcome To Lifeland (self released) :: Third place is second loser and this generic wad of angst rock doesn't do anything to change that. Welcome To Lifeless is more like it.
Mick Jagger & The Red Devils – Unreleased Blues Album (embargoed) :: Now lemme see if I got this straight: the guy spends the last quarter of a century hacking out lame Stones albums that should've been put to sleep before they ever saw the light of day and he keeps this superlative solo session from 1992 sitting on the shelf? Look, I'm all for selfless devotion to craft, but this is the most sincere music Jagger's made since Exile so do a search and download it now before you write the guy off entirely—assuming you haven't already done so.
The Rolling Stones – "Claudine" (embargoed) :: And if you have, you'd better likewise listen to this 1980 outtake from Emotional Rescue which is nothing less than the greatest track that the Rolling Stones weren't allowed to release. Not only do the withering lyrics about actress Claudine Longet and her involvement in the 1976 shooting death of her boyfriend, skier Vladimir "Spider" Sabich, go beyond black humor into an ultraviolet—and ultra-violent—vein, they redeem all of the singer's dodgy musical indiscretions for the past fifty years, they're that good: "She shot him once right through the head. She shot him twice right through the chest. The judges ruled it was an accident, Claudine. Accidents will happen!" Bonus points for having the drummer accentuate each "gunshot" with a rimshot.
Peter Green Splinter Group – Time Traders (Eagle Records) :: Ably augmented by harp 'n' horn, this tasty 2001 album from Fleetwood Mac founder Peter Green harkens back to the glory days of classic blues rock when gents like John Mayall and Eric Clapton used to rule the royal roost—which more than makes sense given Green's own Slowhand-supplanting stint in the Mayall's Bluesbreakers. And because it's still grievously unfortunate that Green's untimely departure split up Splinter in 2004, maybe it's about time that you revisited this overlooked gem and mourned along with the rest of us.
SIZZLING PLATTER OF THE WEEK: The River Junction Band – Limited Edition EP (self released) :: One of the things that I love best about attending Canadian Music Week each year is all the stray records that struggling musicians leave lying around for someone like me to pick up—which I do. This five track slice of hot toe-tappin' country honk one starts off a mite too slow for my liking but then the band wisely floors it to exceed the speed limit, which is where they always oughtta cruise 'cause that's where they do their best gitbox pickin' and violin pluckin'. Bonus points for having a dynamite he 'n' she dual duet combo and inspirational lyrics like: "Born country, it ain't hard to tell: my Mama was a Christian and my Papa was Hell."
Be seeing you!
Sat, March 10, 2018 | link
Saturday, February 24, 2018
JEFFREY MORGANíS MEDIA BLACKOUT #615
JEFFREY MORGAN'S MEDIA BLACKOUT #615.255!
Alessandra Comini – Egon Schiele's Portraits (University Of California Press) :: Back in the '70s, legendary British mime David Bowie was tagged in various rock rags to play early 20th century Austrian painter Schiele in a movie called The Wally that never materialized save for a photo of Bowie looking suitably wan with a book about Schiele casually strewn at his feet; but not this massive 500 page hardcover which would've been a tad too heavy for such a scrawny snow-snorter to heft.
It's too bad that the flick never got filmed because Schiele's seriously skewed life was just as deeply disturbing as his seriously skewed illustrations were—which is why I spent many a sleepless night kicking the gong around and wondering what the result would look like if some visionary with a brimming brainpan dared to use Schiele's herky-jerky artwork as a twisted template to create an iconoclastic landmark animated series.
Peter Chung – Æon Flux: The Complete Animated Collection (Paramount) :: It's been twenty long years since Peter Chung first transmogrified Egon's art into Æon's artifice and yet, as this definitive three disc set shows, the end results have never been more eerily ahead of their time than they are now—no mean feat in a world gone wacky. If you've never been exposed to Chung's uncanny covert environment, you can now make up for lost time by immersing yourself for hours in the deep end of the Æonetic pool where sixteen pretty much non-linear episodes await to indoctrinate you.
If it were easy to tell you what they're all about I would, but the best I can do to give you a hint of what awaits you is to quote that great poet Grace Slick, who once wrote about a time "when logic and proportion have fallen sloppy dead." Except that the crazy world of Peter Chung makes Lewis Carroll's looking glass landscapes seem like the very picture of photorealism; or as the phantom voice in Porky In Wackyland warns: "It can happen here!" And in this Æon paean, it most certainly does.
SIZZLING PLATTER OF THE WEEK: Drew Neumann – Eye Spy: Ears Only Confidential (Tone Casualties) :: Not since the great Carl Stalling gave Warner Bros. cartoons their own unique sonic personality has there been such a perfect melding of sound and vision as that applied to Chung's art by Neumann. This two disc instrumental soundtrack to the Æon Flux series is what Bowie's Low would've sounded like had he teamed up with The Equalizer's Stuart Copeland instead of Eno; or if id Software had hired Wendy Carlos to record Quake instead of Trent Reznor. But don't take my word for it: mosey over to Drew's website here where you can buy the enhanced three disc version directly from him and then decide for yourself.
Carl Stalling – The Carl Stalling Project: Music From Warner Bros. Cartoons 1936 – 1957 (Warner Bros.) :: Exactly!
Be seeing you!
Sat, February 24, 2018 | link
Saturday, February 17, 2018
JEFFREY MORGANíS MEDIA BLACKOUT #614
JEFFREY MORGAN'S MEDIA BLACKOUT #614.255!
George Harrison – "Awaiting On You All" (Apple) :: Leave it to a white guy from England to rhyme "Jesus" with "visas."
The Madison Square Gardeners – Teeth Of Champions (self released) :: From the guitars to the organ, the music is straight outta Dylan's Highway 61 Revisited but the vocals are strictly of the Elliott Murphy Aquashow ilk—and that's an inspirational combo that's hard to beat, especially when the songwriting is easily on par with both of those stellar songsmiths.
Ice Cube – "We Had To Tear This Mofo Up" (Priority) :: Leave it to a black guy from America to rhyme "Jesus" with "Adidas."
Ringo Starr – "The End" (Apple) :: Best drum solo ever?
Paul McCartney – "Kreen-Akore" (Capital) :: Best drum solo ever?
Ron Bushy – "In-A-Gadda-Da-Vida" (Atco) :: Best drum solo ever?
Peter Criss – "100,000 Years" (Casablanca) :: Best drum solo ever?
John Bonham – "Moby Dick" (Atlantic) :: Best drum solo ever?
Cozy Cole – "Topsy Part Two" (Apex) :: A million-selling, certified gold, number one single from 1958 that's just a drum solo? Best drum solo ever!
SIZZLING PLATTER OF THE WEEK: De Staat – Machinery (Cool Green) :: It ain't often that an eclectic album scores high marks on the intelligent quotient test and then registers an even higher rating on the crunge-o-meter, but De Staat's funk-fuelled Machinery sho 'nuff does both: first by oozing out a surfeit of creative artistic brain-power-pop (ref. Roxy Music; Devo; Robin Scott's M); and then by reeking with an unreasonable overdose of snarky sonic style and amped-up attitude (ref. KMFDM; Prodigy; Living Color).
Where to begin? With the herky-jerky Morse code guitar-driven chunk rock of "Ah, I See" that sounds like a bouncing buzz saw skewering a sheet metal trampoline? Or with the James Brown drill sergeant depiction of animal meat by-product processing on "Old MacDonald Don't Have No Farm No More" that'll make you wanna chow down on a tasty Big Kahuna Burger?
What about the pec-pumpin' beats of "Sweatshop" that'll have you in sync while you sate your iron addiction? Would I be remiss in missing the crazy carnival whirligig of "Psycho Disco" that keeps on chooglin' until the sows come home? It really doesn't matter because, from the sporadic synth-stuttering stylistics served up on "Tumbling Down" to the real cool hand that "Keep Me Home" deals down with its spiritually soulful chain-gang wail, this is one radical record to be reckoned with!
The Who – Magic Bus: The Who On Tour (Decca) :: Best live album ever!
Be seeing you!
Sat, February 17, 2018 | link
Saturday, February 10, 2018
JEFFREY MORGANíS MEDIA BLACKOUT #613
JEFFREY MORGAN'S MEDIA BLACKOUT #613.254!
Bill Cosby – To Russell, My Brother, With Whom I Slept (Warner Bros.) :: Boy, I guess we'll never see anyone with enough guts to use a slyly-suggestive title like that these days, huh?
SIZZLING BOOK OF THE WEEK: Mickey Leigh with Legs McNeil – I Slept With Joey Ramone (Touchstone) :: Thankfully, this is the complete antithesis to Legs' earlier oral history of punk Please Kill Me, which was so direly depressing that even I couldn't bear to keep it around. But just like the above-noted Cosby comedy classic, I Slept With Joey Ramone is heartfelt to a fault in the way that it narrates how brothers relate to each other—in this case Mickey to Joey—with the big difference being that there's understandably nothing in Cos' tale about the wages of Mickey's monkey; the variances of being an iconic rock star; or the tragic too-tough-to-die trauma of terminal cancer. But don't let that stop you from reading one of the most compassionate rock books ever written because you could do a lot worse and, let's face it, you probably already have.
SIZZLING PLATTER OF THE WEEK: The Rolling Stones – Ladies And Gentlemen, The Rolling Stones (Eagle Vision) :: It goes without saying but I'll say it anyway: try as it might, this movie, which is the only officially Stones-sanctioned document of the Stones' legendary 1972 Tour Of The Americas, doesn't come even remotely close to capturing the unearthly Olympic Gods Walking The Earth essence of what it was like to actually be there, in the same room as them, to bear witness at what was arguably the Stones' greatest last live stand; the argument being that you can always find some snooty purist who will eagerly insist that it all went downhill after 1966, never mind '69.
That said, this isn't anywhere near the sad slice of cinema that I initially deemed it to be after I saw it during its initial theatrical run in 1974. Back then, I staggered away with a bad taste in my eyes and the distinct feeling that the whole thing was nothing but a bunch of self-indulgent, big-lipped, vanity close-ups of the singer. Then again, I did sit through two consecutive showings of the Beatles' Let It Be in May 1970 because I didn't think that I'd gotten my two dollars and fifty cents worth the first time around, so I'm a tough audience to begin with.
However, I've mellowed enough in my dotage to now see this for what it really is: a well-shot rollicking romp that displays every band member in equal dollops of drag and has a sonically superior soundtrack that's probably the best we're likely to hear in lieu of their oft-bootlegged Klein-cancelled live album—and if it's no Stones In Exile, well, what is these days?
Robert Frank – CS Blues (Embargoed) :: This is!
Be seeing you!
Sat, February 10, 2018 | link
Saturday, February 3, 2018
JEFFREY MORGANíS MEDIA BLACKOUT #612
JEFFREY MORGAN'S MEDIA BLACKOUT #612.253!
George Harrison assisted by Bernie Krause – Electronic Sound (Zapple) :: The last word in noise!
The Aquabats! – Hi-Five Soup! (Fearless) :: All music's stupid as a spud, but rare is the record that's worthy of being tagged stoopid—and just like Lou Reed's The Bells, the is one heckuva stoopid album that's so satirically smart it actually dares to be D-U-M-B. Some might even go so far as to say that there hasn't been such a peerless parody platter since the heyday of "Weird Stan" Freeberg!
Stan Freeberg – St. George And The Dragonet (Capitol) :: Except that Hi-Fi Stupe! won't sell a million copies in three weeks like Stan's seminal single did back in 1953—and that's just the facts, Ma'am.
Braids – Braids (Kanine) :: What if the Phaedra-era Tangerine Dream and the Bedside Companion-era Nash The Slash had pooled their considerable synth skills to wax a record that featured a chirpy chick's ethereal vocals? The result would've been this delightful disc that'll have your ten toes tapping and your seven synapses snapping!
Neil Young assisted by Crazy Horse – Arc (Reprise) :: The last word in noise!
Otis Redding – Live On The Sunset Strip (Stax) :: If you're ready for Star Time, then this two disc distillation of Redding's four night stint at the Whisky in 1966 is definitely ready for you. What's that you say? You've heard enough versions of "Respect" and "(I Can't Get No) Satisfaction" to last you a lifetime? Then may I suggest going directly to the second platter to play Otis' ten minute throwdown on "Papa's Got A Brand New Bag"? It'll make you get up offa that thing; dance and you'll feel better!
Ben Ottewell – Shapes & Shadows (ATO) :: Ben's got an original voice and he uses it to sing well-crafted songs that are about as heartfelt and literate as you're likely to hear these days. Toss in some tastefully sparse album cover art direction and you've got an entire package that's well worth perusing—so mebbe y'oughtta pick up a copy 'n' settle down to give it a spin. Nine tracks, no waiting.
SIZZLING PLATTER OF THE WEEK: Colin Stetson – New History Warfare Vol. 2: Judges (Constellation) :: On this astonishing new avant album, sax master Stetson somehow manages to make his instrument evoke everything from the watery mystique obsequies of Gavin Bryars and the echoic reverb distortion of Unca Lou's live work with Zeitkratzer to the surreal hypnotic sequential drones of Terry Riley and Steve Reich as channeled through the altered sonic states of Basil Kirchin—an uncanny aural achievement made all the more impressive by the fact that Stetson plays everything in one take without any overdubs. Bonus points for having Laurie Anderson occasionally chime in with arcane words of wisdom and Shara Worden for likewise haunting the proceedings with her plaintive singing.
Lou Reed assisted by Lou's speed – Metal Machine Music (RCA Quadradisc) :: The last word in noise!
Be seeing you!
Sat, February 3, 2018 | link
Saturday, January 27, 2018
JEFFREY MORGANíS MEDIA BLACKOUT #611
JEFFREY MORGAN'S MEDIA BLACKOUT #611.252!
Alice Cooper – Lay Down And Die, Goodbye (Straight) :: If lacquering his liver for years with Budweiser and Canadian Club didn't kill him, then nothing will. File under: Too Tough To Die.
Elton John – Someone Saved My Life Tonight (MCA) :: If Bernie hadn't pulled Reg's head out of that gas oven, we never would've have had the pleasure of hearing him subsequently shill: "Sassoon says so much"! Anyone got a match?
Frank Gallup – Got A Match? (Paramount) :: I beg your pardon!
Ozzy Osbourne – Suicide Solution (Epic) :: If the bat-bite rabies didn't kill him, then nothing will. File under: Too Tough To Die.
Metallica – Fade To Black (Elektra) :: What, they're still alive? Amateurs!
Prince – Sexual Suicide (NPG) :: File under: Freddie Mercury.
Freddie Mercury – Don't Try Suicide (Elektra) :: Ironic, innit?
Paul McCartney – Suicide (Capitol) :: You'd think that writing a song called "Suicide" at age fourteen would portend something dire, but daddy says nothing doing. File under: Too Tough To Die.
David Lee Roth – Jump (Warner Bros.) :: When he sings "Go ahead and jump!" what did you think he was talking about? Hopscotch?
Cheap Trick – Auf Wiedersehen (Epic) :: Need a push?
Sparks – Here In Heaven (Island) :: Only Ron Mael could write a song about a suicide pact in which the woman reneges—as sung from the point of view of the man who, having gone first, said goodbye cruel world: "Now I know why you let me take the lead."
The Mash – Suicide Is Painless (Columbia) :: Number one with a bullet!
Grand Funk Railroad – Born To Die (Capitol) :: What, they're still alive? Amateurs!
Woody Guthrie – So Long, It's been Good To Know Yuh (Elektra) :: Even Okies get the dust bowl blues.
Phil Ochs – Rehearsals For Retirement (A&M) :: Merely the greatest—and, regrettably, most prophetic—album cover ever.
Trent Reznor – Gave Up (Nothing) :: When the singer describes his music as being "an ultra fast chunk of death" and then repeatedly wails "I tried, I gave up" you'd think that he would've backed up his brag by now, but no. File under: Too Tough To Die.
Ramones – Too Tough To Die (Sire) :: Really?
Iggy & The Stooges – Death Trip (Columbia) :: What, they're still alive? Amateurs!
PRESCIENT PLATTER OF THE WEEK – SAD ONE: Michael Hutchence – Suicide Blonde (Mercury) :: Professional.
PRESCIENT PLATTER OF THE WEEK – SAD TWO: Kurt Cobain – I Hate Myself And I Want To Die (Geffen) :: To a fault.
Dorothy Parker

 – R

é

sum

é

 (Enough Rope) :: "Razors pain you; rivers are damp. Acids stain you; and drugs cause cramp. Guns aren't
                  lawful; nooses give. Gas smells awful; you might as well live."
Be seeing you!
Sat, January 27, 2018 | link
Saturday, January 20, 2018
JEFFREY MORGANíS MEDIA BLACKOUT #610
JEFFREY MORGAN'S MEDIA BLACKOUT #610.251!
The Franco Proietti Morph-Tet – Live! A Weekend At Centre St. Ambroise (Bongo Beat) :: With saxes a-wailin' and turntables a-twirlin' and Moog synths a-bloopin' and a-blorpin' these fourteen hipsters casually carve out a bluesy reggaefied swatch of decidedly distant retrophonic monophonic sound that'll send you soaring into a groove-approved altitude where the java is always piping hot and the jive is always pluperfectly cool.
The Green Hour Band – Coming Of Clockwise (Scratch) :: The gnarly destorto fuzz bomb beginning behooved me to believe that this might be some kinda Cobainish revival meeting, but the drawlin' adenoidal protesting vocal convinced me that this is nothing less than a hopped up and harped up high octane folkified version of Blue Cheer.
Alternative TV – Black And White: Live (Bongo Beat) :: The sound quality may rival the Velvet's Live At Max's Kansas City for sonic sludgery but that only adds to the authentic feel of this career-spanning work which was recorded all around the world during this century, yet uncannily sounds as fresh as if it was recorded in 1977 during punk rock's heyday—and I was around back then so I should know...and I most certainly do.
The Luke Mulholland Band – Further (self released) :: Growlin' blooze rock that occasionally gets elevated out of the ordinary by a gnarly guitarist who hails from the same loopy fretboard fraternity as Satriani and Beck. But why credit this to your "Band" on the outside when you don't list a single musician on the inside?
Paul Hyde – Peace Sign (Bongo Beat) :: Backed by sound production so crisp it never needs ironing, Paul expertly essays the kind of songs that Judas stopped slinging after he revisited Highway 61–and if you don't believe me, just listen to the acidly acerbic "Greaseball Town" and try tellin' me that I'm wrong.
Lee Dewyze – Slumberland (Wuli) :: The way I see it, this is nothing less than a trippy Donovan Harrison concept album about Winsor McCay's Little Nemo In Slumberland. Dewyze'll deny it of course but, with songs like "Princess" and "Another Sleep Song," he really shouldn't.
Graham Brown & The Prairie Dogs – Do What You Should (Bongo Beat) :: This is the kinda tub-thumpin' cawntry hawnk that'd go good from behind a bottle of beer that's in front of a chicken wire wall. Careful with that pool cue, Eugene!
SIZZLING PLATTER OF THE WEEK: The Savage Nomads – What The Angel Said (Alaska Sounds) :: When Mick Jones says: "I can't think of anyone better than the Savage Nomads to rock the whole world" it's kinda like the Beatles endorsing Badfinger. But that don't diminish the endorsement's impressiveness none because this five track extended player is one helluva Clash course in everything that I like about loud guitar-driven rock 'n' roll—especially when it's fuelled by a soulful saturation of heartfelt passion like this disc is. Had it been pressed in plastic, it'd be a magnificent seven.
Be seeing you!
Sat, January 20, 2018 | link
Saturday, January 13, 2018
JEFFREY MORGANíS MEDIA BLACKOUT #609
JEFFREY MORGAN'S MEDIA BLACKOUT #609.249!
Bruno Mars – Doo-Wops & Hooligans (Elektra) :: Music whores a vacuum which is why, now that Michael Jackson's gone, space has opened up for Bruno to moonwalk into his void with an album that merges an ace imitation of MJ's voice with Freddie Mercury's breathy archness, all sheathed in a synthesized swirl that's straight outta the '80s—and as we all know, nothing says the '80s better than Bruno!
Bruce Willis – The Return Of Bruno (Motown) :: That's right, Motown. What were you expecting? Stax?
Cybill Shepherd – Moonlighting (MCA) :: Stax, you idiot! Not stacked! Stax!
Miles Davis – The Man With The Horn (Columbia) :: It don't mean a thing if it ain't got that schwing!
Grace Kelly & Phil Woods – Man With The Hat (Pazz) :: Sometimes I think that you can't find a jazzier cat than big boppin' sax man Woods. As if studying with the great Lennie Tristano wasn't enough, he then married Bird's widow Chan and shuffled off to Paris. You'll probably know him best for his smooth solo on Billy Joel's syrupy single "Just The Way You Are" but don't hold that against him because he's more than made up for it by joining sax siren Kelly for this new album of smooth soundin' duets. Bonus points awarded if she calls her next album Dial S For Sax.
Grace Kelly – Dial M For Murder (Alfred Hitchcock) :: Geddit?
Dave Rave – Live With What You Know (Bongo Beat) :: What if The Who Sell Out-era Who and the Rubber Soul-era Beatles had recorded an album together? The result would've been this practically perfect in every way pop record, which is nothing less than Dave Rave's apex of auditory expression. In fact, it's so sonically stellar that it would've easily made my Village Voice 2010 Top Ten list had I heard it last year—so let that be a lesson to all you tardy publicists!
SIZZLING PLATTER OF THE WEEK: Jonny Burke – Distance & Fortune (Dreamcar) :: Jonny comes rockin' outta left field in 4/4 time with a voice that sounds like snarky Alice Cooper; lyrical skills that easily evoke Elvis Costello on a magnanimous day; and wiry Keith Richards riffs which simply reek with the sonic simplicity of Bowie's "Rebel Rebel." Then he unexpectedly detours into Elliott Murphy country-folk territory for a spell before blasting out the other side in full-bore rock mode again. If I didn't know any better, I'd say that this is the sound of someone who's completely confident in the knowledge that he can do just about anything he wants to in the studio—but I do and he can.
Be seeing you!
Sat, January 13, 2018 | link