Saturday, July 2, 2022
JEFFREY MORGANíS MEDIA BLACKOUT #842
JEFFREY MORGAN'S MEDIA BLACKOUT #842.581.214!
Sum 41 – All the Good Sh**: 14 Solid Gold Hits 2000-2008 (Aquarius) :: I'll say what these smug dealers are too pussy to spell out on their album cover because they're afraid of losing valuable Wal-Mart sales: This juvenile generic angst rock is shit.
Johnny Winter And… – Live (Columbia) :: I tossed this one on the old Victrola and 30 seconds into the first paint-peeling track, "Good Morning Little School Girl," the graft-takers at Toronto's City Hall had passed a noise ordinance banning me from ever playing this album again. Can't say I blame 'em.
Doug Cox & Salil Bhatt – Slide To Freedom 2 (Northern Blues) :: A passel of peacenik paeans primarily played to power your interplanetary pud into place!
Synthetic Elements – Trashed Out Paradise (Filthy Beast) :: Anyone expecting a Moogster mash because of the band name will be surprised to find an ambitious pop-rock offering which has some early Alice aural theater lurking in the background. Next time, they should let their inner Coop out.
SIZZLING PLATTERS OF THE WEEK: Jeff Jarrett – King Of The Mountain (TNA Home Video) :: I hate monopolies, especially big bloated ones that ruthlessly swallow up the competition and then callously humiliate former employees by publicly blacklisting them from work on live television. So when professional wrestler Jeff Jarrett put his money when his mat is and bucked the odds by successfully forming his own competitive brand of Total Nonstop Action fifteen years ago, he ended up getting the best revenge. Now comes this whopping 12-hour, four-disc set which, unlike previous wrestling compilations, alternates every match with a lengthy in-depth interview segment that tells the entire story of Double J's guitar slingin' career from his early years of toil and turmoil in the regional promotions to now. Augmented by a wealth of rare archival footage, this veritable half-day history of the wrestling profession is essential viewing for anyone who's a champion of free enterprise—especially since JJ's back ruling the roost at Impact Wrestling—which is why King Of The Mountain is the retro-wrestling DVD of the week.
Be seeing you!
Sat, July 2, 2022 | link
Saturday, June 25, 2022
JEFFREY MORGANíS MEDIA BLACKOUT #841
JEFFREY MORGAN'S MEDIA BLACKOUT #841.580.213!
Mark Olson & Gary Louris – Ready For The Flood (HackTone) :: I know you won't believe it, but this sounds just like McCartney & Lennon when they did their acoustic Everly Brothers bit during Let It Be—and that's definitely saying something, so believe it.
Tagaq – Auk/Blood (Jericho Beach) :: I've heard a few throat-singing albums in my time, but never one that reminded me of Nico's Janitor Of Lunacy until now. That is, if Nico had played her larynx instead of her harmonium.
Bleeding Through – The Complete Truth (Trustkill) :: This one sounds like Paul Stanley fronting a double-time thrash-screamo band. At least it does during the melodic singing parts. Of which there aren't many.
Matthew Sweet – Sunshine Lies (Shout! Factory) :: "Matthew Returns With a Power-Pop Stunner!" raves the cover sticker, which ain't a bad call. And although I wouldn't go so far as to call it a "kaleidoscopic masterwork," like the additional small print does, I'd certainly recommend it solely on the vintage anarcho-punk Donovan Rundgren vibe.
Mardeen – Read Less Minds (Collagen Rock) :: Proto-atypical teenage angst-rock that, inexplicably, has a late '70s early '80s jingle jangle post-punk patina. Maybe this is what Lodger shoulda sounded like. Maybe not.
SIZZLING PLATTER OF THE WEEK: Cameron Latimer – Fallen Apart (Black Hen) :: This may be a first: An album that just doesn't just includes a lyric sheet, but a lyric sheet that's notated with all the necessary chords needed to turn it into sheet music. And although it's usually at this point in the proceedings that I'd lambaste this record raw for not being nearly as smart as that bright idea, this is one country album that's actually even smarter—right down to the looping title track which, incongruously, sounds just like a high quality outtake from Paul and Linda's Ram.
Paul McCartney - "Ram On" (Capitol) :: Paul. Ram on. Paul Ramone. Geddit?
Be seeing you!
Sat, June 25, 2022 | link
Saturday, June 18, 2022
JEFFREY MORGANíS MEDIA BLACKOUT #840
JEFFREY MORGAN'S MEDIA BLACKOUT #840.579.212!
Alan Davey – Captured Rotation :: (MVD Audio/Hawkwind) :: Hawkwind meets power pop on this catchy pop rock meisterwack.
Astralasia – The Hawkwind Remixes (MVD Audio/Voiceprint) :: One good head deserves another and, boy oh boy howdy, do they ever find each other in spades on this celestial compendium that time travels from 1993 to 2002 and back again in a cool Cosmic Supermarket kinda way.
Magic Mushroom Band – Feed Your Head: Live '89 (MVD Audio/Voiceprint) :: The album title is a fully great dead giveaway that if Grace Slick and Donovan were singing together in the TransLove Airplane, then this would be their Bless Its Pointed Little Head. So turn off your mind, relax, and bloat downstream as the MMB cover everything from Zappa and Harrison to Ayers and Hendrix in one long luxuriously languid trip.
Jon Anderson – Live In La La Land (MVD Audio/Opio/Voiceprint) :: Devoid of the usual surrounding prog rock bombast, this minimal direct-to-DAT double live album of the Yes man's recent guitar-and-piano-only one-man solo show, at the Roxy in Los Angeles, is an excellent showcase for his distinctive voice which, eerily enough, still sounds exactly like it did way back in the early '70s—soaring high notes and all. I guess Anderson must have a painting of his larynx hanging in an attic somewhere.
SIZZLING PLATTER OF THE WEEK: Fish – Communion: Live At St. Mary's Church Haddington, East Lothian, August 27th, 2006 (MVD Audio/Chocolate Frog) :: Just like those who perpetuate the Gabriel-Collins Genesis debate, there will always be those who will forever be of the opinion that Fish was Marillion, and those others who feel that any post-Fish incarnation of Marillion is equally legitimate. I happen to think that both camps are right, which means I have ample enough room in my ears for this two-fer that's easily as excellent as anything Gabriel did during his first three solo albums.
Be seeing you!
Sat, June 18, 2022 | link
Saturday, June 11, 2022
JEFFREY MORGANíS MEDIA BLACKOUT #839
JEFFREY MORGAN'S MEDIA BLACKOUT #839.578.211!
Styrofoam – A Thousand Words (Nettwerk) :: Just what you always wanted: a lightweight bloopy blorp Casio-pop album with a perpetual half-life that'll never decompose.
Nash The Slash – Decomposing (Cut-Throat vinyl) :: A two-sided series (78) of electro-ambient instrumentals (45) which can be played at any (33) turntable speed (16).
SIZZLING PLATTER OF THE WEEK – FELONY COUNT ONE: A Thousand Knives Of Fire – The Last Train to Scornsville (Small Stone) :: Ah gots tuh be honest with yuh: I ain't never heerd no Small Stone record that I didn't like 'cause this here Deetroit label don't put nuthin' out but elpee after elpee of nonstop, purebred, fuzz-infested, primo heavy, thudaholic, crungefyin', pudknockin', hog-straddlin', pool cue-wieldin', booze-belchin', weed-snortin', speed-freakin', hard-humpin', babe-ballin' music. In other words: Small Stone is the greatest rock 'n' roll record company in America and this album is on Small Stone so you just know that it's got the gooshin' gonad goods splattered all over it. Bonus points for dividing their album into two sides. Extra points awarded for having a feelthy title track that makes bands like Blue Cheer and Kyuss sound like Simon & Gofunkle yo'self.
SIZZLING PLATTER OF THE WEEK – FELONY COUNT TWO: Gideon Smith & The Dixie Damned – South Side Of The Moon (Small Stone) :: It's obviously a given that I like this record, but lemme tell ya why the gol-durned South done gone 'n' rise again. Y'see, unlike the above-noted disc of the long Knives with its sludge-slammin' sound, these Dixie rebs play faster 'n' cleaner behind a growl-gnarlin' voice that sounds as if it wuz freshly dug up from some Civil War battlefield. Points deducted for having the bad sense to play too many heavy love ballads (ref: "Daughter Of The Moon") 'cause heavy love ballads, no matter how heavy, are still ballads—and ah hates ballads. Points reinstated with for having the good senses to follow up the heavy love ballads with tracks like the butane-blisterin' behind-squirtin' "Black Cat Road." Oh, yassss!
Be seeing you!
Sat, June 11, 2022 | link
JEFFREY MORGANíS MEDIA BLACKOUT #838
JEFFREY MORGAN'S MEDIA BLACKOUT #838.577.210!
The Gaslight Anthem – The '59 Sound (Side One Dummy) :: This ain't no Johnny Horton nod, nor is it no Charles Boyer nod off. It's an angst-rock overdose that's lightly seasoned with a working-class twist of Bossteen. Bonus points for writing a song about the world's greatest Steve Miller fan entitled "Miles Davis & The Cool."
Steve Gammond – Down The Tracks: The Music That Influenced Bob Dylan (Eagle Media DVD) :: From Guthrie and Seeger to Ginsberg and Corso, all wrapped up in one neat little 90-minute educational package, just like the title says.
Walls Of Jericho – The American Dream (Trustkill) :: Welcome to their throbbo, pulsato, screamo nightmaro.
Simon Sykes & Tom Sykes – No Such Thing As A Free Ride? (Goose Lane Editions) :: Here's a book that contains riotous road tales recalled from the soft shoulder by the likes of David Peel, Jayne Country, Jello Biafra and Randy B-B-B-Bachman. Need a ride? Get in!
Steve Miller Band – Live From Chicago (Coming Home) :: Ever wonder why Miles Davis virulently hated Steve so much in his ghost-written autobiography? Mebbe he was kind of green with envy that he couldn't write the kind of popular hit songs or pull the kind of adoring audiences that Mr. Miller managed to do. If so, then it's a good thing that Miles can't see the jam-packed aisles that The Joker still fills on this recent triple CD-slash-DVD set. Bonus points for dedicating "Jungle Love" to Miles. Kind of kidding.
SIZZLING SALESMAN OF THE WEEK: Neil Diamond – Live 1976: The Thank You Australia Concert (Eagle Vision DVD) :: Leathered like Jimbo Morrison and posin' like Elvo Presley, Neil runs through all his hits here on this Oz televised romp—but it's the bonus segment featuring his live-from-the-stage commercials that'll make you want to buy this one. How cool is he? Cool enough to ignore the cheesy script dialogue he's handed and savagely rip into sponsors Cadbury and Pioneer with withering ad-libs worthy of Groucho Marx.
Be seeing you!
Sat, June 11, 2022 | link
Saturday, May 28, 2022
JEFFREY MORGANíS MEDIA BLACKOUT #837
JEFFREY MORGAN'S MEDIA BLACKOUT #837.576.208!
Cory Woodward – Princess Of The Skies (self-released) :: The first impression is of a guy expertly aping Springsteen, but then the subtle nuances in his voice filter through, exposing eerie elements of early Presley and Plant with a slight skein of horrorbilly.
The Funk Brothers – Live In Orlando (Eagle Vision DVD) :: Motown's unsung backing band comes out of the shadows to skillfully show off its still-silky smooth sonic stylings.
Delta Spirit – Ode To Sunshine (Rounder) :: The joyful piano-pumpin' "Trashcan" is the greatest song that Leon Russell never waxed during the height of his whoa-wailin' Holy Trinity heyday—and the rest of the album has a ruff 'n' tumble feel that ain't too shabby neither.
Zebra – The DVD (MVD Visual) :: A generic 30-year retrospective for the faithful, filmed live in Louisiana and New York, with the requisite historical interviews just in case, like me, you've never heard of them before.
Pär Lindh Project – Live In Poland (MVD Visual/Metal Mind DVD) :: After eight Tolkenish studio albums, Sweden's answer to ELP rips prog rock a new one on this voiceless virtuoso show.
Patrick Moraz – In Princeton (MVD Visual/Voiceprint DVD) :: The synthman on Yes' Relayer album goes acoustic and hits the Steinway—literally—by smackin' it silly with his hands almost as much as he fingers it feverishly with his rigid digits.
SIZZLING PLATTER OF THE WEEK: Iggy Pop – Where The Faces Shine, Volume 1: The Official Live Experience 1977-1982 (Easy Action) :: This exhaustively titled, Igg-authorized, six-disc box-set chronicles his solo live act, one disc per tour. But it's the riotously insane show from San Diego State University on the Lust For Life tour that's more than worth the price of admission alone. I mean, you just gotta hear it to believe it—and even then you'll doubt that your delicate little shell-like ears were telling you the auditory truth, 'cause it's the absolute best live solo Iggy show you'll ever hear. Do you feel that beat?
Be seeing you!
Sat, May 28, 2022 | link
Saturday, May 21, 2022
JEFFREY MORGANíS MEDIA BLACKOUT #836
JEFFREY MORGAN'S MEDIA BLACKOUT #836.575.316!
SIZZLING PLATTER OF THE WEEK: Jethro Tull's Ian Anderson – TAAB2: Thick As A Brick 2: Whatever Happened To Gerald Bostock? (Chrysalis) :: This ain't no imaginary review, it's the real schlemiel. But first, how's about a brief except from an interview that Mr. Anderson and I did a while back:
JEFFREY: I don't suppose I could talk you into mounting a touring road show of A Passion Play to show those ABBA and Queen musicals what real rock theater would be like.
IAN: [laughs] Well...
JEFFREY: I mean, this is the ideal time.
IAN: I think you just hit on the problem with my objections to anything like that because of the words rock theatre. There was a time when the idea of a more theatrical form of rock music did seem as if it was quite fitting. And I suppose in 1972 and 1973 it seemed to me that it was possible to do. But the trouble was that, while we went down that route ourselves—in a humorous way, I mean, it was never meant to be sort of serious; it was always meant to be a bit tongue in cheek and a bit fun...
JEFFREY: Well, some of us got that.
IAN: Yeah! Well, this was the era of Monty Python and the Flying Circus and it was all that surrealistic British humor sort of finding an outlet.
*** *** ***
So why plug into Thick As A Brick again? As Ian explains in the TAAB2 booklet, 2012 marked both the factual 40th anniversary of the original TAAB album and the fictitious 50th birthday of the album's ten-year-old "lyricist," precocious prodigy Gerald Bostock. Which is more than reason enough for Anderson to create a new prog rock concept album that dares to posit half a dozen different possible alternate universe scenarios of what Gerald might have done with his life over the past 40 years—with several overt and oblique nods to such past Tullian triumphs as Aqualung and A Passion Play along the way.
Of course, the big tip off that the proceedings, although serious, aren't to be taken too seriously, is the album's official attribution to Jethro Tull's Ian Anderson which tags this ambitious effort as being neither a canonical Tull record nor an extra-curricular solo Anderson album.
Eschewing the unbanded single song cycle that defined both TAAB and APP, the new TAAB2 is divided into 17 separate songs, only one of which—"Gerald Goes Homeless: Adrift And Dumbfounded"—truly sounds as if it had been recorded back in 1972. Which only goes to show that Ian could easily have expertly aped his back catalogue had he wanted to. That he chose not to live in the past and come up instead with something that sounds thoroughly modern while still evoking echoes of the past, is a testament to the man's continual creativity.
Really don't mind if I sit this one in.
Be seeing you!
Sat, May 21, 2022 | link
Saturday, May 14, 2022
JEFFREY MORGANíS MEDIA BLACKOUT #835
JEFFREY MORGAN'S MEDIA BLACKOUT #835.574.207!
Plastic Crimewave Sound – Plastic Crimewave Sound (Prophase) :: Against a fuzz-tone wall these dirt bags growl: "I am planet-crushing! Still look like Peter Cushing!" Which I thought was a pretty oblique nod to the '50s Hammer horror hero until I realized that they were making a pretty obvious pun on his '70s Death Star stint. Oh well.
Screaming Lord Sutch – Screaming Lord Sutch And Heavy Friends (Atlantic) :: Better!
AC Newman – Get Guilty (Last Gang) :: Like a harder-edged Donovan backed by a wash of Sgt. Beatlesque mellotrons and a wave of good Wilsonesque vibrations? This one's straight outta 1967—and it's about time!
Lou Reed – Metal Machine Music (RCA) :: Better!
Lucie Idlout – Swagger (Sun Rev) :: She struts into the room with a sexy cum-wither attitude that smacks of the pop-sodden '70s when stereo guitars wailed and ball-busters like Suzi Quatro and Joan Jett railed.
Neil Young – Arc (Reprise) :: Better!
Fake Problems – It's Great To Be Alive (Side One Dummy) :: This one starts out sounding like Tom Waits fronting the E Street Band, complete with overblown Bat Out Of Hell orchestrations, before settling into a big Dictators groove.
Lady June – Lady June's Linguistic Leprosy (Caroline) :: Better!
Blue Hands – Hot Puppies (THP) :: The synth stylings of vintage Gary Numan coupled with an '80s cross of Sandi's Sunsets and Siouxsie's Banshees.
Yoko Ono – Approximate Infinite Universe (Apple) :: Better!
Portico – First Neighbours (Copperspine) :: Primo Portishead-ish pop paeans!
SNIVELING PLATTER OF THE WEEK: These Green Eyes – Relapse To Recovery (Black Ledge) :: More utterly bland and boring predicable soulless teenage angst rock that you've heard done a dozen times before, all of it sounding as if it were formed by the same sonic cookie cutter without a single shred of redeeming human personality. I could name half a dozen albums that are better than this faceless tripe without even trying.
Charles Manson – Lie (self released) :: Well, five out of six ain't bad.
Be seeing you!
Sat, May 14, 2022 | link
Saturday, May 7, 2022
JEFFREY MORGANíS MEDIA BLACKOUT #834
JEFFREY MORGAN'S MEDIA BLACKOUT #834.573.206!
Heath Ledger – The Joker (Warner Bros.) :: Speed up his voice and you have Mel Blanc doing Daffy Duck. Go on, try it. You'll see.
SIZZLING PLATTER OF THE WEEK – GIRL DIVISION: Von Iva – Our Own Island & Girls On Film (Ruby Tower) :: I gotta confess that I'm still an all day sucker for this soulful hard rocking eletropop trio with their minimal Kraftwerkian retro synthesizers, primitive electronic percussion, and sultry sassy vocals. When multi-positional Jillian Iva isn't proudly standing on her feet and singing about being a liberated sister, she's busy getting down to expertly turn grown men into simpering shot wads of incapacitated goo. Then she walks out on them, laughing.
Michael Phelps – The Bong Show (Olympic Gold Medalist) :: Remember how he got caught smoking pot? I still say that Speedo did the right thing to stand by him, as did Phelps' other sponsors: Smacko, Cocaino and Heroino.
Lux Interior – Brain Cramp (Bad Karma) :: Yeah, but is the world really gonna miss a guy who received paintings by convicted death row serial killer John Wayne Gacy—and then received a portrait of himself from the killer that was so grotesque that he couldn't hang it on the wall? What a maroon!
SIZZLING PLATTER OF THE WEEK – BOY DIVISION: Burn Halo – The Self-Titled Debut (Rawkhead) :: Now this is how I like my rock 'n' roll: served piping hot and nasty with a pounding passel of bowel-buffeting bass and drums; relentless rhythm guitars spewing out in split stereo; laser-like leads riding high right in the middle; and prototypical Draino-drinkin' glass-garglin' scotch-swillin' three pack a day vocals that make that guy in the Cult sound like he's auditioning for the title role in a remake of Disney's The Incredible Mr. Limp Wrist.
Mel Blanc – Daffy Duck (Warner Bros.) :: Throw down hith voith and you haf Heeth Leather doing Thuh Choker. Go on, try it. Yull thee.
Be theeing you!
Sat, May 7, 2022 | link
Saturday, April 30, 2022
JEFFREY MORGANíS MEDIA BLACKOUT #833
JEFFREY MORGAN'S MEDIA BLACKOUT #833.572.205!
David Bowie – Low (RCA) :: The premise.
John Lee Hooker – Anthology: 50 Years (Shout! Factory) :: These incendiary barn-burnin' boogie-chooglers from the Detroit blues legend—especially the early minimal ones spanning 1948 to 1962—are such a priceless passel of butane blooze that even the thief who comes only to steal and kill and destroy wouldn't be able to scrape up the kinda serious scratch needed to finance their soul-servin' purchase. I can't stop listening to them and neither should you.
SIZZLING PLATTER OF THE WEEK: The Doors – Live At The Matrix 1967 (Doors Music Company) :: When this recording first surfaced more than 30 years ago as a Trademark Of Quality bootleg entitled Moonlight Drive: Recorded Live At The Matrix 1967, I reviewed it in the May 1976 issue of CREEM thusly:
"What we have here are 12 tunes from their Waiting For The Sun period. Good sound quality, and I guess that I should be happy with that, but I'm not 'cause it reminds me too painfully that Jim Morrison was the best rock vocalist that ever lived and I can't help but wonder what he'd be doing today, if..."
Well, that ancient vinyl bootleg of the best live Doors album ever has finally been reincarnated as this new 24-song twofer that's been fully restored from the original stereo master tapes by none other than Doors producer Bruce Botnick himself. What I don't recall hearing the first time around, however, is the classic "Back Door Bozo" moment—and let's face it, there's at least one classic "Back Door Bozo" moment on every live Doors record—when the singer ad-libs: "All right, I'll put it in the ass right now!" before the solo in "The End." The end, geddit? I guess that's what Botnick means when he writes in the liner notes that: "Jim includes a lot more poetry not heard on any other recordings." And I guess that's why I no longer wonder what Jimbo would be doing today, if…
Nick Lowe – Bowi (Stiff) :: The punchline.
Be seeing you!
Sat, April 30, 2022 | link
JEFFREY MORGANíS MEDIA BLACKOUT #832
JEFFREY MORGAN'S MEDIA BLACKOUT #832.571.204!
SIZZLING BOX SET OF THE WEST: Bob Wills And His Texas Playboys – The Tiffany Transcriptions (Collectors' Choice) :: Once every eon, a box set comes along that definitively redefines the form by best enabling the experience of contextually listening to an artist's specific body of work. Perhaps the ten-disc set The Complete Charlie Parker On Verve did it for you. Or maybe it was the seven-disc set of the Stooges' 1970: The Complete Funhouse Sessions. Or perchance it's this exciting ten-disc rip-roarin' roundup.
Although not nearly as accomplished a songwriter by any stretch of the imagination, popular radio and silver screen bandleader Bob Wills was nevertheless, in his own unique way, the Duke Ellington of country music—a man who managed to transcend and transform the limitations of his genre to become the King Of Western Swing. And the timeless tunes heard herein on these platters cover the apex of his accomplishments from 1946 and 1947, a period during which he was influencing such young'uns as Chuck Berry and Clint Eastwood.
The 150 tracks on these swingin' sides are taken from the large transcription discs they were originally cut on. These oversized platters allowed for the recording of longer songs per side, an invaluable aid for any musician who liked to stretch out—and boy howdy, does Wills ever stretch! Along with scores of such country classics as "Milk Cow Blues" and "New San Antonio Rose," you'll hear diverse big band, pop and jazz standards made popular by the likes of Glenn Miller, the DeJohn Sisters and, yes, even the never-waning Duke. Plus, the newly restored sound is as clear and crisp as a 1880s Colorado morning.
You can still see vintage archival footage of Bob Wills on TCM, but don't be a tenderfoot: Go online while you're waiting for his next appearance and buy this essential must-have collection now because only a city slickin' dude would dare delay another decade.
Be seeing you!
Sat, April 30, 2022 | link
JEFFREY MORGANíS MEDIA BLACKOUT #831
JEFFREY MORGAN'S MEDIA BLACKOUT #831.570.203!
The Orchid Highway – The Orchid Highway (Naughty) :: They're not The Beatles but an incredible simulation!
Wovenhand – Ten Stones (Sounds Familyre) :: Ambitious angst anyone?
Okkervil River – The Stand Ins (Jagjaguwar) :: This is the absolute second-best cabaret angst record I've ever heard. It's only the second cabaret angst record I've ever heard, but it's the absolute second-best.
Skybombers – Take Me To Town (Albert Productions) :: Strangely believe it, Skybombers are the new Cheap Trick and Take Me To Town is their Heaven Tonight.
Fish – 13th Star (MVD Audio/Chocolate Frog) :: If you thought prog rock was dead, then you ain't heard nuthin' until you've heard this epochal space-spannin' offering from Marillion's main man.
Sally Tomato – Toy Room (Severe Enterprises) :: These words I speak are true: this ambitious four act rock opera is operating in an arena that's so far out there it makes Welcome To My Nightmare sound like nap time in a deaf mute kindergarten.
Ayla Brook – After The Morning After (Saved By Radio) :: Sensitive love songs and plaintive paeans that anyone who ever had a heart can relate to.
The Homemade Jamz Blues Band – Pay Me No Mind (Northern Blues) :: The earthy Hendrix influence is undeniable but so is the playing, so it's a whitewash.
Caamora – She (MVD Audio/Metal Mind) :: Are you ready for a bombastic two-disc rock opera based on the novel by H. Rider Haggard? If you ever owned a copy of Jesus Christ Superstar, you are.
KISS – "She" (Casablanca) :: Honey, it's not one a'doze.
SIZZLING PLATTER OF THE WEEK: Rhonda Silver – Twelve Pieces Of Silver (Prism) :: Backed by the expert likes of Guido Basso and Jeff Healey, these silky smooth songs of songstress Silver's smack of slinky late night rendezvous in a swank penthouse bar and morning after musings in a sodden neighborhood saloon. Even better, she belts out her original blues with enough gusto to make you down another round. So set 'em up, Joe.
Be seeing you!
Sat, April 30, 2022 | link
JEFFREY MORGANíS MEDIA BLACKOUT #830.569
JEFFREY MORGAN'S MEDIA BLACKOUT #830.569.202!
Head – Save Me From Myself (Rykodisc) :: Al Snow doesn't meet the Monkees in this swirling amalgamation of neo-NIN heaviness hitched with Jonathan Davis melodies.
Albert Hammond, Jr. – Como Te Llama? (Red Ink) :: Just when you thought you've heard it all, along comes this English-speakin' pop outing that actually contains a piano ballad called "Feed Me Jack, or: How I Learned To Stop Worrying And Love Peter Sellers." Really.
Chris Letcher – Harmonium (2 Feet) :: You wanna talk about obscure? Let's talk about how Chris gets bonus points for opting to unleash a charmingly chiming multitracked cover version of "Wait" from Unca Lou's Street Hassle album—and that's the album's worst track compared to all the originals!
Emory Joseph Fennario – Songs By Jerry Garcia & Robert Hunter (Iris) :: If the Grateful Dead's entire back catalogue had sounded as consistently great as this folksy jumpin' jive record does, then all of their albums would've sold even more than they did.
Kathy Griffin – For Your Consideration (Music With A Twist) :: Excuuuuse me, but a dizzy dame that records a comedy album just to win a comedy Grammy (insert obligatory trademark symbol here) award and then earnestly writes, "I hope you find it funny" in the liner notes? Yeah, funny strange.
SIZZLING PLATTER OF THE WEEK: Zuzu's Petals – Kicking Our Own Asses (Rhino Handmade) :: This kooky cool catch-all that captures their four-year max out comes a-twangin' and a-ramblin' into town with a surfeit of top down female pop verve 'n' squelchy distorto swerve that sounds every bit as vital as it did 20 years ago. They sing about gun-totin' and smack-shootin' and heartbreak-achin' but most of all they crow ecstatic about gettin' the last laugh on the droolin' dorks that they attract like, uh, flies—all fueled by a Melanie-worshippin' perpetual motion motor that evokes shredded Nirvana and poppy Ramones and brainy Talking Heads. One of these ditzy dolls oughta write a book.
Laurie Lindeen — Petal Pusher (Atria Books) :: Well, whaddya know? One of them did!
Be seeing you!
Sat, April 30, 2022 | link
Saturday, April 2, 2022
JEFFREY MORGANíS MEDIA BLACKOUT #829
JEFFREY MORGAN'S MEDIA BLACKOUT #829.569.201!
Bruce Springstone – Greetings From Bedrock Park (Hanna-Barbera) :: Includes the hit single "Quarry Days." Rest in peace, Bill.
Jethro Tull – Draculung (Chrysalis) :: They all laughed when Ian Anderson announced that he was going to write a progressive art rock opera about a rummy child molesting vampire. Well, they're not laughing now.
Blue Öyster Cheer – Agents Of Eruptum (Phillips) :: I wish!
The Who – Who's On First (Track) :: They all laughed when Pete Townshend announced that he was going to write a rock opera about Abbott and Costello. Well, they're not laughing now.
Aerostones – It's Only Rock In A Hard Place (Toxic Glimmer) :: They all laughed when rock's big-lippers finally united. Well, they're not laughing now. Includes the hit single "Dude (Looked Like Lady Jane's Got A Gun)."
Don Kirshner Presents – The Byrds, The Beatles & The Monkees (Colgems) :: They all laughed when Mr. Rock Concert reunited three of the world's greatest bands. Well, they're not laughing now.
Led Zeppelin – Led Zeppelin XI: Live At Carnegie Hall (Atlantic) :: They all laughed when Bun E. Carlos replaced John Bonham on this box set. Well, they're not laughing now.
The Doors – Manzarek, Densmore, Krieger & Jones Ltd. (Camden) :: They all laughed when Davy Jones was hired to replace Jim Morrison. Well, they're not laughing now. Includes the hit single "The Doors Into Summer."
David Byrne & Brian Eno – My Life In The Bush Of Your Wife (Sire) :: They all laughed when these aging art fops decided to record music for adulterers. Well, they're not laughing now.
Black Oak Sabbath – Paranoid Mutha (Atco) :: I wish!
Styx & Stones – Break My Bones (Plaster Caster) :: They all laughed when Dennis DeYoung and Mick Jagger waxed some tracks together. Well, they're not laughing now.
Cars Traffic Jam – 4 Way Stop (Motown) :: They all laughed when Ric Ocasek, Steve Winwood, and Paul Weller created a new supergroup. Well, they're not laughing now.
The Clash – Sandradeesta! (Rocket) :: They all laughed when Elton John re-formed The Only Band That Matters. Well, they're not laughing now.
Tom Scholz & Hugh Cornwell – Boston Stranglers (Death Row) :: They're definitely not laughing now.
Keith Richards – "Don't Fall Out Of The Apple Tree" (Fiji Gin) :: It only hurts when he laughs.
Phyllis Dylan – Fang On Fang (Columbia) :: I wish!
Ted Nugent – The Ted Offensive: Triple Live Gonzo In Afghanistan (Armed Forces Radio Network) :: You were waiting for that, weren't you?
SPLATTER PLATTER OF THE WEEK: Nirvana – Arrivederci! (Swan Song) :: Recorded in Rome, this final vinyl features cover versions of: "So Long It's Been Good To Know Ya," "Suicide Solution," "Auf Wiedersehen," "Don't Try Suicide," "I Feel Like I'm Fixin' To Die Rag," "Rock 'n' Roll Suicide," and "Lay Down And Die, Goodbye." Includes the hit single "Dead Man's Kurt."
The Rolling Boulders – Get Yer Yabba Yabbas Out! (Hanna-Barbera) :: Includes the hit single "No Excavations." Rest in peace, Joe.
Be fooling you!
Sat, April 2, 2022 | link
Saturday, March 26, 2022
JEFFREY MORGANíS MEDIA BLACKOUT #828
JEFFREY MORGAN'S MEDIA BLACKOUT #828.567.200!
FIZZLING PLATTER OF THE WEEK: Thor – Keep The Dogs Away: 30th Anniversary Special Edition 1978-2008 (Scratch) :: Y'know what I hate? I hate reading an awkwardly worded press release that says: "And beyond simply being a great Canadian album, easily Keep The Dogs Away holds it's [sic] own nicely along the finest efforts of Sweet, Ziggy-era Bowie, Mott the Hoople, Sweeney Todd, T-Rex and the like." Which is a grievous insult to really great Canadian albums like Neil Rush's Tonight's The Fly By Night. Thor's the only musician on that list whose record I never shoplifted because it's as aurally anemic now as it was back then. Admittedly, the title track is a pretty good power-pop bopper, but unfortunately, it's stuck soaking in a static-strewn stew. With so many original unsold vinyl copies lying around, you'd think that someone could've found a factory sealed one in mint condition and ripped a new master from it. But no one did, which is why I'm mighty sore.
FIZZLING BOOK OF THE YEAR: Dave Thompson – I Hate New Music: The Classic Rock Manifesto (Backbeat Books) :: Y'know what I hate? I hate reading a wretchedly written press release that says: "If the title alone doesn't polarize a roomful of music critics than [sic] nothing will." Take it from me: Anyone who writes dozens of chapter titles like "Fat and forty-plus, or had your Phil of Collins yet?" and thinks that they're witty is a talentless deballed hack who isn't even qualified to write a Thor press release. But what I really hate is reading an embarrassing introduction by the once lucid Richard "Gulcher" Meltzer who sadly can't write anymore and shouldn't even try to. File under: The Aesthetics Of Schlock.
Be seeing you!
Sat, March 26, 2022 | link
Saturday, March 19, 2022
JEFFREY MORGANíS MEDIA BLACKOUT #827
JEFFREY MORGAN'S MEDIA BLACKOUT #827.566.198!
Animo – Blood In The Water (self released) :: Juvenile generic angst in their red-stained underpants. Why can't you ever find a great white shark when you really need one?
Mike Gordon – The Green Sparrow (Rounder) :: There's a lot here to like, such as the hip-swingin' "Voices," which reminds me of jazzy Stanley Clarke merged with poppy Todd Rundgren. Then "Andelmans' Yard" morphs into a silky Steve Miller vibe—and that's even better.
Ten Shekel Shirt – Jubilee (Rounder) :: This one reminds me of the thoughtful moderate up-tempo ballads that Unca Lou used to offer up, especially on the third Velvets album—and Lou was always a softy at heart. But in addition to such sensitive songwriting, I'm equally encouraged that TSS are also capable of picking up the pace apiece as they prove they can do on a track like "Spark."
Sarah McLachlan – Rarities, B-Sides & Other Stuff (Nettwerk) :: She is woman, hear me snore after listening to these sappy and slushy MOR songs without a single shred of personality. And with a lame résumé like that, how much do you wanna bet that she's probably a Canadian?
Throw The Fight – In Pursuit Of Tomorrow (Cordless) :: Yet another generic angst-in-their-pangst band with an original song called "Ready For War" that should've been a John Cale cover.
Ghostkeeper – And The Children Of The Great Northern Muskeg (Saved By Radio) :: Here come the warm red stripes as Eno meets Linda McCartney on this delightfully wonky electropop album that's augmented with a delirious dash of early Alice Cooper!
SIZZLING PLATTER OF THE WEEK: Blacklist Union – Breakin Bread With The Devil (B.L.U.) :: Cooze-infused badass rock 'n' roll that manages to mix within a scant half hour a hyper speed freak Japanesque glamatronic melody vocal style with a crushing Motörheadesque guitarasonic rave-up. One of the best albums of the year, even if they do slip up by putting the photo of a big-bosomed babe on the actual disc instead of the front cover.
Be seeing you!
Sat, March 19, 2022 | link
Saturday, March 12, 2022
JEFFREY MORGANíS MEDIA BLACKOUT #826
JEFFREY MORGAN'S MEDIA BLACKOUT #826.565.197!
Robert Christgau – Christgau's Consumer Guide (MSN) :: He's the Leonard Maltin of music!
James King – Gardens In The Sky: The Bluegrass Gospel Of James King (Rounder) :: Just like heroin or Ernie Kovacs, religious bluegrass music is an acquired taste in that you have to be receptive to both the religion and the bluegrass to get into it. But seeing as how James King is the genre's premier practitioner, this compilation consisting of mostly previously released tracks from his earlier albums is well worth the effort.
Tiesto – In Search Of Sunrise 7: Asia (Black Hole) :: Points deducted for putting an Armani Exchange logo on the back cover.
Various Artists – Stax Goes The Beatles & Soulsville Sings Hitsville: Stax Sings The Songs Of Motown Records (Stax) :: Hearing Issac Hayes melt "Something" into a sensual, 12-minute, soul-searing sermon is one thing; hearing the Bar-Kays turn "I Heard It Through The Grapevine" into a suspenseful, 12-minute, senses-shattering soul-noir session is another thing entirely.
Watermelon Slim – No Paid Holidays (Northern Blues) :: If I had a boil-burstin' mug like his, I'd sing the blues too.
Stone Rider – Three Legs Of Trouble (Trustkill) :: The album title says it all—but just in case you're still on the nod, lemme spell it out for ya in simple words that even you can understand: This is loutishly loud 'n' distorted wah-wahified full throttle musical mayhem that's custom made for some seriously savage stained mattress screwing. Yeah, I thought that might wake you up. And speaking of loose screws…
SIZZLING PLATTER OF THE WEEK: Chase Frank – Midnight Manor (self-released) :: Chase is a girl and, boy, can she ever write; sing; and play a whole host of everything, from deep-sixed dirges ("Sad Song") and upbeat rockers ("Doubt") to decadent Euro-sautéed cabaret torch numbers ("Bipolar Belle"). I also get the feeling that's she's got a loose screw or two rattling around somewhere in that big beautiful brain of hers—always a plus in my book.
Be seeing you!
Sat, March 12, 2022 | link
Saturday, March 5, 2022
JEFFREY MORGANíS MEDIA BLACKOUT #825
JEFFREY MORGAN'S MEDIA BLACKOUT #825.564.196!
Poison – Seven Days Live (Armoury) :: What can you say about an album that actually dares to list one of its eleven songs as: "Drum Solo"? You said it.
Walls Of Jericho – Redemption (Trustkill) :: Five femme-fueled power ponderances asking that musical question: is Candace Kucsulain the new Nico?
Fear Nuttin Band – Yardcore (Bodog) :: Jahve nuttin d'feah bwah dis Korny wrekord widjil leeve fuh evva indie infuhmmy, mon.
3 Doors Down – 3 Doors Down (Universal Republic) :: There's a lot of potential here for the kinda classic riff-laden crunge rock that Columbia and Warner Bros. used to regularly release during the mid '70s—but only if they ditch all the barf-bag ballads first.
And The Moneynotes – New Cornucopia! (Prairie Queen) :: Imagine a kooky, countrified, vaudevillian cross between wittily written Sparks and musically playful Boiled In Lead with an all too brief added dash of Lennonesque guitar.
Less Than Jake – Gnv Fla (Sleep It Off) :: Soulful speed-freakin' ska widda bouncy English Beat!
The Fashion – The Fashion (Red Ink) :: Now why do I get the feeling that these cool cats would've fit in perfectly on Bowie's Nineteen-Eighty Floor Show?
Walter Meego – Voyager (Red Ink) :: Seriously soaked in synths, this is the best Eurotrash electropop since the end of the '80s.
The Green Hour Band – The Green Hour Band (Kingdom) :: And this is the greatest garagedelic rock album I've heard all week. These poor little Greenies have hallucinated an LP that sounds like Their Satanic Majesties Request as recorded by the Beatles and released on ESP Disc. It's far-out, man.
SIZZLING PLATTER OF THE WEEK: Priya Thomas – Priya Thomas Is Blood Heron (Boiling Pt) :: Poetess Priya is Canada's answer to Patti Smith, only she's a much better singer; a much better writer; and a whole lot smarter. Plus, she lives up to the song title "Your Guitar, My Undoing" by unleashing a blistering solo the likes of which hasn't been heard since Fripp lost a grip on Here Come The Warm Jets.
Be seeing you!
Sat, March 5, 2022 | link
JEFFREY MORGAN'S ROCK 'N' ROLL PHOTOGRAPHS
JEFFREY MORGAN'S ROCK 'N' ROLL PHOTOGRAPHS

While you're visiting, don't forget to view the dozens of essential selections from my vast archive of hundreds of extremely rare and previously unseen rock 'n' roll photographs from the 1970s and 1980s--all of which were taken by myself from my front row center seat at various venerable venues; vintage historical portraits which include the following rock stars caught in their youthful prime:

David Bowie (1976 Station To Station tour) :: Lou Reed (1974 Sally Can't Dance tour) :: Iggy Pop (1977 The Idiot tour) :: Bob Dylan (1978 Street Legaltour) :: George Harrison (1974 Dark Horse tour) :: Paul McCartney (1976 Wings Over America tour) :: Pete Townshend (1976 The Who By Numberstour) :: Johnny Winter (1976 Captured Live! tour) :: Jeff Beck (1975 Blow By Blow tour) :: KISS (1977 Love Gun tour) :: Alice Cooper (1975 Welcome To My Nightmare tour) :: Freddie Mercury (1977 News Of The World tour) :: Amanda Lear (1975 Sweet Revenge tour) :: Rod Stewart (1977 Foot Loose & Fancy Free tour) :: Mick Jagger (1975 It's Only Rock 'n Roll tour) :: New York Dolls (1975 Tokyo Dolls Live tour) :: Keith Richards (1975 It's Only Rock 'n Roll tour) :: Ian Hunter (1989 YUI Orta tour) :: Elton John (1974 Caribou tour) :: Mick Ronson (1989 YUI Orta tour) :: Steven Tyler (1977 Draw The Line tour) :: Sparks (1975 Indiscreet tour) :: James Brown (1986 Gravity tour) :: Miles Davis (1985 You're Under Arrest tour) :: Roger Daltrey (1976 The Who By Numbers tour) :: Bruce Springsteen & Clarence Clemons (1975 Born To Run tour) :: John Entwistle (1976 The Who By Numbers tour) :: Keith Moon (1976 The Who By Numbers tour) :: The Who(1976 The Who By Numbers tour) :: and more!

Ask any dealer and he'll tell you that the best way to get someone hooked on your product is to give them a free sample, so here's just a small taste of what's coming your way when you click on the eleven gallery links to your left: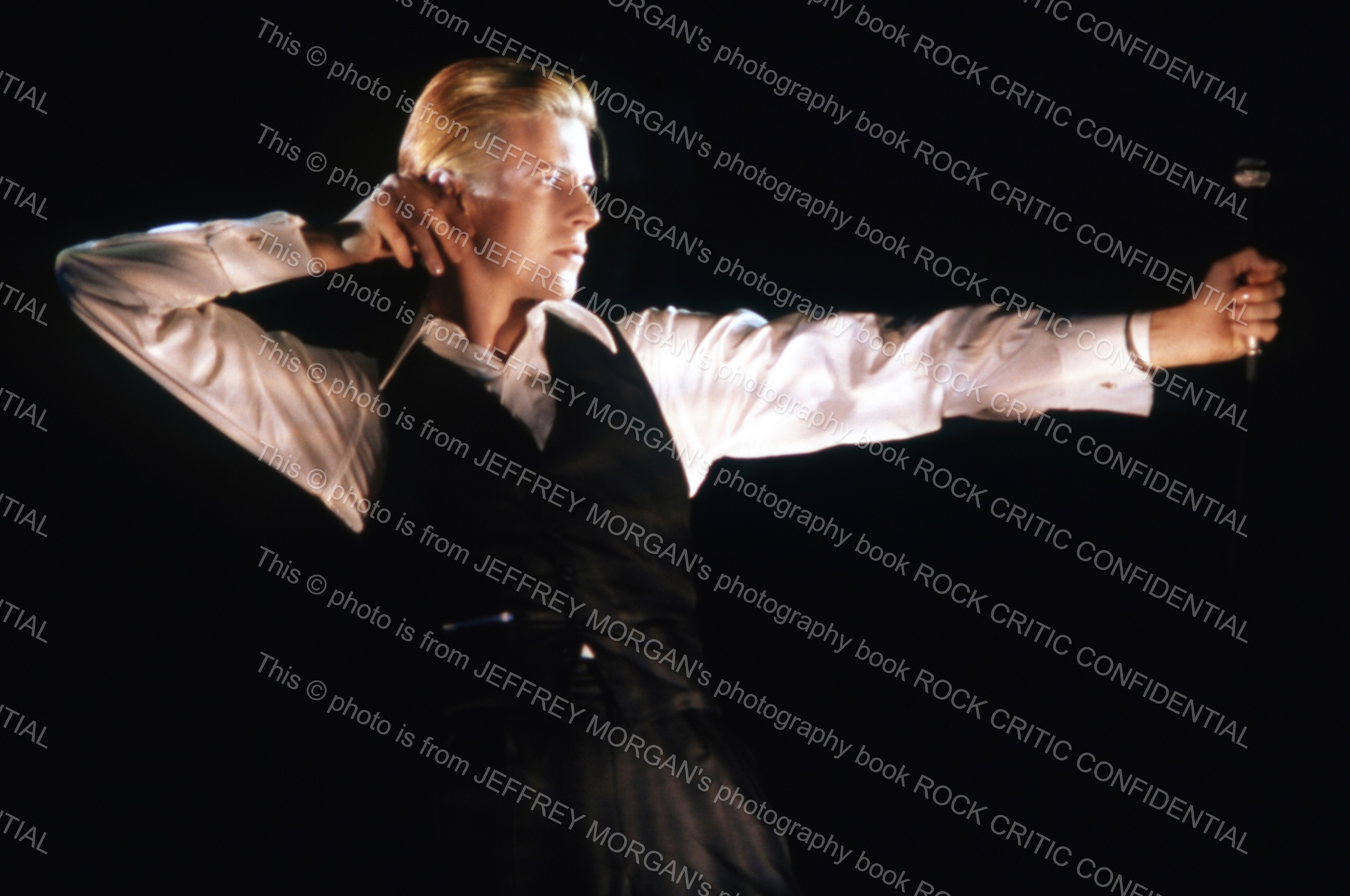 Sat, March 5, 2022 | link
Saturday, February 26, 2022
JEFFREY MORGANíS MEDIA BLACKOUT #824
JEFFREY MORGAN'S MEDIA BLACKOUT #824.563.192!
Orchestral Maneuvers In The Dark – OMD Live: Architecture & Morality & More (Eagle) :: Archly melodramatic like an old Bette Davis Warner Bros. weeper populated by ciggy-smokin' automatons. Now, Voyager meets I, Robot.
Gary Numan – Dance (Beggar's Banquet) :: Paul Henried.
Marian McPartland – Twilight World (Concord) :: She's been ticklin' the ivories longer than you've been listenin' to 'em, but Marian is still as adept as ever at evoking slinky soundscapes. And although the album title may evoke echoes of Weegee's flashbulb and Mark Hellinger's Naked City, this is one instrumental outing that smacks of sensuously smooth seduction all the way. Tasteful bass and traps included.
Charles Lloyd Quartet – Rabo de Nube (ECM) :: There's something swank about live jazz recordings that even the greatest studio sessions are unable to match, and this contemplative one by multi-reedman Lloyd has a definite emotional magic that charges the ether. It may not be the best live jazz album ever—you know which one that is—but it's still a good 'un.
Felonious Bosch – New Dark Ages (Omnium) :: I've always wondered why more bands never picked up the studded gauntlet that Ian Anderson threw down decades ago with Jethro Tull, but I'm pleased to announce that humorously brainy mediaeval music continues to live on in this charming new release. And no, "Straight To Hell" and "Cooper's Attic" aren't about Alice.
MOLTEN PLATTER OF THE WEEK: Boiled In Lead – Silver (Omnium) :: Speaking of which, these guys have proved over the years that they can adeptly tackle everything from delicate trad ballads to heavy Springsteen rockers, but on Silver the modern masters of mediaeval music have cold-cast their coolest album yet. And although they may not agree with that description of them—they also expertly essay sounds from Ireland to North Africa to Algeria—if you've never heard BIL before, then you owe it to yourself to get righteously enlightened because they're the solid gold standard.
Crash Romeo – Gave Me The Clap (Trustkill) :: Romeo is burning.
Be seeing you!
Sat, February 26, 2022 | link