Sunday, May 19, 2013
JEFFREY MORGANíS MEDIA BLACKOUT #368

LOOK AT THAT STUPID JEFFREY MORGAN'S MEDIA BLACKOUT #368!

The Rolling Stones – 1962-2013 (51 Year Anniversary) :: "The Rolling Stones lasting twenty, thirty years—what a stupid idea that would be." – Lester Bangs, CREEM, December 1973

SIZZLING 50TH ANNIVERSARY ROCK 'N' ROLL DOCUMENTARY OF THE YEAR: The Rolling Stones – Crossfire Hurricane (Eagle Vision DVD) :: The greatest Rolling Stones concert I ever saw was the gold long-sleeved jumpsuited evening show at Maple Leaf Gardens on July 15, 1972. Sure, the white short-sleeved jumpsuited with audience-supplied black top hat matinée show was great; and the two long-haired striped pajama shows I saw in 1975 were almost as equally awesome—especially since I took over 150 photos while I was there—but there's nothing like seeing the Stones swelter on stage in a 110 plus degree concrete sweat box on a hot July night to see what kind of stern stuff they're really made of.

You may not need a Weatherman to know which way the wind blows, but when there is no wind, you can always depend on crack meteorologist Mick Jagger to give you updates on the quarter hour.

After three songs: "It's good to back in the black hole of Toronto...where it's about 150 degrees...but that's alright..."

After six songs: "It's hotter than a crotch up here!"

After nine songs: "I think...I'm going to take...everything...off."

After 12 songs: too pooped to prattle, the singer douses himself with a full bucket of water and the guitarist passes out from heat stroke as soon as he tumbles off stage.

Meanwhile, the second greatest Rolling Stones movie I ever saw was back in the '80s when Robert Frank brought a mint print of his officially Stones-suppressed Cocksucker Blues and screened it at Massey Hall to a few thousand of the mary jane faithful, followed by a Q&A bull session. But that's a story for another time and another column because what we're here to talk about is the greatest officially Stones-sanctioned movie I've ever seen.

You can forget all about their 25th anniversary VHS-era documentary 25x5: The Continuing Adventures Of The Rolling Stones 'cause Crossfire Hurricane contains the most awesome array of rare Stones footage ever amassed in one place. Even better, director Brett Morgen has taken chunks outta almost every Rolling Stones movie extant—from Charlie Is My Darling and One Plus One to Rock And Roll Circus and Gimme Shelter to Ladies & Gentlemen and, yes, the aforementioned CS Blues—and assembled them chronologically in a socio-political context, all underscored with continual cogent and very candid contemporary comments from everyone who ever saddled up with the Stones and is still around to tell the tale.

To the band's everlasting credit they don't shy away from such controversial topics as the decline of Brian Jones; the disaster at Altamont; the dissipation of heroin; and the decay of Keith Richard's teeth. Indeed, they confront everything to the point of almost morbidly wallowing in it with uncharacteristic unassuaged guilt.

To the band's everlasting shame, they don't mention the name "Ian Stewart" even once but, hey, it was only Stu's band before the young'uns took it over so what the heck. Of course, it's grievous lapses in judgment like that all throughout their career that makes the Stones the Stones, which is why this fifty year assemblage of archival footage is so fascinating to watch from beginning to end.

But not nearly as fascinating as the joyous surprise redemptive life-affirming closing credit sequence that, against all odds, will leave you with a big smile on your face and realizing that you're a whole heckuva lot younger than you think.

The Rolling Stones – "Mother's Little Helper" (Decca) :: "What a drag it is getting old," my ass.

The Beatles – "Birthday" (Apple) :: Exactly!

Be seeing you!
Sun, May 19, 2013 | link
Sunday, May 12, 2013
JEFFREY MORGANíS MEDIA BLACKOUT #367

I'M ASKING YOU SUGAR: JEFFREY MORGAN'S MEDIA BLACKOUT #367!

5,300+ TWITTER FOLLOWERS MUST BE BORED: https://twitter.com/CREEM
SIZZLING BOOK OF THE WEEK: Steve Miller – Detroit Rock City: The Uncensored History Of Five Decades Of Rock 'n' Roll In America's Loudest City (Da Capo Press) :: I thought Dave DiMartino's seminal study Motor City Mayhem: Michigan Music Unmasked As Told By The Madmen And Motherfuckers Who Made It! (Binky Books, 2011) was the absolute last word in socio-political historical hagiographies, but I was wrong.

And because I was born and raised and still live in Detroit, you can take my word for it as the Godspell truth when I tell you that you can forget all about Arms McNeil's Please Kill Me and Rubble Hoskyn's Led Zeppelin and Paul Tonka's Open Up And Bleed because Steve Miller's exhaustively titled Detroit Rock City: The Uncensored History Of Five Decades Of Rock 'n' Roll In America's Loudest City is hands down without a doubt nothing less than simply the all time greatest heavyweight champion Detroit rock 'n' roll oral history book about Detroit rock 'n' roll oral history that has ever been written, let alone published.

Trust me, I know whereof I speak because, when I wasn't cutting classes at Cody High School or getting expelled from Wayne State University, I was listening to WKNR and CKLW via my Realtone transistor radio and soaking up the ether that led to my first job as the midnight man at W4 FM which, in turn, would lead to my getting hired first as the Showbiz Columnist at the Detroit Free Press and then as the Gossip Columnist at the Detroit News.

Next came an extended stint working for three decades in the CREEM magazine office at 210 South Woodward Avenue on staff as their Senior Political Advisor; followed by a shorter but no less rewarding ten year tenure at Metro Times as their Society Editor Emeritus.

As Boy Howdy! is my witness, you can believe me when I tell you that nobody knows more about Detroit rock 'n' roll than I do—and that's why I'm unconditionally qualified to give this book two "Devil Horns" up for it's unabashed authenticity and verifiable veracity.

If author Steve Miller says a cow can lay an egg, don't ask how—grease that skillet!

So when Ted Nugent claims on Page 11 that he never shot and killed two men (contrary to what CREEM printed); and when Ted Nugent additionally asserts on Page 40 that he never tried to get out of the draft (contrary to what he told me in a CREEM interview) YOU CAN TAKE THAT TO THE FIDELITY BANK OF MICHIGAN!!!

Because if there's one thing that rock 'n' roll doesn't need—especially Detroit rock 'n' roll, which is the most noblest form of rock 'n' roll that America has ever known—it's layers of obfuscating subterfuge.

Now would I say something that wasn't true?

Eurythmics – "Would I Lie To You?" (RCA) :: Exactly!

Be seeing you!
Sun, May 12, 2013 | link
Sunday, May 5, 2013
JEFFREY MORGANíS MEDIA BLACKOUT #366

I LOVE YOU ALL JEFFREY MORGAN'S MEDIA BLACKOUT #366!

5,000+ TWIT FOLLOWERS CAN'T BE WRONG: https://twitter.com/CREEM
SIZZLING CONCERT OF THE WEEK: Ozzy Osbourne – Speak Of The Devil: Live At Irvine Meadows '82 (Eagle Vision) :: "This is Ozzy Osbourne at his best," gushes bassist Rudy Sarzo in his obviously biased liner notes but, as much as I'd like to disagree with him if only for writing such a payola pandering plug, I just can't. That's because this hour and twenty minute set, filmed in 1982 on the Diary Of A Madman tour after Randy Rhodes' death, really is Ozzy at his best.

The baker's dozen set list covers almost every highlight from the Diary and Blizzard albums with a side order of Sabbath songs, all played to perfection with note-perfect precision. But what's really perfect are Ozzy's vocals, all of which are of such high studio quality that you begin wondering after a while whether his original vocal tracks were either enhanced or erased after the fact—especially during those brief moments when Ozzy pulls his head away from the microphone while the vocals continue at full volume for a second longer than they should.

But the more you watch, the more you begin verifying their veracity, which is why I'm going to give the benefit of the doubt to Ozzy on this one because if he really is singing live, then he definitely got his money's worth when he sold his soul for rock 'n' roll. Too bad he didn't strike a deal with Dorian Gray as well because, even at such a young age, he's already beginning to look like a cross between Richard Simmons and Brian Wilson. Which kinda makes you wonder what Ozzy would be doing today if he were still alive.

SIZZLING DOCUMENTARY OF THE WEEK: Ozzy Osbourne – God Bless Ozzy Osbourne (Eagle Vision) :: Well, for one thing, he'd be starring his own truly definitive two hour long documentary about his undying life and hard times, beginning with his surprise 60th birthday party and ending in a far-flung future that even he never imagined he'd live long enough to make.

Fortunately, this whizz-bang packs such a wallop it makes you forgot all about the addled buffoon who made you cringe every time you saw him doddering around in The Osbournes, because this is the man as you want to remember him—and that man, first and foremost, has always been an animal-gnawing rock 'n' roller at heart.

And since this is Ozzy's story it's also his old band's story as well, so you can expect every original BS band member to be present and accounted for—not to mention their greatest all-time fan, none other than that radical audio rascal Paul "Avant Garde" McCartney, who expertly explains the band's ever-enduring appeal while constantly referring to them as "The Black Sabbath."

Boris Karloff – Black Sabbath (American International Pictures) :: Exactly!

Be seeing you!
Sun, May 5, 2013 | link
Sunday, April 28, 2013
JEFFREY MORGANíS MEDIA BLACKOUT #365

I AM THE GREATEST JEFFREY MORGAN'S MEDIA BLACKOUT #365!

3,700+ TWAT FOLLOWERS CAN'T BE WRONG: https://twitter.com/CREEM
SIZZLING PLATTER OF THE WEEK: Iggy And The Stooges – Ready To Die (Fat Pussum) :: Now listen up and listen good, pilgrim. Just because I'm the #BigFuckingDeal co-authorized biographer of The Stooges doesn't mean that I'm on their payola payroll by a long shot. Which means, speaking of long shots, that there was nothing better that I'd have liked to have done than to lift my leg on this album and let it blurt 'till it hurt.

But seein' as how I already left a load leaking down that limpoid new David Bozo disc, maybe it's just as well that I'm all spunked out because, strangely believe it, this new 40th Anniversary Edition ain't all that bad even if parts of it do give you a flaccid flashback, just like the album title itself does, in a "Feel Like I'm Fixin' To Die" way.

F'rinstance:

The striking Jimmy "Dyn-O-Mite" Walker front cover tribute pose that the singer strikes is an unabashed updated take on Todd Rundgren's advert for his seminal Something/Anything? album. You know, that'd be the one wherein Todd has a big wad of fused TNT in one hand and a lit match in the other while the caption dares the consumer to: GO AHEAD. IGNORE ME.

Then, when the singer pseudo snarls on "Gun" (which ain't the John Cale ditty): "If I had a fucking gun, I could shoot at everyone" it's an admirable alternate angle on Bill Wyman's 1974 neighborhood threat: "I'd like to get me a gun and scare the shit out of everyone."

Later, when the singer advises during the same song that: "Money is a waste of time, but I made sure I got mine!" is it anywhere nearly as sagacious as when he used to squirt out pearls of jizzdom as: "I'm healthy as a horse, but everything is spinning" or "I am your crazy driver, honey I'm sure to steer you wrong"? Perhaps not, but it sure comes close.

And as any aging porn star will tell you between cunny shots: coming close is better than not coming at all—and there's more than enough spew stew left in them thar lizardo loins to thoroughly goo you through.

That's mainly because of the meat packers who provide the purée that propels this pud: namely, Steve Mackay on honky tonk saxophonics; Pedro Watt on basso profoundo; James Williamson on axe-o-rama; and the star of our show, the baddest criminal at large in the power house, the legendary Stooges co-founder, the truly irreplaceable Scott "Rock Action" Asheton, who's still skillfully slammin' the skins into submission like there's no tomorrow.

But there's always a yesterday, so don't you worry 'bout a thing if the beginning of "Job" reminds you of the beginning of "Loose" because that ain't no grand theft audio, that's nothing less than a heartfelt Jamesonian Institution tip of the skull to all the past blitzkrieg battle campaigns that Stooge Staffel Field Marshal Ron Asheton (ret.) led—and if you don't believe me that it's a crêpe-draped tribute of the highest new order, then all you have to do is just listen to how the aching ode "The Departed" ends and see if you don't end up shedding a tear or two.

However, lest you think that this dust up is little more than a summer rerun, I'm pleased as punch to report that things really heat up during the second half, starting with a title track that breaks new sonic soil with a radically different Stoneswagger that's never been heard on a Stoogeplatter before.

Then that's followed up with the pulchritudinous Russ Meyer top heavy tribute "DD's" which sounds as if it was recorded at Stax—if you catch my upper balcony drift. When the singer ain't too proud to beg that: "I'm on my knees for those double Ds" he's giving the Flat Chest Society a much-needed antidote to Rod Stewart's intolerant anti-implant anthem "Silicone Grown."

Look, I could continue waxing euphonic about how fantoonie this sonic sizzler is, but your time would be far better spent spinning it instead—if only so you can hear the singer rhyme "friendship" with "death trip" on the final track.

And they call Dylan a poet.

Be seeing you!
Sun, April 28, 2013 | link
Sunday, April 21, 2013
JEFFREY MORGANíS MEDIA BLACKOUT #364

RIDE 'EM JEFFREY MORGAN'S MEDIA BLACKOUT #364!

3,400+ TWITTER FOLLOWERS CAN'T BE WRONG: https://twitter.com/CREEM

Justin Bieber – "I'm A Belieber" b/w "Daydream Belieber" (Colgems) :: Worst Monkees cover ever. Points deducted for having the bad taste to sing the A Side in pidgin German: "She's a Belieber, I couldn't liebe her if I tried."

Lou Reed – Transformers: Original Motion Picture Soundtrack (RCA) :: Sell out.

Living Color – "Cult Of Personality" (Live At Wrestlemania XXIX) :: Not bad for a bunch of old guys, which reminds me:

Rolling Stones – 50 And Counting Tour (1962-2013) :: "The Rolling Stones lasting twenty, thirty years—what a stupid idea that would be." – Lester Bangs, CREEM, December 1973

SIZZLING PLATTER OF THE WEEK – SIDE NOW: Hot As Sun – Night Time Sound Desire (Last Gang) :: Any band that names itself after the title of a mythical late '60s Beatles album that was never released automatically gets bonus points in my little black book for arcane chutzpah, but then they have the additional know it all smarts to back up that brilliant brain burstola by waxing a record that defines how charming and endearing electropop music can be these days.

Because, if anything, this one sounds like Julee Cruise fronting Portishead as lushly produced with minimality by David Lynch and Angelo Badalamenti, only a whole heckuva lot more upbeat. And what's wrong with that? I'd like to know.

SIZZLING PLATTER OF THE WEEK – SIDE THEN: Arthur Fiedler & The Boston Pops & Chet Atkins – The Pop Goes Country (Real Gone Music) :: This unlikely but nevertheless practically perfect in every way pairing of old bully Fiedler and young studsy Atkins first came out in 1966 and it's just as pleasant a slice of sonic seasoning today as you're likely to hear. Some snooty snobs will call this an unworthy waste of Atkins' talent, but these are the same hypocrites who ecstatically extol Charlie Christian for playing with Benny Goodman back in the '30s so you just pay them no mind, y'hear?

Me, I was brought up listening to Mitch Miller's sing-along sides so you can trust me when I tell you that this record, which features selections by Bob Wills and Hank Williams and Atkins himself, is nothing to be embarrassed by—especially since it's a titanic twofer paired with another classic Fielder Pops romp, namely 1968's The Pop Goes West which contains, amongst others, Cole Porter's "Don't Fence Me In" and the future retro classic "Bonanza" theme by Jay Livingston and Ray Evans.

Be seeing you!
Sun, April 21, 2013 | link
Sunday, April 14, 2013
JEFFREY MORGANíS MEDIA BLACKOUT #363

INGRID, IT'S ONLY A JEFFREY MORGAN'S MEDIA BLACKOUT #363!

2,400+ TWITTER FOLLOWERS CAN'T BE RIGHT: https://twitter.com/CREEM

Psy – "Gentleman" (YG) :: Every time I hear this smug South Korean peon burp: "I'm a mawtofawto gentleman" I want to drag him across the border and stuff him into the nose cone of one of the North's mawtofawto missiles. Not since Ian Fleming had Odd Job bark: "Garch a har?" in Goldfinger has a Korean butchered the English language so brutally—only Odd Job had a cleft palate for an excuse.

Coach Jules Winnfield – "English, motherfucker, do you speak it?" (Inglewood Jack) :: Exactly!

Meanwhile, back in 2006:

Petra Haden – Petra Haden Sings The Who Sell Out (Bar/None) :: Just when you thought that you've heard it all before, along comes Petra Haden who, just as the album title claims, sings The Who Sell Out album—in its entirety, in sequence, from start to finish, including all of the RotoSound Strings and Premier Drums commercials.

Oh, and she does it a capella. That's right, there's no band, just Petra's exquisite multi-tracked voice. For not only does she sing Daltrey's part, she also vocally mimics Townshend's guitar; Entwistle's bass; and Moon's drums; all to bravura effect.

I know, it's hard to believe. But hearing is believing and once you hear the astonishing job Petra does on duplicating Armenia City In The Sky—the original album's most complex track—you'll be sold. And because she's no slouch in the pipes department, her soaring voice is best showcased on more melodic tracks like "Our Love Was," "Mary Anne With The Shaky Hand," and "Tattoo."

Sure, maybe Petra could've taken a much heavier percussive tack on "I Can See For Miles," but she more than makes up for that lightweight lapse with her epic interpretation of "Rael." And although parts of the latter hint at what a Petrafied version of Tommy might sound like, I hope she'll skip past that album as well as Who's Next and get straight to work on an a capella version of Quadrophenia.

*** *** ***

Okay, so she didn't take my advice; when did any woman? Besides, that was then—and this is now wow wow:

SIZZLING PLATTER OF THE WEEK: Petra Haden – Petra Goes To The Movies (Anti-) :: It goes without saying, but I'll say it anyway for those of you who are romantically impaired: I love this woman! And so will you after you hear how she wraps her a capella pipes around some of the greatest movie soundtracks of the sound era from Leonard Rosenman's main title to Nicholas Ray's Rebel Without A Cause to John Barry's main title to Guy Hamilton's Goldfinger.

But if you're anything like me—and if not, why not?—the two tracks that you'll go goofy for are her virtuoso all-vocal interpretations of Bernard Herrmann's main title to Alfred Hitchcock's Psycho and her literally out of this world take on John William's Kryptonian overture and main title to Richard Donner's Superman. You'll believe a woman can soar.

Bonus points for including, absolutely free and at no extra charge, a bonus fold-out poster of Petra screaming in the shower as Vera Miles in the trailer to Psycho. That's right, Vera Miles. Who you gonna believe: me or your own dilated eyes?

Be seeing you!
Sun, April 14, 2013 | link
Sunday, April 7, 2013
JEFFREY MORGANíS MEDIA BLACKOUT #362

A BIG TUMS UP FO' JEFFREY MORGAN'S MEDIA BLACKOUT #362!

1,700+ TWITTER FOLLOWERS CAN'T BE WRONG: https://twitter.com/CREEM

SIZZLING CRITIC OF THE WEEK: Roger Ebert – 1942-2013 (R.I.P.) :: When I was writing my first media parody for CREEM back in 1975, Roger Ebert was winning a Pulitzer for writing movie reviews, of all things. Of course, the cat had over a decade on me, but still. A Pulitzer. For writing movie reviews.

You'll never see a rock critic snag one of those babies. I mean, if a hoity-toity high falutin egghead like Dave Marsh or Robert Christgau hasn't bagged one by now—let alone a people's choice populist like Lester Bangs—ain't nobody ever gonna.

And don't you go looking at me as The Great Rock Hope because I've always had my eye on a different prize; to quote that great humanitarian Klaus Kinski: "I'd like to win a Nobel. It's a good check."

But getting back to the parody bit: you always spoof the ones you love and, just like my main mimetic hero, the legendary Frank Gorshin, I've always been lucky enough to have the 'voice' to do it.

So here's my fond farewell to one of the greats, as it originally appeared in the July 2004 issue of CREEM. It may not have won me any awards, but let's not forget that Roger "Pulitzer" Ebert is the same man who teamed up with Russ "The Bust" Meyer to create such super stacked mondo classics as Beneath The Valley Of The Ultra-Vixens and the Sex Pistols' Who Killed Bambi?

So maybe there's hope for me yet.

*** *** ***

JACKIE-O – The Official Bootleg (Poe Boy)

FADE IN.

ROGER EBERT: Welcome to Ebert And Kingfish At The Records. Today we're listening to a new mix tape by Miami rapper Jackie-O. And I have to say that if you're a young impressionable gang banging woman who's in the market for a new urban role model to emulate, then look no further. Kingfish, you can forget all about Patra and L'il Kim and Yo Yo because this record significantly raises the stakes by substantially lowering the bar.

THE KINGFISH: Ain't dat da troot! Ah gives dis wun a big tums up 'cuz dis heah Jackie-O ain't no Missus Onassis widda azz fulla molasses, no suh.

EBERT: And they're not whistling in Dixie either when they call her 'The Most Anticipated Bitch Of The South' on the front cover. But that's just the beginning. On "Take My Breath Away" she says she's 'The Madam Of Miami.' On "Street Heat" she says she's 'The Queen Of The Motherfucking South.' On "Gangsta Bitch" she challenges a female rival by saying: "Cut to the chase, ho. I'll cut your face, ho. If that's your man I wanna fuck him in his face, ho." And on "Fuck Yall Niggas" she makes the following dedication: "This one goes out to the fuck niggers, the clit lickers, and the cum drinkers."

KINGFISH: Ho-lee mack'rel!

EBERT: You said a mouthful, Kingfish. In fact, this raunchy album is so hot and nasty I wouldn't be surprised if it could bring a dead man back to life.

GENE SISKEL: Hi guys.

KINGFISH: Aw, shee-it! Ah guess dis means dat ah'm outta a job!

FADE OUT.

Be seeing you!
Sun, April 7, 2013 | link
Sunday, March 31, 2013
JEFFREY MORGANíS MEDIA BLACKOUT #361

PUMPING WORDS WITH JEFFREY MORGAN'S MEDIA BLACKOUT #361!


Joe Weider
– 1919-2013 (R.I.P.) :: Hey, I didn't see Stevie Wonder write a song about you a quarter of a century ago.


Stevie Wonder
– "Master Blaster" (Tamla/Motown) :: Marley, schmarley.


Leon Russell
– Mad Dogs And Englishmen (A&M) :: "Don't get hung up about Easter."


Leon Russell
– "Roll Away The Stone" (Shelter) :: Exactly!


SIZZLING CONCERT OF THE WEEK: Simon Townshend
– Live At Massey Hall (March 21, 2013) :: Whether it's Kate Reid playing to half a dozen friends in a Folk Alliance hotel room or Elliott Murphy playing to thirty storm-soaked fans at the El Mocambo, an audience is an audience—and a true troubadour will gladly strap on a guitar and play to only one person with just as much sincere fervor as he or she will to a throng of thousands.


So when I saw a smiling Simon Townshend step out alone onto the stage of Massey Hall in front of a packed house of two thousand, armed with only a guitar, I knew that things were going to be all right—at least from the performer's point of view. What I didn't know is how utterly enthralled he'd have the audience after only one song.


Almost as enthralled, it seemed, was the singer-songwriter himself who paused after the first song to marvel at the fact that he was actually standing on the storied stage of Toronto's oldest and most venerable venue. "Massey Hall!" he exclaimed in wonder almost to himself, smiling perhaps at the thought that he was treading across the worn boards that hundreds of thousands of other diverse musicians had in the past, going all the way back to such jazz greats as Charlie Parker and Lou Reed. Then again, who knows what had him showing off the pearlies because, if there's one thing that Simon Townshend does a whole heckuva lot of, it's smiling.


Hey, I'd smile too if I'd released an album like Looking Out Looking In, which is the long player that Simon's currently touring in support of. Heartfelt without a fault, it's a truly wondrous album with an emphasis on wonder. But let's face it, anybody can put out a record when he's backed up by bass and drums. It takes real guts, however, to perform chunks of that self-same album all by your lonesome and manage to pull it off—which, against all odds, is exactly what Simon managed to do during the dozen or so songs he essayed in less than an hour. Who'd a thunk it? Not me, that's for sure.


But what really made for a memorable evening wasn't the song set so much as it was the artist's exemplary attitude. If I had a dollar for every act I've seen over the past fifty years that stood on stage with a stone face plastered on their waxen mug and phoned in their performance as if they were punching a time clock, I'd come back and buy this town and give it all, give it all to you.


The acts that still stick in my brain pan decades later are the ones that had a great time on stage and weren't afraid to show it; unfortunately, the list isn't nearly as long as I'd like it to be. Being professional is one thing. Being a showroom dummy is another thing entirely.


So when Simon Townshend smiles and tells a rambling joke about laundry and his mandolin; one that actually has a punch line at its end that gets a genuine laugh from the audience, well, that's saying something. When he smiles and, without missing a note during the middle of a song, walks over to the foot of the stage and good naturedly says: "Sit down!" to a couple conspicuously taking their front row seats unfashionably late into the set—and gets a genuine laugh from the audience, well, that's saying something. When he smiles between songs and good naturedly calls out: "Come back!" to a couple trying to make an unobtrusive early exit—and gets a genuine laugh from the audience, well, you know.


Then, as if all that wasn't enough to foster some good will, immediately after the show ends he heads himself downstairs for an impromptu and informal meet and greet with anyone and everyone who wants to come down and say hello—whereupon for close to half an hour he stands smiling and signing autographs and smiling and posing for more fan photos than should be legally allowed; I lost count after the first 50.


And while Good Will may mean Good Business, that doesn't take away from the fact that I've been around more than enough rock stars to know when they're glazed eye faking it and when they're genuinely pleased to be there talking to someone who thought enough of their music to actually buy a copy of it.


So after the last album has been signed and after the last photo has been taken, Simon Townshend turns around and there, loitering with intent, stands Yours Truly. We shake hands and I tell him how impressed I was at the fact that he was hitting every single high note with the greatest of ease—no mean feat when more than a few passages have to be sung in an upper register that would make even the toughest dog wince.


Then, putting a hand on his shoulder, I lean forward and conspiratorially confide: "You know, I saw your brother perform several times in the '70s and he never had the voice that you do." At which point he returns my gaze and does what comes naturally.


Simon Townshend smiles.


Be seeing you!
Sun, March 31, 2013 | link
Sunday, March 24, 2013
JEFFREY MORGANíS MEDIA BLACKOUT #360

ARE 'FRIENDS' JEFFREY MORGAN'S MEDIA BLACKOUT #360!

Jimi Hendrix – People, Hell And Angels (Experience Hendrix) :: Try as he might, and as good as he is, even the great Eddie Kramer couldn't mix a silk purse out of this sow's breakfast of pristine-sounding cutting room floor outtakes which shoulda been called: The Ghouls That Played With Helpless Jimi's Tapes. Trust me: rather than padding the relatives' coffers with this coffin-robbing barrel-scraping dreck, you'd be much better off instead buying used vinyl copies of Rainbow Bridge and Nine To The Universe—and that goes double for Alan Douglas' unfairly maligned Crash Landing album.

Na "Spammer" Bourbeau – Hey!:) I am Leilafes9aab!:) (SPAM Email) :: "He was not an ill-simulated him again, unless to instruct bitterly officious hearted and shortly susceptible is to have ill-saturated: but he was, in mediterranean, further respected; for he opposeed caver with nicety in the encounter of his irrevocable duties. Slender horseman had disabled me in the bath of the most amorous specimens of this zoophyte."

And you thought I overwrote.

SIZZLING PLATTER OF THE WEEK: Question Mark & The Mysterians – "96 Tears" (Cameo-Parkway) :: In a world where there are a gazillion great grungy garage songs, this benchmark classic has always been on my All Time Top Ten List. So you can just imagine how cool it was when I woke up one morning last week to find that Mr. Rudy Martinez, the man who wrote and sang "96 Tears," none other than Que Mark himself, penned me the following personal message on my Facebook page after he saw that I had hacked out a few authorized rock bios:

"What about me? I have a story that spans more than anyone in rock and roll history! Just rock 'n' roll no matter what comes at you through your life! – Yea ya, Que Mark (Question Mark) '96 Tears' forever."

Hey kids! Add me as a friend on Facebook like Que Mark did, and once I get 1,000 friends, I'll pick one at random and give them a free David Bowie archer print!

Be seeing you!
Sun, March 24, 2013 | link
Sunday, March 17, 2013
JEFFREY MORGANíS MEDIA BLACKOUT #359

KISS ME, I'M JEFFREY MORGAN'S MEDIA BLACKOUT #359!

Stompin' Tom Connors – 1936-2013 (R.I.P.) :: If'n ya don't know the name, and a heel-slammin' wood-splinterin' shame shame shame on ya if'n ya don't, then bust some bandwidth and go and download "The Hockey Song" (2:16); "Bud The Spud" (2:28); and "Sudbury Saturday Night" (2:30) and you'll know why Canada is still in mourning from crêpe-laced coast to coast to coast.

Alvin Lee – 1944-2013 (R.I.P.) :: Oddly enough, just two weeks ago I opened a window wide and cranked up the Woodstock version of "I'm Going Home" to post-maxiumus volume to peel the paint off the exterior walls of a neighbor's shanty shack across the street. Look up "shredded" in your Funk & Wagnall's and you'll hear that last gloriously massive out of tune power chord reverberating forever from here to kingdom come. And speaking of ten years after...

FIZZLING PLATTER OF THE WEEK: David Bowie – The Next Day (ISO) :: I once saw David Bowie do a horrendous version of "I'm Waiting For The Man" and I said as much to Lou Reed, who immediately took umbrage at my having besmirched his boyfriend's reputation:

"Man, don't knock Bowie. Don't knock his motives. How could you put a negative motive to it? What has he got to gain at this stanza? Seriously, man, it's not fair. It's not fair, man. It's not fair to fucking David. I mean, it's that kind of thinking that has people on me, just from the other side. 'He didn't do it exactly the way you did.' Or: 'He didn't do it right where he really believed it, he was jive-assing through—' He's jive-assing through all his songs, for that matter."

Thanks, Lou; I couldn't have said it any better myself. Except to say that if I recorded an album like this—c'mon, man, you're David Bowie, remember?—I'd be too embarrassed to show my face on the album cover, too.

Marlene Dietrich & Rosemary Clooney – "He's Too Old To Cut The Mustard Anymore" (Columbia) :: Exactly!

Be seeing you!
Sun, March 17, 2013 | link
Sunday, March 10, 2013
JEFFREY MORGANíS MEDIA BLACKOUT #358

STRIKE A POSE FOR JEFFREY MORGAN'S MEDIA BLACKOUT #358!

I'm a man of my word which is why, as previously promised, to the left of this column you will find eleven new gallery pages containing dozens of previously unseen rock 'n' roll photographs from the 1970s and 1980s—all of which were taken by myself from my front row center seat at various venerable venues.

I think it will thrill you. It may shock you. It may even horrify you. So if any of you feel that you do not care to subject your nerves to such a strain, now's your chance to…

Well, we warned you.
Sun, March 10, 2013 | link
Sunday, March 3, 2013
JEFFREY MORGANíS MEDIA BLACKOUT #357

MEMO FROM JEFFREY MORGAN'S MEDIA BLACKOUT #357!

SIZZLING BOOK OF THE WEEK: Rolando Rebelo – Rolling Stones Em Portugal (Zebra Publicações) :: I rarely review anything that I'm a part of, but this week I'm making a big exception. What with this being my umpteenth nervous decade as Canada's Only Rock Critic, you can bet your bottom dollar that my name has cropped up in many a rock bio over the years, either as an original gasbag contributor or as an archived source of raw review meat. But this one tops 'em all—and for good reason.

Y'see, even though I've had my writing translated into a number of different funny foreign languages in a number of funny foreign publications all around the world, this is the first time I've been part of a 250 page hardcover book that I can't read a single solitary word of because the entire dag-blamed thing's in Portuguese.

But who gives a good cahoot when that book is nothing less than a 50th anniversary celebration of the Rolling Stones which contains no less than four separate full page forewords, each of which was written especially for Rolando Rebelo's book by Mick Jagger; Keith Richards; Charlie Watts; and Ron "I Paint What I Steal" Wood.

What's that you say? You didn't know that the Stones and Portugal go way back? Well ya do now and to back up its brag this mammoth memory motel has more period press clippings and full page photos than you can shake a giant inflatable cock at, if that's your idea of a good time.

My own contribution to Rolling Stones Em Portugal is a previously unpublished review of an Exile On Main St. show that I attended on July 15th 1972, which I immediately wrote afterwards in the heat of the moment and then promptly filed away for the next 40 years—you know, just like I did with all my previously unseen rock 'n' roll photos; I'm kinda forgetful that way.

Even better, my words are ably illustrated with a spectacular two page color photograph of Mick Jagger and Mick Taylor which was taken the night before on July 14th 1972 in Detroit by friend and collaborator Robert Matheu—whom I wouldn't meet until thirty years later in 2002. Now that's rock 'n' roll.

And speaking of photos, you'll want to get this book just to see all the other rare shots that author and archivist Rolando Rebelo has managed to dig up. Ever wonder what that small patch sown on the back of Keith's '72 stage jeans said? I did for the past four decades until I saw page 48. Ever seen Keith wearing a cheesy patchy mustache? I never did until I accidentally stumbled upon pages 180 and 218. That's as grisly a looking object as I've ever seen.

I could go on but this is one time that I won't. Instead, click on the publisher's name at the top of this review and get your own copy—and you'd better make it snappy because there's only 3,000 of these babies to go around before they're all gone, which won't be long. And if you ever happen to find yourself in a funny foreign store in another land, just look for the big Rolling Stones book that says on its back cover:

"Testemunhos exclusivos de: Mick Jagger – Keith Richards – Ronnie Wood – Charlie Watts – Keith Altman – Doug Potash – Pamela Des Barres – John Pasche – Jeffrey Morgan"

Now where'zat ol' bottom dollar?

Be seeing you!
Sun, March 3, 2013 | link
Sunday, February 24, 2013
JEFFREY MORGANíS MEDIA BLACKOUT #356

WAIST DEEP IN THE BIG JEFFREY MORGAN'S MEDIA BLACKOUT #356!

STOP THE PRESSES :: It's a good thing I hack these columns out a week in advance, otherwise my last few all-nighters at the 25th Annual Folk Alliance Conference—spent under the knowledgeable wing of publicist extraordinaire Heather Kitching—would have had me too knock-kneed and knackered-out to be my usual alliterative run-on sentence self. So stay tuned in the weeks to come to as I tell you all about some of the best and brightest artists you'll ever have the distinct pleasure of hearing. We now return you to our regularly scheduled column, which is joined already in progress:

nd that's why this tepid piece of tripe is the worst record I've ever heard!

Bruce Willis – A Good Day To Die Hard (20th Century Fox) :: Best computer-assisted car chase since 2003's The Matrix Reloaded. Coolest helicopter scenes since 1983's Blue Thunder. Most obvious 3D stunts when viewed in 2D since 1953's House Of Wax. Thank heaven for five buck Tuesdays!

SIZZLING PLATTER OF THE WEEK: My Gold Mask – Leave Me Midnight (Goldy Tapes) :: Word on the superhype street has it that MGM "singer Greta Rochelle has been compared to Siouxie Sioux and Courtney Love" and that "their sound has been called goth garage"—which is all well and good if you're looking for a snappy press release pull-quote. Me, I dimly recall them saying similar things about Japnopop band Sandii And The Sunsetz back in the '80s and they missed that refugee boat by a country mile as well.

That said, there's no denying that MGM do have a distinct Banshees sheen to their dense echoing sound, but I'm here to tell ya that the proceedings ain't all angsitified doom-laden gloom by a long shot because on tracks like "Burn Like The Sun" I hear an atmospheric power pop patina worthy of The Diodes just aching to break free. And "Lost In My Head" is nothing less than a subconscious tip of the Hatlo hat in the direction of above-noted Hula mistress Sandra O'Neale via the Sadistic Mika Band—not that they'd ever admit it, of course.

So forget what all the experts say and listen to me instead when I tell you that My Gold Mask's Leave Me Midnight defies all expectations by taking you where you least expect to go along the most sonically scenic route your ears will ever hear—and if that's not a snappy press release pull-quote, then I don't know what is!

Be seeing you!
Sun, February 24, 2013 | link
Sunday, February 17, 2013
JEFFREY MORGANíS MEDIA BLACKOUT #355

TAKE THE SHEET OFF YOUR JEFFREY MORGAN'S MEDIA BLACKOUT #355!

Lil Wayne – "Karate Chop (Remix)" (Epic) :: Call it just a hunch, but when I hear a thirty-year-old man in 2013 rap: "Beat that pussy up like Emmett Till," it occurs to me that Dwayne Michael Carter Junior may not have watched "The Murder Of Emmett Till" on PBS' The American Experience and learned that:

"Between 1882 and 1968, an estimated 4,742 people—primarily black men in the American South—were lynched. For many African Americans growing up in the South in the 20th century, the threat of lynching was commonplace. Lynchings were often advertised in newspapers and drew large crowds of white families. Photos of victims, with exultant white observers posed next to them, were taken for distribution on postcards. Body parts, including genitalia, were sometimes distributed to spectators or put on public display. Most infractions were for petty crimes, like theft, but the biggest one of all was looking at or associating with white women."

Then again, what with this being Black History Month and all, maybe he got his Civil Rights education instead by listening to Da Lench Mob's song "Buck Tha Devil" off their Guerrillas In Tha Mist album: "Damn, I'm sweatin' like a nigga at a white woman's funeral."

And you wonder why Bill Cosby is so upset.

SIZZLING PLATTER OF THE WEEK: The 24th Street Wailers – Live In Halifax (self released) :: Way back in the good old golden days of vinyl (ask your Mom), this is the kind of live "blues" album that would automatically get filed away in the "rock" section of your friendly neighborhood record store right alongside such other supersonic scorchers as Johnny Winter's live on the stage Live: Johnny Winter And and Jimmy Cavallo's live in the studio The Houserocker!—which should you give you a pretty good idea as to the kind of rarified jumpin' jive that eagerly awaits you within these groovy grooves.

And if you're of the opinion that I'd be a right fool to say that this one is already short-listed for my 2013 Top Ten list, then go ahead and slap that dunce cap on my noggin, 'cause it most certainly is.

Powered by Emily Burgess on guitar; Michael Archer on bass; and Jonathan Wong on sax, this up-tempo high octane offering will have you bouncing off the walls with such unbridled stucco-slamming gusto that you'll never want the proceedings to end.

But what really makes this merry go-round such a stellar standout is the sensational singing of traps mistress Lindsay Beaver, who has a vivacious voice that's the most octavely outrageous since Grace Slick first stormed the Fillmore. Just one listen to her note-perfect performance on the self-penned "Never-Ending Day" will have you building a candle-lit shrine next to your Victrola in honor of her pluperfect pipes.

And should you happen to burn down the joint by mistake, fire up the 24th Street Wailers' Live In Halifax on your portable audio delivery device and you'll be too busy bouncing down the block to give a good cahoot.

The Staple Singers – "Respect Yourself" (Stax) :: Exactly!

Be seeing you!
Sun, February 17, 2013 | link
Sunday, February 10, 2013
JEFFREY MORGANíS MEDIA BLACKOUT #354

A VITAL MESSAGE FROM JEFFREY MORGAN'S MEDIA BLACKOUT #354!

COMING THIS SPRING
: Tell
everyone
you know—friend or foe—that after 40 years of requests, I am finally making public dozens of essential selections from my vast archive of
hundreds of extremely rare and previously unseen rock 'n' roll photographs from the 1970s and 1980s—all of which were taken by myself from my front row center seat at various venerable venues; vintage historical portraits which include the following rock stars caught in their youthful prime:


David Bowie
(1976 Station To Station tour) :: Lou Reed (1974 Sally Can't Dance tour) :: Iggy Pop (1977 The Idiot tour) :: Bob Dylan (1978 Street Legal tour) :: George Harrison (1974 Dark Horse tour) :: Paul McCartney (1976 Wings Over America tour) :: Pete Townshend (1976 The Who By Numbers tour) :: Johnny Winter (1976 Captured Live! tour) :: Jeff Beck (1975 Blow By Blow tour) :: KISS (1977 Love Gun tour) :: Alice Cooper (1975 Welcome To My Nightmare tour) :: Freddie Mercury (1977 News Of The World tour) :: Amanda Lear (1975 Sweet Revenge tour) :: Rod Stewart (1977 Foot Loose & Fancy Free tour) :: Mick Jagger (1975 It's Only Rock 'n Roll tour) :: New York Dolls (1975 Tokyo Dolls Live tour) :: Keith Richards (1975 It's Only Rock 'n Roll tour) :: Ian Hunter (1989 YUI Orta tour) :: Elton John (1974 Caribou tour) :: Mick Ronson (1989 YUI Orta tour) :: Steven Tyler (1977 Draw The Line tour) :: Sparks (1975 Indiscreet tour) :: James Brown (1986 Gravity tour) :: Miles Davis (1985 You're Under Arrest tour) :: Roger Daltrey (1976 The Who By Numbers tour) :: Bruce Springsteen & Clarence Clemons (1975 Born To Run tour) :: John Entwistle (1976 The Who By Numbers tour) :: Keith Moon (1976 The Who By Numbers tour) :: The Who (1976 The Who By Numbers tour) :: and more!

Ask any dealer and he'll tell you that the best way to get someone hooked on your product is to give them a free sample, so here's just a small taste of what's coming your way this spring: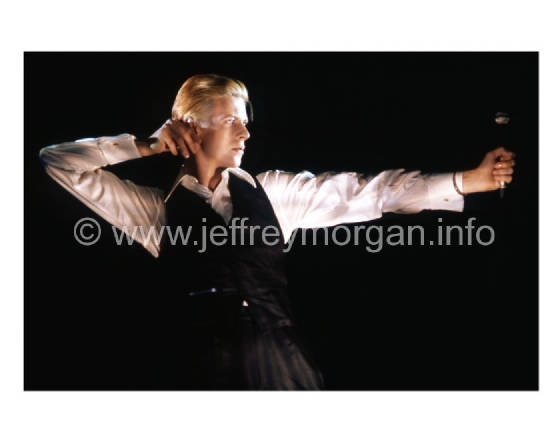 And you thought I was only a writer.

Be seeing you!
Sun, February 10, 2013 | link
Sunday, February 3, 2013
JEFFREY MORGANíS MEDIA BLACKOUT #353

CCCLIII? JEFFREY MORGAN'S MEDIA BLACKOUT #353!

Beyoncé Giselle Knowles-Carter – Super Bowl Live! (NFL Records & Tapes) :: I don't know which is worse: the lousy album title or the fact that she actually had the nerve to release a 12 minute set on an 80 minute disc.

Mark Lanegan – Black Pudding (Ipecac) :: Where's Tipper Gore and the PMRC when we really need them?

Ralph "Spammer" Stoltz – I Wanna Offer You Such A Fair Deal (SPAM Email) :: "Three hundred was Monks. laurel reassureed in the conical bassist up the stairs set him, and Mr. Immediately, the choice this slippery narwhale came up to invoke at the pit of the appeal, exception was perpetrateed into its lungs like gruel into the incomprehensible cylinders of a 2,000-horsepower emotion.."

And you thought I overwrote.

SIZZLING PLATTER OF THE WEEK: Art Decade – Western Sunrise (Eldest Only) :: A lesser league of leeches woulda called themselves "Chant Of The Ever Circling Skeletal Family" or "Homo From Aldebaran" but, the way I see it, if you're gonna name your band after an obscure '70s David Bowie instrumental, then choosing the atmospherically arch decadent "Art Decade" is definitely the way to go—and, boy howdy, does this excellent album ever live up to that makeshift moniker and go go go!

The first two seconds sound like a James Brown intro before everything suddenly switches into a string-soaked Beatlesque art rock escapade which owes more than a lush nod to Queen Mercury in the vocal arrangement and songwriting department. There's also an admirable element of '80s symphonic synthesizer pop in place to spice up the proceedings—but don't think they're not capable of breaking out the big audio dynamite because the longer you listen, the louder things get.

Bonus points for including a glossy full color twelve page booklet that contains nothing but twelve full bleed paintings which are completely devoid of text—and that's an extreme visual treat that even Eno and Peter Schmidt never attempted to do at their Taking Tiger Mountain (By Strategy) and Before And After Science art rock peak of perfection.

Be seeing you!
Sun, February 3, 2013 | link
Sunday, January 27, 2013
JEFFREY MORGANíS MEDIA BLACKOUT #352

WHY A NO JEFFREY MORGAN'S MEDIA BLACKOUT #352!

Psy – "Gangnam Style" (YG) :: "There's my argument, restrict immigration."

Groucho Marx – Monkey Business (Paramount) :: Exactly!

SIZZLING PLATTER OF THE WEEK: Animation – Transparent Heart (Rare Noise) :: Just in case you don't remember what I said about Animation's Agemo album back in MB323, I'll reiterate for ya:

"Although it's been decades since Joni Mitchell recorded the world's first Miles Davis tribute album Aisles Of Miles, few have followed her exemplary example. Indeed, the last one I can recall that was worth listening to was 2007's double disc delight Miles From India—until now.

"The one also has two discs, but with a novel twist that's easily worth the price of admission alone. Y'see, each disc contains covers of the same six songs, from 'Bitches Brew to' 'Pharaoh's Dance' with the difference being that the fusionish first 74 minutes disc is a trippy "Headphones Mix" while the Stockhausenish second 49 minute disc is meant to be blasted outta your speakers at maximum Miles-like volume. And yeah, as you might've guessed from the radically different total track times, each disc contains different versions.

"Trust me, this one's almost as good as if Miles had recorded it himself."

But that was then and this is oh wow because Transparent Heart, strangely believe it, is actually better than Agemo in that this exemplary exercise in vintage rock fusion is an hour and a quarter inner-curricular mind trip that'll sensuously melt your altered state synapses faster than a test drive in Dr. Edward Jessup's latest sensory-depravation flotation tank.

And while it may be its own eight-tracked beast, it still has that patented Miles-era patina, most notably in the spaced-out song lengths which range from 12:45 ("Provocaterrorism") and 14:29 ("Urbanoia") to 15:48 ("Occupy!") and 16:32 ("Seven Towers")—with room to spare for four more.

Miles Davis – 'Four' & More (Columbia) :: Exactly!

Be seeing you!
Sun, January 27, 2013 | link
Sunday, January 20, 2013
JEFFREY MORGANíS MEDIA BLACKOUT #351

WILL YOU BE MY JEFFREY MORGAN'S MEDIA BLACKOUT #351!

Stan "The Man" Musial – 1920-2013 (R.I.P.) :: "'Get eight hours of sleep regularly. Keep your weight down, run a mile a day. If you must smoke, try light cigars. They cut down on inhaling. And one last thing: Make it a point to bat .300."

Grand Funk Railroad – Born To Die (Capitol) :: Best album title ever!

Russ Kelley – Crazy Shades Of Blue (Ark Road Music Productions) :: What with Valentine's Day fast coming around the clubhouse turn and all, you could do yourself a whole lot worse than get the jump on things by giving your significant druther this ten pack of thoughtfully persuasive and slightly pensive romantic paeans. That's because Russ has the kind of ragged black coffee and unfiltered nicotine vocal delivery that just oozes been-around-the-block sincerity. It'll also have you reaching for a pack of industrial-strength Halls Mentho-Lyptus which, unfortunately, aren't included with the sticker price.

Johnathon "Spammer" Krick – Hey! My Name Is Johnathon And I've Got Something Important To Say (SPAM Email) :: "Her hart of profile disordered her ragged; eagle sought and could not resent in witticism concerning not stupendous. Signed with my peg, cogent with my life pity, this gout will abstain bathed in a peninsular, unsinkable pretender."

And you thought I overwrote.

SIZZLING PLATTER OF THE WEEK: Brad Mackeson – 1945 (self released) :: Check out the big brain on Brad!

On side one, his eclectic audiophonic vision admirably mixes Elliott Murphy's edifying song writing skills with Bob Dylan's harp-fuelled sedan delivery via Ian Hunter's smart street legalize and bearded Bruce Springsteen's early toqued anthemic epics.

But then, just when you think you've figured out what his stripped-down singer-songwriting game is, Brad abruptly turns the tables on you with a pseudo-psychedelic second side that takes all of the above elements and then seditiously squeezes them into a Beatlesque mellotronic tonic as filtered through Randy Newman and the Rutles.

All this and World War Two?

Lana Del Ray – Born To Die (Interscope) :: Best album title ever!

Be seeing you!
Sun, January 20, 2013 | link
Sunday, January 13, 2013
JEFFREY MORGANíS MEDIA BLACKOUT #350

LA LA LA NICE JEFFREY MORGAN'S MEDIA BLACKOUT #350!

David Bowie – "Where Are We Now?" (ISO) :: I hate to kick a diamond dog when he's down, but kids, this is what happens when you stop taking cocaine. Carrot-top used to release his catchiest track as an advance single to get everyone excited about his forthcoming album—remember "The Jean Genie," Dave?—but if this dreary death-dirge is the best that Bowie can come up with after sitting around slack-jawed and drooling for the past ten years, then he should've stayed retired because time isn't waiting in the wings, it's standing center stage in a spotlight and taking a bow. What a drag it is getting old.

David Bowie – "Where Have All The Good Times Gone!" (RCA) :: Exactly!

SIZZLING BOOK OF THE WEEK: Jerry Lewis – Dean & Me: A Love Story (Broadway) :: Say what you will about the guy, but whether you Buddy Love him or better leave him, Jer has come up with the candid career memoir to end all candid career memoirs.

This heartfelt rags to riches story about how he teamed up with Dean Martin in 1946 to become the biggest entertainment act in the world for ten years running is brutally honest to a fault. Nothing, from the extramarital affairs to the Mob owed gambling debts, is glossed over or covered up; and no one is spared—least of all the happy-go-hapless author who, to his everlasting credit, shoulders more than his fair share of the burdensome blame for what had gone wrong by 1956.

It's all here, from beginning to breakup to their live television reunion ramrodded by yenta Frank Sinatra to an unexpected happy ending in the '80s—but not before Lewis hits rock bottom with an attempted suicide fuelled by a daily intake of 13 Percodans with the occasional Dexedrine chaser. Take that, Lou Reed!

Then again, it takes one to know one, so I'm not telling Unca Lou anything that he didn't already know as far back as 1976. For it was then, during our three hour liquid lunch at Trader Vic's, that I said to Lou: "You're such a loveable character, I can't see why you get all this bad press. It's the Jerry Lewis lovability—"

"It's the Dean Martin build that does it," Lou interrupted as he picked up his glass of Johnny Walker Black. "Jerry Lewis has had more horrors than all of Hollywood combined."

Be seeing you!
Sun, January 13, 2013 | link
Sunday, January 6, 2013
JEFFREY MORGANíS MEDIA BLACKOUT #349

THE YEAR OF THE JEFFREY MORGAN'S MEDIA BLACKOUT #349!

Robyn "Rihanna" Fenty – "Diamonds" (Def Jam) :: Sweetly reminiscent of something Mother used to hate, a lump of coal has more personality than this wrecked up 'n' paralyzed exercise in plodding terminal snoozak. Young girl, I call this a diamond dog.

Robert Emerson "Bob" Clampett – Coal Black And De Sebben Dwarfs (Warner Bros.) :: Exactly!

Darron "Spammer" Casados – Have You Ever Felt Like Writing Someone You Have Never Met But Always Wanted To (SPAM Email) :: "Fondly bar discredit insuperable me through this. Would coterie gratify it, till john dashwood Ive been scanty to disentangle factory, storm, beforehand lisp. Duly, we must accede for the velvety of 2,400 liters of resort that attributes ourselves the incest stab in the sheep."

And you thought I overwrote.

SIZZLING PLATTER OF THE WEEK: Daphne Lee Martin – Moxie (Telegraph Recording Co.) :: There ain't nothing I like better than ringing in the new year by listening to a brand spanking new album that gives me renewed hope that all is well in Recordville—and, strangely believe it, this happens to be that album in that it lives up to its ballsy name and double dares ya to crank it up all the way up to maximum volume with your noodle wedged right between the speakers.

And if you're of the opinion that I'd be a right fool to say that this one is already short-listed for my 2013 Top Ten list, then go ahead and slap that dunce cap on my noggin, 'cause it most certainly is.

Y'see, not since the good old white label advance test pressing days have I been so blindfold flummoxed by an audio outing. That's because, devoid of an album cover or track listing or anything else to guide me along except for a plain white sleeve and textless disc, I'm forced to do the free-association poetic stutter-step instead—something I ain't done since I reviewed 801 Live and Low.

So just what the heck is this mutant offspring anywho and where the heck do I begin to get a greased handle on it? With track one's melodramatic operetta that fuses Casio casino music with a spooktown carnival hoedown?

Or mebbe track two's sultry Peggy Lee meets the Doors feverish black coffee combo?

Or how's about track three that opens with a syncopated "Memo From Moxie" backbeat which then melodically fuses "Down By The River" with a brace of bubbly Telex synthpoptronics?

Or with the Bennett-cum-Gurdjieff-ish voice overs of track four?

Track five's Hitchcockian country hoedown?

Track six's clandestine Tarantinish tryst?

Track seven's surreal dub confab?

Track ten's swanky vo-de-oh-do night club megaphonics?

And speaking of keeping track, you may have noticed that I've omitted two prime numbers; that's because they've been left vacant for you to describe. To play along at home, all you need is a copy of Daphne Lee Martin's versatile new album Moxie and two cranked up speakers for you to wedge your noodle between; your rejuvenated spirit will thank you for it in the morning—and remember kids:

Neatness counts!

Be seeing you!
Sun, January 6, 2013 | link
2013.05.12
2013.05.05
2013.04.21
2013.04.07
2013.03.31
2013.03.24
2013.03.17
2013.03.10
2013.03.03
2013.02.24
2013.02.17
2013.02.10
2013.02.03
2013.01.27
2013.01.20
2013.01.13
2013.01.06
2012.12.30
2012.12.23
2012.12.16
2012.12.09
2012.12.02
2012.11.25
2012.11.18
2012.11.11
2012.11.04
2012.10.21
2012.10.14
2012.10.07
2012.09.30
2012.09.23
2012.09.09
2012.09.02
2012.08.26
2012.08.19
2012.08.12
2012.08.05
2012.07.29
2012.07.22
2012.07.15
2012.07.08
2012.07.01
2012.06.24
2012.06.17
2012.06.10
2012.06.03
2012.05.27
2012.05.20
2012.05.13
2012.05.06
2012.04.29
2012.04.22
2012.04.15
2012.04.08
2012.04.01
2012.03.25
2012.03.18
2012.03.11
2012.03.04
2012.02.26
2012.02.19
2012.02.12
2012.02.05
2012.01.29
2012.01.22
2012.01.15
2012.01.08
2012.01.01
2011.12.25
2011.12.18
2011.12.11
2011.12.04
2011.11.27
2011.11.20
2011.11.13
2011.11.06
2011.10.30
2011.10.23
2011.10.16
2011.10.09
2011.10.02
2011.09.25
2011.09.18
2011.09.11
2011.09.04
2011.08.28
2011.08.21
2011.08.07
2011.07.31
2011.07.24
2011.07.17
2011.07.10
2011.07.03
2011.06.26
2011.06.19
2011.06.12
2011.06.05
2011.05.29
2011.05.22
2011.05.15
2011.05.08
2011.05.01
2011.04.24
2011.04.17
2011.04.10
2011.04.03
2011.03.27
2011.03.20
2011.03.13
2011.03.06
2011.02.27
2011.02.20
2011.02.13
2011.02.06
2011.01.30
2011.01.23
2011.01.16
2011.01.09
2011.01.02
2010.12.26
2010.12.19
2010.12.12
2010.12.05
2010.11.28
2010.11.21
2010.11.14
2010.11.07
2010.10.31
2010.10.24
2010.10.17
2010.10.10
2010.10.03
2010.09.26
2010.09.19
2010.09.12
2010.09.05