Sunday, April 13, 2014
JEFFREY MORGANíS MEDIA BLACKOUT #414

JEFFREY MORGAN'S MEDIA BLACKOUT #415.16!

The Slackers – Close My Eyes (Hellcat) :: Closed my ears instead.

Loque – So Long (Lava) :: Low key, see ya.

Stroke 9 – All In (Records, Man!) :: Stupid band name. Smart rock album.

No Warning – Suffer, Survive (Machine Shop) :: Fair warning: delete, delight.

The Aeffect – Secrets and Lies (Hitchhiker) :: Gosh, I miss the Human League.

7 Seconds – Take It Back, Take It On, Take It Over! (Side One Dummy) :: Ramones meet Badfinger and carry on bopping till tomorrow.

Court And Spark – Witch Season (Absolutely Kosher) :: The credits list 25 musicians who crafted this smart set of acoustic-based harmonious pop music, including the name of the guy who did the hand claps. Too bad they forgot to name any of the singers.


Kelly Clarkson
– Breakaway (RCA) :: If legendary record producer Clive Davis honestly thinks that this puerile pap is what passes for a good female vocalist these days, then he oughtta have his head read.


Janis Joplin
– Pearl (Columbia) :: With her dowdy looks and coarse voice, you just know she'd never get signed by fuddy-duddy Davis today.


Moody Bluegrass
– A Nashville Tribute To The Moody Blues (Rounder) :: Finally, a banjo and fiddle version of "Nights In White Satin."


The Trews
– House Of Ill Fame (Epic) :: One of 2003's unmitigated pop masterpieces is back on the racks with a bonus disc of new live tracks including their seismic extrapolation of "Hey Jude."


SIZZLING PLATTER OF THE WEEK: Mark Dignam
– Box Heart Man (Times Beach) :: Irish folk singer Dignam starts off his record with a classic George Harrison "Blue Jay Way" drone before abruptly shifting gears down into some of the strongest and most heartfelt pickin' and singin' I've heard in quite a while.


Be seeing you!
Sun, April 13, 2014 | link
Sunday, April 6, 2014
JEFFREY MORGANíS MEDIA BLACKOUT #414

JEFFREY MORGAN'S MEDIA BLACKOUT #414.15!

Valdy – Viva Valdy: Live At Last (Rack-On-Tour) :: The troubadour you can trust who gave us the enduring "Rock 'n' Roll Song" is back with a double album that's one side live, one side studio, and both sides wow.

Day Of Infamy – Red Autumn (DOI) :: The Everly Brothers meet Audioslave. Wake up, little snoozie.

Kasabian – Kasabian (RCA) :: Dylan joins the Strawberry Alarm Clock and records a trippy stoner album.

Skindred – Babylon (Lava) :: I'd rather hear Jar Jar Binks babble on than listen to this snore-bore in a grotty dread.

UPO – The Heavy (DRT) :: If the Home Shopping Channel ran a music network for zirconium metal bands, these guys would be No. 1 with a mullet.

Blue Öyster Cult – We're Cooking For You (MEnu262) :: The Cult contributes recipes to a fan cookbook. I remember when they used to cook in the studio instead.

Dennis DeYoung – The Music of Styx Live With Symphony Orchestra (Grand Illusion) :: And with a donation to PBS of only $150, you'll get a copy of the new double CD plus the DVD!

Eddie From Ohio – This Is Me (Virginia Soul) :: Literate lyrics, earnest songwriting, honey-flavored female vocals.

SIZZLING PLATTER OF THE WEEK: The Beatnuts – Milk Me (Penalty Recordings) :: I was gonna end by warning ya about this sexist cover photo which shows a lissome Nubian goddess reclining in a skimpy lime green bikini while thick creamy white liquid is poured all over her glistening ebony endowments but, wouldn't ya know it, I'm plumb out of room.

Be seeing you!
Sun, April 6, 2014 | link
Sunday, March 30, 2014
JEFFREY MORGANíS MEDIA BLACKOUT #413

JEFFREY MORGAN'S MEDIA BLACKOUT #413.14!


Diana Degarmo
– Blue Skies (RCA) :: And you thought Jewel was stacked.


Mix Master Mike
– Bangzilla (Scratch) :: I knew Steinski. Steinski was a friend of mine. Beastie Boy, you're no Steinski.


Gym Class Heroes
– The Papercut EP (Fueled By Ramen) :: I bet Dylan wishes he could write a line like: "She's the reason for the lesions."


Matt Sharp
– Matt Sharp (Boompa) :: Plaintive music so utterly anguished yet hauntingly beautiful it's almost too painful to listen to.


Strung Out
– Exile In Oblivion (Fat Wreck Chords) :: Lame grunge band called Strung Out begins its record by stealing 20 seconds of Billie Holiday, geddit? Well, don't get it.


Jakalope
– It Dreams (Orange) :: Proof positive that anyone with a Mac can ape NIN and record Jamming With Reznor.


Simple Plan
– Not Getting Any (Lava) :: Sure they're not. That's why there's a flier stuck inside that shills the songs on their new album as ring tones at $2.50 a pop.


Jem
– Finally Woken (ATO) :: Narcotic and erotic music to read Edward Gorey by.


Lesbians On Ecstasy
– Lesbians on Ecstasy (Alien8) :: Today on Maury: Women who love women and the fishy records they make.


Westlife
– Allow Us to Be Frank (RCA) :: A pack of real rats could sing better than these four fops.


SIZZLING PLATTER OF THE WEEK: Vampire Beach Babes
– Beach Blanket Bedlam! (Divine Idustries Inc.) :: By combining the feisty fiesta vocals of the B-52s with the seamy archirony of the Cramps, these fun-loving culture vultures are the kitschiest thing to hit the surf since Eric Von Zipper hung 10.


Be seeing you!
Sun, March 30, 2014 | link
Sunday, March 23, 2014
JEFFREY MORGANíS MEDIA BLACKOUT #412

JEFFREY MORGAN'S MEDIA BLACKOUT #412.13!

Marc Bolan & T. Rex – Christmas Bop (T. Rex Wax Company) :: "Summer's gone and snow's fallen down. But cold's bold and there's nothing wrong." Amen.

Band Aid – Whaddya Mean They Still Don't Know It's Christmas? (Shell Out For UNICEF) :: Start saving your pennies now because there's only eighteen months left until Live Aid 2015: The 30th Anniversary Con Job.

Jacki-O – Poe Little Rich Girl (TVT) :: If her brain was half as big as the helium balloons she routinely flashes to pimp her tawdry wares, she might know better than to include offensive ethnic impersonations on her album.

Jefferson Airplane – Volunteers (RCA) :: Why is a song about overthrowing the U.S. government now being used in an E*TRADE television commercial? Because, having gotten old, one generation did get sold.

Ethan Daniel Davidson – Better Living Through Creative Selling (Times Beach) :: Hey rube, the next time a woman tells you she's a terrorist, don't record an eight-minute song about her. Call the FBI instead.

Trans-Siberian Orchestra – The Lost Christmas Eve (Lava) :: Enjoy complex pseudo-metallic bombast? Then guitarist Paul O'Neill's latest annual installment of traditional Canon fodder is for you.

Keb Mo – Peace (Epic) :: Mo sings 10 proactive holiday peace anthems from Michigan, including Ted Nugent's "Stormtroopin'" and Grand Funk's "Don't Let 'Em Take Your Gun."

SIZZLING PLATTER OF THE WEEK: Slunt – Slunt (Repossession) :: Still pining for the Cycle Sluts From Hell? Well, not only do these bra-bustin' babes have the requisite heavy hangers needed to get the job done, they also have enough smarts to tackle Romeo Void's "Never Say Never." And, unlike Jacki-O, they don't display their ample charms on the front cover. At least not yet.

Be seeing you!
Sun, March 23, 2014 | link
Sunday, March 16, 2014
JEFFREY MORGANíS MEDIA BLACKOUT #411

JEFFREY MORGAN'S MEDIA BLACKOUT #411.12!

Pink Floyd – The Wall (Columbia) :: Producer Bob Ezrin records school kids on 1979 album, school kids now sue for royalties.

John Wayne – America, Why I Love Her (MPI) :: Now, more than ever.

Jet Li – Hero (Miramax) – Back in the '60s they didn't use wires to make actors fly. They used drugs.

The Dears – No Cities Left (SpinART) :: Just when you think that theatrical rock is dead, somebody comes along to prove you right.

KISS – Destroyer (Casablanca) :: Bob Ezrin records school kids on 1976 album, school kids now sue for royalties.

The Music – Welcome To The North (Capitol) :: Jon Anderson on heavy-metal steroids? Yes!

Blanche – If We Can't Trust The Doctors (V2) :: Fans of Angelo Badalamenti and Julie Cruise might like the tremulous tremolo tunes that these local yokels are a-pickin'.

Dead Celebrity Status – Blood Music (HRM) :: Medic! Transfusion! Too late, somebody call the coroner.

Alice Cooper – School's Out (Warner Bros.) :: Ezrin records school kids on 1972... Oops, ran out of space!

SIZZLING PLATTER OF THE WEEK: Kaada Patton – Romances (Ipecac) :: Just when you think that you've heard it all, along comes the absolute weirdest album of the year. If Leonard Cohen had been a black falsetto horror movie TV host back in the '50s who dug Stockhausen, he couldn't have come up with a more deliriously psychotronic album than this.

Be seeing you!
Sun, March 16, 2014 | link
Sunday, March 9, 2014
JEFFREY MORGANíS MEDIA BLACKOUT #410

JEFFREY MORGAN'S MEDIA BLACKOUT #410.11!

Ron Artest – Motor City Madhouse (NBA) :: Bill Cosby is right.

B.I.G. – Reloaded (Slaystation) :: Play online as either Biggie or 2Pac and solve the conspiracy! Assault and battery not included.

Ali Shaheed Muhammad – Shaheedullah And Stereotypes (Penalty) :: Shaheed my words because this stereo tripe isn't dullah, it's duller.

The Bones – Straight Flush Ghetto (Liquor and Poker) :: Some people think the world has had enough of noisy rock songs. But I listen to these funky punkabillys and I see it isn't so.

Sarah Fimm – Nexus (self-released) :: Earnest and plaintive, this sultry synthesiren is the new and improved Peter Gabriel. Which makes her a whole lot easier on the ears and, especially, the eyes.

Million Dollar Marxists – Give It A Name (Gearhead) :: Frothing like a dog that's been infected by the rabies, this hard-rocking quintet ain't no million-dollar maybe.

Morris Tepper – Head Off (Candlebone) :: Remember how Dylan was rumored to have secretly recorded an album while he was in seclusion after his motorcycle accident left him temporarily brain damaged? Well, here it is.

Nitromusk – Things I've Done (Stratospheric) :: The Rutles meet Cheap Trick. Surrender, but don't give your day job away because the Delete Police are calling your name.

SIZZLING PLATTER OF THE WEEK: Dry Kill Logic – The Dead And Dreaming (Repossession) :: Lead screamer Cliff Rigano is smart enough to know that variety is the spice of life and man enough to show the world that he can also actually sing. Factor in stellar musicianship and shrewd arrangements and you have the reason why DKL is one small step away from rightfully claiming the heavy metal throne.

Be seeing you!
Sun, March 9, 2014 | link
Sunday, March 2, 2014
JEFFREY MORGANíS MEDIA BLACKOUT #409

JEFFREY MORGAN'S MEDIA BLACKOUT #409.10!

The Who – The Who Sell Out (Decca) :: Automobile commercials. Hewlett-Packard commercials. The CSI franchise. And you thought they were just being ironic.

Wu-Tang Clan – Greatest Hits (BMG) :: Bill Cosby is right.

O.D.B. – O.D.B. (Roc-A-Fella) :: D.O.A.

Wolf Eyes – Burned Mind (Sub Pop) :: Vicious, you hit me with this neural nullifying slice of neurotic electronica from Ann Arbor.

AM – Francophiles & Skinny Ties (AM Mayhem) :: Not since the legendary Masked Marauders waxed "I Can't Get No Nookie" has there been such a fun-filled send-up of the early Rolling Stones.

Amy Correia – Lakeville (Nettwerk) & Tom McRae – Just Like Blood (Nettwerk) :: These two stunning new albums of thoughtfully intelligent pop music will renew your flagging faith in the lost art of emotive singing and insightful songwriting.

Anavana – Anavana (Zip) :: Part sassy Debby Harry and part sultry Sade, funky is the word for this debut disc by chameleonic pop singer Annastasia Victory Kuporosova and her reggae-tinged band.

Stars – Set Yourself On Fire (Arts & Crafts) :: Ignore the inane title because you won't find a more delightfully ethereal pop album to play this winter while you're dashing through the snow.

Feverdream – Freeze (Coalition) :: "Shake hands with my johnson," sings René van Lien of the Netherlands. "Do you know what it feels like to be that hung?" No, but if you wait here a moment, I'll go get a rope so you can tell me.

SIZZLING PLATTER OF THE MONTH: The Gun Club – The Las Vegas Story (Sympathy For The Record Industry) :: Remastered and reissued. Discordant and disconcerting. Off-key and off-kilter. Haunting and harrowing. Sardonic and psychotronic. A grievous mistake and a genuine masterpiece.

Be seeing you!
Sun, March 2, 2014 | link
Saturday, March 1, 2014
JEFFREY MORGANíS ROCK íNí ROLL PHOTOGRAPHS
JEFFREY MORGAN'S ROCK 'N' ROLL PHOTOGRAPHS

While you're visiting, don't forget to view the dozens of essential selections from my vast archive of
hundreds of extremely rare and previously unseen rock 'n' roll photographs from the 1970s and 1980s—all of which were taken by myself from my front row center seat at various venerable venues; vintage historical portraits which include the following rock stars caught in their youthful prime:


David Bowie
(1976 Station To Station tour) :: Lou Reed (1974 Sally Can't Dance tour) :: Iggy Pop (1977 The Idiot tour) :: Bob Dylan (1978 Street Legal tour) :: George Harrison (1974 Dark Horse tour) :: Paul McCartney (1976 Wings Over America tour) :: Pete Townshend (1976 The Who By Numbers tour) :: Johnny Winter (1976 Captured Live! tour) :: Jeff Beck (1975 Blow By Blow tour) :: KISS (1977 Love Gun tour) :: Alice Cooper (1975 Welcome To My Nightmare tour) :: Freddie Mercury (1977 News Of The World tour) :: Amanda Lear (1975 Sweet Revenge tour) :: Rod Stewart (1977 Foot Loose & Fancy Free tour) :: Mick Jagger (1975 It's Only Rock 'n Roll tour) :: New York Dolls (1975 Tokyo Dolls Live tour) :: Keith Richards (1975 It's Only Rock 'n Roll tour) :: Ian Hunter (1989 YUI Orta tour) :: Elton John (1974 Caribou tour) :: Mick Ronson (1989 YUI Orta tour) :: Steven Tyler (1977 Draw The Line tour) :: Sparks (1975 Indiscreet tour) :: James Brown (1986 Gravity tour) :: Miles Davis (1985 You're Under Arrest tour) :: Roger Daltrey (1976 The Who By Numbers tour) :: Bruce Springsteen & Clarence Clemons (1975 Born To Run tour) :: John Entwistle (1976 The Who By Numbers tour) :: Keith Moon (1976 The Who By Numbers tour) :: The Who (1976 The Who By Numbers tour) :: and more!

Ask any dealer and he'll tell you that the best way to get someone hooked on your product is to give them a free sample, so here's just a small taste of what's coming your way when you click on the eleven gallery links to your left: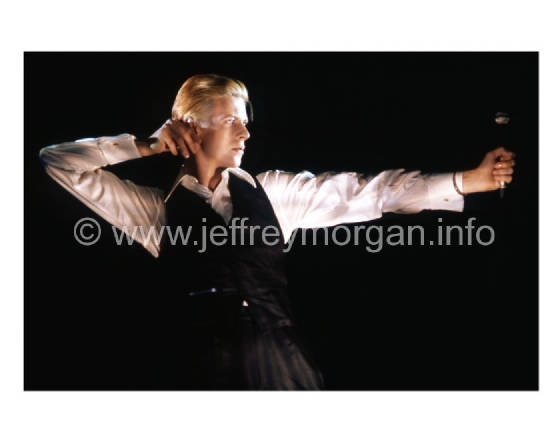 Sat, March 1, 2014 | link
Sunday, February 23, 2014
JEFFREY MORGANíS MEDIA BLACKOUT #408

JEFFREY MORGAN'S MEDIA BLACKOUT #408.9!

The Beatles – Turn Me On Dead Man (Vigotone) :: Before he died of cancer, not only did Abbey Road engineer John Barrett secretly make hours of pristine cassette dubs of unreleased Beatles songs direct from the original multitrack masters, he also actually remixed many familiar classics. So take this bootleg, brother, may it serve you well.

Tamara Bedricky – Through These Eyes (self-released) :: Poignant easy-listening pop ballads aren't usually my cup of tea, but I know a good voice when I hear one, and this Detroit songwriter has the pristine pipes to go the distance.

Project Oragnge – Megaphobe (BMG Canada) :: These mothercanuckers keep Canada united by recording their vapid songs in both official languages so the French can be just as bored as the English.

Yowie – Cryptooology (Skin Graft) :: Finally, a garage band that plays nothing but mental instrumentals that sound like the schizoid diagrams on the back of an Anthony Braxton album.

Paul Reddick – Villanelle (Northern Blues) :: Producer Colin Linden gives Reddick's exceptional new album the rough echoing distorto sound of a vintage field recording. Very uncanny and very good.

The Dollyrots – Eat My Heart Out (Panic Button) :: Sky-high production values, a streetwise attitude, the chirpiest female vocalist this side of Stiff Records and album art to die for. Literally.

Mike Kenally Band – Dog (Exowax) :: Imagine if Freddie Mercury had played killer guitar and formed both the Mothers Of Invention and the Mahavishnu Orchestra. Now go listen and treat yourself.

SIZZLING PLATTER OF THE WEEK: The John Butler Trio – What You Want (Lava) :: By mixing spiritually sublime orchestrations with heavy lowdown hoedowns, this sampler serves notice that guitarist Butler is a future force to be reckoned with.

Be seeing you!
Sun, February 23, 2014 | link
Sunday, February 16, 2014
JEFFREY MORGANíS MEDIA BLACKOUT #407

JEFFREY MORGAN'S MEDIA BLACKOUT #407.8!

Ciara – Goodies (La Face) :: Lady sings the cooze.

Bury Your Head – Cover Your Tracks (Victory) :: This bruising metal may not be what Mickey Spillane had in mind when he wrote about the white noise that roars in Mike Hammer's brain every time he empties his nickel-plated .45 into a commie's guts, but it's a good start.

Avril Lavigne – Under My Skin (RCA) :: Gosh, I miss Grace Slick.


Grace Slick – Manhole (RCA) :: Ask your mom.

Big Thicket – Sexual Breakfast (SAF) :: I admire Afandi A. Menduno for playing all the instruments on this album, but I'd admire him even more if he knew how to write a good song.

Aqui – Aqui (Ace Fu) :: Tiny Tim joins Devo for the last enjoyable word in cosmic space rock.

Dead To Fall – Villainy & Virtue (Victory) :: I know the genre demands such Exorcist silliness, but I really hate to hear an otherwise excellent metal band being ruined by the laughable guttural raspings of a Drano-drinking "vocalist" who doesn't know that satan sounds like Lionel "22" Twain.

Groove Armada – The Best Of (Jive) :: Gayer than satan.

Silvertide – Show And Tell (J) :: Attention groupies! Thirsty for the kind of classic cock rock that used to make tinsel tarts like Sable Starr fall gaping to their knees? Well, crawl this way!

SIZZLING PLATTER OF THE WEEK: Roxy Saint – The Underground Personality Tapes (Star Blue TV) :: This DVD proves that ribald rocker Roxy is the sleaziest skank walkin' the plank today. So roll down your window and give this nasty girl a backseat whirl. Once around the block, Jeeves...slowly.

Be seeing you!
Sun, February 16, 2014 | link
Sunday, February 9, 2014
JEFFREY MORGANíS MEDIA BLACKOUT #406

I WISH THEY ALL COULD BE JEFFREY MORGAN'S MEDIA BLACKOUT #406!

SIZZLING PLATTER OF THE WEEK: Nancy Sinatra – Shifting Gears (Boots Enterprises) :: Contrary to what you may believe after reading this record review, I am not on Nancy Sinatra's payroll.

Granted, I have admired her work ever since I first heard her barrier-busting clarion calls of liberation back in the '60s, but the only tenuous connection I can lay claim to is that, ten years ago, I wrote an unabashed endorsement of a movie she appeared in called Mayor of the Sunset Strip which was printed at the top of the DVD's back cover.

But that's it. Which is why I can afford to ditch four decades of filigree fancy rock writing rhetoric and tell you, without any fear of getting a vengeance visit from the Payola Police, to click this link and buy her new album now!

Don't worry, I'll wait here until you get back. If you get back. Because after you've sampled how she owns the opening selection "As Time Goes By," you'll be so hooked that listening to the remainder of the record is the only thing you're gonna have on your mind.

If, as the theory goes, there's a little bit of rebellious Nancy Sinatra in everyone come Saturday night, then you can safely bet your last dollar bill that there's more than a little romantic Nancy Sinatra in everyone come the next morning.

Sometimes, however, there's the occasional hard letdown to contend with as the day dawns. Ever arise on a Sunday morning surrounded by the unholy architecture of empty bottles, crumpled cigarette packages and assorted scraps of cold food? Alone? After being given the gate by your gal or guy the night before?

Then step right up and have a seat because Nancy's got a little story she thinks you should know. Fifteen of them, in fact, spanning half a century of popular music from the '20s to the '70s. And every single one of them is guaranteed to renew your flagging faith in romance and remind you that each day is Valentine's Day.

That's because Shifting Gears' lushly stringed standards, all which were carefully harvested from a personal archive of previously unheard performances straight outta Nancy's secret mountain vault, have been deftly assembled by the artist herself into a bona fide concept album whose sequence deftly delineates the development of a love affair.

Impressive, I know. But not nearly as impressive as the fact that, I kid you not, this is Nancy Sinatra singing at her soul-stirring best. And thanks in no small part to the production and luxurious arrangements of her long-time and late lamented Wrecking Crew collaborator, the truly legendary Billy Strange, it's like getting to hear a long lost Reprise album that never got assigned a matrix number.

I could go on, but for once I won't. Because if I do continue to wax ecstatic about how wonderfully refreshing Nancy Sinatra's Shifting Gears album is in this day and age of computerized do it yourself dross; or about how it's got the swankiest four-on-the-floor album cover ever thanks to the most-modern artwork of JoSH AGle, I'm liable to get all tongue-tied and say somethin' stupid. Which means there's only one thing left for me to do. Start walkin'.

Be seeing you!
Sun, February 9, 2014 | link
Sunday, February 2, 2014
JEFFREY MORGANíS MEDIA BLACKOUT #405

JEFFREY MORGAN'S MEDIA BLACKOUT #405.7!

Megadeth – The System Has Failed (Sanctuary) :: President Mustaine. Got a nice ring to it, don't it?

Marilyn Manson & Dita von Teese – Wedding Bell Blues (Straight) :: Ooooh, marriage. How anti-Christ of him.

D.O.A. – Live Free Or Die (Sudden Death) :: These Bush-bashing Canuckleheads hate censorship and love freedom of speech. That's why they printed a parental advisory warning on the front cover of their new album.

Straylight Run – Straylight Run (Victory) :: Just when I thought that their stock-in-trade was crafting sincere, plaintive dirges, along comes the buoyant "Tool Sheds and Hot Tubs" to make me think that they just might have what it takes to be the next Blondie. But only if they let the girl sing more. A lot more.

David West – Pickin' On Pink Floyd: A Bluegrass Tribute (CMH) :: Are you ready for a banjo and fiddle version of "Astronomy Domine"? I mean really ready? Sid was, but that was 40 years ago. And look where he is now.

Nightwish – Once (Roadrunner) :: Unexpected company coming over? Need a fast recipe for Finnish meatloaf? Step 1: Take the heavy metal riffs of Black Sabbath, the lush orchestrations of Andrew Lloyd Webber, the bombastic arrangements of Jim Steinman and the soaring poperatic vocals of Emma Shapplin. Step 2: Just add water and hurl.

SIZZLING PLATTER OF THE WEEK: Limblifter – I/0 (Limblifter) :: Imagine the Psychedelic Furs meeting Duran Duran and the Human League and you'll have a good idea why this is one of the best nostalgic pop romps your delicate shell-like ears will ever hear. Emotive vocals, superb musicianship, smart lyrics and spiffy arrangements all add up to make this an absolutely delightful listen.

Be seeing you!
Sun, February 2, 2014 | link
Sunday, January 26, 2014
JEFFREY MORGANíS MEDIA BLACKOUT #404

JEFFREY MORGAN'S MEDIA BLACKOUT #404.6!

Brian Wilson – Smile (Live In Concert) :: Yeah, I love paying big bucks to watch a medicated wax dummy spend the entire evening reading from two teleprompters that are force-feeding him his own lyrics.

John Frusciante – Inside Of Emptiness (Record Collection) :: If you thought his last extended player reeked, then you won't want to smell this plugged john's fresh runny sonic stool of amateur aural excrement.

Gov't Mule – Déjà Voodoo (ATO) :: Formulaic but enjoyable Southern rock that'll go down smooth with a full 60-ouncer, a loaded 12-gauge and an exposed set of 36DDs.

Katrina Carlson – Untucked (Kataphonic) :: Honey-voiced blonde swan dives into the deep end of the Pop Life pool and surfaces for an enjoyable hour-long float.

Keren Ann – Not Going Anywhere (Blue Note) :: But if you prefer your chanteuses soporifically wandering barefoot in the moonlight, then say hello to the new Nico.

Shoplifting – Shoplifting (Kill Rock Stars) :: By melding the herky sound of Pere Ubu with the jerky vocal phrasings of Patti Smith, this four-track EP shows more than enough primo potential to justify a full-length album.

3 Inches Of Blood – Advance And Vanquish (Roadrunner) :: Some critics have accused these guys of musically retreating. They didn't retreat. They just advanced in the opposite direction.

SIZZLING PLATTER OF THE WEEK: Low Millions – Ex-Girlfriends (Manhattan) :: Because I'm a soft touch for old-fashioned pop music with killer riffs and witty lyrics, I got instantly hooked when I heard "Eleanor," the first song on this debut disc. Not since a spurned Bryan Ferry penned Roxy Music's Siren has there been such a long-playing ode to the angst of urban abandonment.

Be seeing you!
Sun, January 26, 2014 | link
Sunday, January 19, 2014
JEFFREY MORGANíS MEDIA BLACKOUT #403

JEFFREY MORGAN'S MEDIA BLACKOUT #403.4!

Halfacre Gunroom – Wrecked (Icarus) :: You say halfacre, I say half-assed, let's call the whole thing off.

Rolling Blackouts – Black Is Beautiful (True Love) :: Despite liberally quoting everyone from Be Bop Deluxe to the Who to the Dolls, this spry toe-snapper is one of the better retro rock 'n' pop albums to wash ashore this year.

Lethal Dose (First Look DVD) :: Alien vs. PETA. PETA loses.

The Whitesnakes – Hot Snakes! Live At Copperfield's 1989 (Blue Wave) :: What's cooler than cool? This classic blues band with Kenny Baker and Deacon Jones in tow, covering "Cissy Strut" years before Jackie Brown.

Todd Kerns – Go Time! (HRM) :: He's got the lanky glam looks and the guitar glam hooks. Now all he needs is a bar of soap to wash out his dirty mouth 'cause Mick Ronson never had to cuss to be cool.

Various Artists – It Was 40 Years Ago Today: A Tribute To The Beatles (Bullseye) :: Three years in the making, this joyous labor of love is the absolute best Beatles tribute album you're likely to hear. Fifty creative covers by 50 eclectic artists ranging from Al Kooper to Andrew Gold, with every cut a genuine gem.

SIZZLING PLATTER OF THE WEEK: Death From Above 1979 – You're a Woman, I'm a Machine (Last Gang) :: Don't let their unwieldy moniker put you off because this minimalist dynamic duo from Toronto (Jesse F. Keeler on synthesizers and bass; Sebastien Grainger on drums and vocals) successfully combines the plaintive wailing vocals of Robert Plant with the primitive psycho synths of Suicide and the bludgeoning big beats of Killing Joke. And that's no laughing matter.

Be seeing you!
Sun, January 19, 2014 | link
Sunday, January 12, 2014
JEFFREY MORGANíS MEDIA BLACKOUT #402

JEFFREY MORGAN'S MEDIA BLACKOUT #402.2!

South Park – The Passion Of The Jew (Paramount DVD) :: Oh my God, they killed... Sorry, wrong character.

The Rolling Stones – "You Can't Always Get What You Want" (ABKCO) :: Dismayed that the Stones are shilling for Coca-Cola? Then you've obviously never heard the Rice Krispies TV jingle they recorded for Kelloggs back in 1963.

Sky Captain And The World Of Tomorrow (Paramount Pictures) :: Where's Buckaroo Banzai and the Hong Kong Cavaliers when we really need them?

Finn Brothers – Everyone Is Here (Nettwerk) :: It's true that the wonkiness exhibited by Neil and Tim during their glory days with Split Enz and Phil Manzanera has been burnished to a smooth mature sheen on this low-key release, but the last time I looked you weren't getting any younger either.

Monday Night Football (ABC) :: Seeing Dennis Hopper back on a chopper in his old Easy Rider Buckskin Billy duds is the closest we'll ever get to the late Terry Southern's proposed Biker Heaven sequel.

SIZZLING PLATTER OF THE WEEK: Faces – Five Guys Walk Into A Bar... (Warner Bros.) :: Here's why this 64-page book is the greatest chronicle extant about the greatest bar band the world has ever known: Everyone candidly chimes in with tales of brave inebriation; more than half of the photographs on display were taken by esteemed CREEM Magazine shutterbugs at Faces concerts either in Detroit or Ann Arbor; strangely enough, all of them are in focus; and, if you act now, you'll also get four free records to which you can drink, sing, or anything (even shake a leg now and then).

Be seeing you!
Sun, January 12, 2014 | link
Sunday, January 5, 2014
JEFFREY MORGANíS MEDIA BLACKOUT #401

THE BEGINNING OF JEFFREY MORGAN'S MEDIA BLACKOUT #401.1!

Ray Charles – Genius Loves Company (Concord) :: And modesty hates egomaniacs.

Last of the Famous – The Music Or The Misery (FourFiveSix) :: Make mine misery because these Clash City Poppers don't rock my casaba.

Norman Brown – I Might (Warner Bros.) :: Sexy, soulful old-school make-out music for tough guys who'd rather be inside bangin' than outside gangin'.

The Hentchmen – Form Follows Function (Times Beach) :: Funky reverb garage surf music with a Leigh Stephens fuzz-tone pedigree and cool black turtleneck lyrics like: "I was only five when I saw the scene of that Charger versus Steve McQueen."

Junior Boys – Last Exit (KIN/Domino) :: Hall & Oates join Kraftwerk. File under: Outenzi Touchenzi.

Wyclef Jean – Welcome To Haiti: Creole 101 (Sak Pasé) :: Those of you who don't speak Spanish, Creole or French can look forward to Jean's next album: Welcome To America: English 101.

Minnie Driver – Everything I've Got In My Pocket (ZOE/Rounder) :: Hide the straight razor because this set of sad songs is the best melancholy music since Sinatra's Only The Lonely.

Janiva Magness – Bury Him At The Crossroads (Northern Blues) :: On the prowl with a sexy growl, this blues-beltin' babe provides the perfect yoni yang to Minnie's yearning ying.

Elvis Costello – The Delivery Man (Lost Highway) :: And you thought marriage would mellow him.

SIZZLING PLATTER OF THE WEEK: The Briggs – Leaving The Ways (Side One Dummy) :: Absolutely the best high-energy hybrid of the Clash and Metallica you're likely to hear in many a moon so go out and get it, got it?

Be seeing you!
Sun, January 5, 2014 | link
Sunday, December 29, 2013
JEFFREY MORGANíS MEDIA BLACKOUT #400

THE END OF JEFFREY MORGAN'S MEDIA BLACKOUT #400!

Management would like to take this opportunity to correct a number of items which originally appeared as statements of fact over the past 399 editions of the award-winning weekly column Jeffrey Morgan's Media Blackout. An investigation into the matter has concluded that the statements made by Mr. Morgan were, in fact, completely false and deliberately made to misinform the reader including, but not limited to, the obfuscating use of a fictional alias. As a result of this serious breach of ethics, and in keeping with our policy of transparency, Mr. Morgan has been dismissed from his position and his column will be reiterated beginning next week until a suitable replacement can be found. Management regrets the errors.

CORRECTIONS:

Martha Raye is not the mother of Johnny Ray.

Brian Jones was not pushed.

Elvis is not Orion.

Nothing happens if you watch Pink Floyd At Pompeii while listening to Judy Garland At Carnegie Hall.

Alice Cooper did not play Eddie Haskell on Leave It To Beaver.

Axl Rose is not a member of Falun Gong.

Eugene Levy never sued John Lennon.

Jerry Mathers was not killed in Vietnam and he is not the father of Eminem.

Lou Christie does not make good cookies.

Bob Dylan was not replaced by a double after dying in a motorcycle accident.

The Beatles are not Klaatu.

Ricky Nelson is not a member of Cheap Trick.

A horribly disfigured Kurt Cobain is not alive and hidden away in a private sanitarium.

The woman heard yelling " 'Paint It Black,' you devils!" on Get Yer Yas Yas Out is not Lynette "Squeaky" Fromme.

Mick Jagger did not kill the Kennedys and neither did you.

Will Rogers never met Allan Klein.

The New Vaudeville Band never released an album titled Jesse Winchester's Cathedral.

Robert Johnson was not stood up at the crossroads.

Clapton is not God.

Andy Warhol did not produce Screaming Lord Sutch And Heavy Friends.

Paul is not dead.

Jim isn't alive, man.

Lou Reed and Rex Reed are not twin brothers.

Lester Bangs did not play Michael Stivic on All In The Family.

Pete Townshend never took part in the Battle Of Britain.

Paul Reubens did not replace Freddie Mercury in Queen.

John Bonham was not one of the Marx Brothers.

Slade were not illiterate.

The Band did not record Music From Pink Floyd.

Bryan Ferry never crossed the Mersey.

Nobody was the fifth Beatle.

And, in the end, the love you take isn't equal to the love you make.

Jeffrey Morgan will not be seeing you.
Sun, December 29, 2013 | link
Sunday, December 22, 2013
JEFFREY MORGANíS MEDIA BLACKOUT #399

PENULTIMATELY JEFFREY MORGAN'S MEDIA BLACKOUT #399!

This is Bob "Media Blackout" Hope coming to you live from the Big Room upstairs where I'm filling in for Jeffrey Morgan, who's away this week celebrating Christmas by listening to some of the latest rice-paddy platters in Da Nang Trong province. You know what 'Da Nang Trong' means, don't you? That's Vietnamese for "Exit strategy? We don't need no stinking exit strategy."

No, but I'm really thrilled to be here on the road to ruin, as my good friend Joey Ramone would say. In fact, most of the Ramones are up here, although it took them a while to clear customs. They were forty pounds overweight, and that was just their hair. Yeah, and I hear Joey's going to record a new Christmas song with Bing Crosby as soon as the old groaner recovers from that "Little Drummer Boy" duet he did with David Bowie 36 years ago. Just wait until he finds out that Joey's been taking sarong lessons from Dorothy Lamour. Isn't that wild?

Hey, how about a few reviews!

John Lennon – "Happy Xmas (War Is Over)" (Apple) :: Hippie.

Various Artists – We Wish You A Metal Xmas And A Headbanging New Year (Armory) :: Look, even I can only take so much of Bing singing "White Christmas" before I get a hardcore hankerin' to dreck the halls with gobs of metal. That's why I've been listening nonstop to this twelve track compilation of carols, which features everyone from Lemmy to Alice to Dio. I'll be deaf for Christmas, if only in my screams.

Christina – "Things Fall Apart" (ZE) :: I thought Britney Smears was a basket case until I heard this record. It originally escaped back in 1981 on A Christmas Record and it's still the most mentally disturbed Noël number ever released. And that includes Jerry Colonna's rendition of "Honky The Christmas Goose."

Rhonda Silver – "Chri$tma$ On Credit" (Silver Shadow) :: You can forget all about Eartha Kitt mewing out the high-priced "Santa Baby" for the umpteenth year in a row because this is the new torch song for today's troubled times. You'll sign up for a government bailout when you hear sultry songstress Silver croon: "You know that Santa's got the blues 'cause he ain't got no green. Looks like Mrs. Claus has picked his pockets clean!" In other words: Cash is king.

Johnny Cash – The Johnny Cash Christmas Specials: 1976-1979 (Shout! Factory) :: Hey, and what better way to celebrate the season than by watching this four disc box set containing the Man In Black's holiday television specials. Cash doing Christmas would be reason enough to watch at any time, but what really makes this a seasonal must see is the truly eclectic line up of guest stars, including everyone from longtime stage stalwarts June Carter and Carl Perkins to country legends Merle Travis and Roy Clark to seminal Sun rockers Roy Orbison and Jerry Lee Lewis.

The Beatles – Christmas Time Is Here Again! (Fan Club Flexi-Disc) :: Hippies.

SIZZLING PLATTER OF THE WEEK: Mr. T – "I Told You Hannibal: I Ain't Gettin' On No Sleigh!" b/w "Shut Up, You Crazy Yule!" (T-Neck) :: Boy, I wanna tell ya, ain't that something?

Be seeing you!
Sun, December 22, 2013 | link
Sunday, December 15, 2013
JEFFREY MORGANíS MEDIA BLACKOUT #398

THE BEST OF JEFFREY MORGAN'S MEDIA BLACKOUT #398!

Presented for your approval, in strict numerical and alphabetical order so as not to show any favoritism, is Jeffrey Morgan's 2013 Top Ten List Of Records, as they appear on my official ballot for this year's Village Voice rock critics poll, which I've been voting in annually ever since Robert Christgau was kind enough to give me the nod five decades ago. In other words, and I've got a million of 'em, these are my Sizzling Platters Of The Year, all of which deserve a spin on your Victrola.

42 – Levin Minnemann Rudess – Levin Minnemann Rudess (Lazy Bones) :: If I've said it once, I've said it three times: a chronological glance at your record collection will prove that, as rock 'n' rollers get older, it's utterly inevitable that they get softer—and I'm not talkin' about virility in the sack, I'm talkin' about volume in the studio.

As maxims of maturity go, TURN IT DOWN seems to be their overriding axiom of aging because, with the obvious aberrant exception of Jeffrey Beck, every single raucous rock musician who ever lived has lived to see the day come when their sonic six-guns were hung up in exchange for a pipe and slippers.

Even such much-vaunted volume advocates as Neil Young and Jimmy Page have had disconcerting bouts of flaccidness recently—assuming that they even bother to wake up to show up. And don't you start me talking about former noise boy Miles Davis, who prematurely blew all his goo on Dark Magus only to thereafter be reduced to the sad spectacle of shooting blanks, as evidenced by such sterile secretions as You're Under Arrest and Doo-Bop.

But there's always an exception to the rule, and this fourteen track all-instrumental album is it, with a certifiable emphasis on the mental because Levin Minneman Rudess takes everything that you thought you knew about complex progressive art rock and effortlessly transmutes it from traditional fusion into a new element of audio contusion that you won't find on any heavy metal periodical table. But please don't let me be misunderstood: I'm not talkin' about mental as in crazy coo-coo mental, I'm talking mental as in sonically supernatural Magneto-style metal manipulating mental. I could go on, so I will.

"Marcopolis" is the scene-setting first track and it's the heaviest Wired outtake that Jan Hammer and the aforementioned Mr. Beckola never had the radical wherewithal to wax.

"Twitch" is the aptly-named second track and it's an epileptic stutter-step that easily evokes Rick Wakeman as his most operatically speed freak soused.

"Frumious Banderfun" is the frisson-fusing third track and it's an eerily evocative echo of Frank Zappa during his hellacious jazzbo phase with a side order of Oriental-themed crunge-o-phonics thrown in for bad measure.

For those of you keeping score at home, that's just the first three frames and already we're talking about a skillfully impressive Heinie Manush-style on-base slugging percentage—with eleven innings left to play. So break out some peanuts and Cracker Jack and hear for yourself how effortlessly the spasm-inducing All Star team of Levin Minneman Rudess takes the field and commands a one-sided rout that rookies a quarter of their age only wish they could muster. Batter up!

11 – Johnny McLeod – If You're Living (self released) :: In a perfect world, Johnny McLeod would need no introduction. But since this is a less than perfect world, allow me to set the audio table for you by reiterating what I said about him in the August 1985 issue of CREEM: America's Only Rock 'n' Roll Magazine, wherein I wrote:

"Johnny MacLeod with The Young Pioneers – Dynamite In The Stove (True North/CBS) :: Even though I live in Toronto, you can count on one hand the number of times I've bent your ear about Canadian talent in the ten years I've been writing for CREEM, so bear with me on this one because Johnny is the only singer-songwriter I'd put serious money on. He released one album (Every Twist Reminds) in 1980 with his former band the G-Rays, and has spent the last half decade leading up to this triumphant moment. The man's lyrical and musical depth knows no equal, so I'm not going to give you a comparison against which you can judge him. But considering the current value of the U.S. dollar against the Canadian dollar, I'd say that a trip across the border to but this album would be more than worth your while."

Thirty years later I stand by those words—especially the parts about the money and the lyrical depth. However, with the release of this new album, I would add one extra word which is not to be bandied about lightly:

Poet.

I happen to know a few things about poetry, which is I'd like to point you in the direction of a few song titles which grace this heartfelt confessional because they alone should give you a good indication of the kind of emotional insight we're dealing with here: "Never Is Your Soul Alone." "The Pleasures Life Reveals." "If You're Living." "More Than I Can Do."

Oh, and then there's "Here's Your Moment" which begins:

"Your reluctance is feeble and thin. Soon its weight will cave itself in. Go and bid your reward to begin. Here's your moment. Here's the offer that hangs from your name."

And that's why I'd still put serious money on Johnny MacLeod—and so should you because, both spiritually and intellectually, odds are you won't get a better rate of return for your dollar.

To get a copy of If You're Living, contact Johnny at: Box 113, 31 Adelaide Street East, Toronto, Ontario, Canada M5C 2H8

78 – Ollie Vee – Lonesome Girl (Dang Snapit) :: Here's a tattooed up the wazoo chicka-boom trio that knows how to slap an album design together and then slap a like-minded record inside it that easily evokes the album cover aesthetic that shows a tarted up solitary skirt longingly looking out a hotel room window at the obligatory blinking red neon sign that's bathing her deep blueness in shards of cascading crimson like she's in an Edward Hopper painting.

Lissen, any song that begins with the line: "Well, we get hopped up every night" like "Looking For A Fast Time" does is my kinda album. But lest you go thinkin' that this is some kinda Tonight's The Night dour downer, lemme tell ya that it's an uptempo rock-a-billy rave up that owes its more melancholy moments to the David Lynch and Angelo Badalamenti produced Floating Into The Night album that songstress Julee Cruise waxed way back in 1989. In fact, this entire baker's dozen of slinky swinging songs would be right at home on the jukebox at the Double R Diner. And if you don't believe me, just ask Norma Jennings the next time you drop by for a slice of cherry pie and—excuse me—a damn fine cup of coffee.

So if any wiseacre tries to brace you into thinking that Ollie Vee's Lonesome Girl is some kinda tremolo tribute to the late lamented likes of Roy Orbison or Handsome Ned, well, you just blow a thick pardon my dust plume of second hand smoke into their smug mugs 'cause hep cats like us, we both know a whole heckuva lot better, don't we? That'll be the day.

35 – Art Decade – Art Decade (self released) :: If you screw on your thinking cap, you just might remember what I said about these cat's début long player back in MB353 but, if not, I'll reiterate for ya:

"Art Decade – Western Sunrise (Eldest Only) :: A lesser league of leeches woulda called themselves "Chant Of The Ever Circling Skeletal Family" or "Homo From Aldebaran" but, the way I see it, if you're gonna name your band after an obscure '70s David Bowie instrumental, then choosing the atmospherically arch decadent "Art Decade" is definitely the way to go—and, boy howdy, does this excellent album ever live up to that makeshift moniker and go go go!

"The first two seconds sound like a James Brown intro before everything suddenly switches into a string-soaked Beatlesque art rock escapade which owes more than a lush nod to Queen Mercury in the vocal arrangement and songwriting department. There's also an admirable element of '80s symphonic synthesizer pop in place to spice up the proceedings—but don't think they're not capable of breaking out the big audio dynamite because the longer you listen, the louder things get.

"Bonus points for including a glossy full color twelve page booklet that contains nothing but twelve full bleed paintings which are completely devoid of text—and that's an extreme visual treat that even Eno and Peter Schmidt never attempted to do at their Taking Tiger Mountain (By Strategy) and Before And After Science art rock peak of perfection."

That's how they began the year last February and, wouldn't you know it, here they are again with a year-ending roundhouse to polish things off and lemme tell ya that it's a good 'un. If anything, it's even more of a string-soaked Beatlesque art rock escapade (Greylock Hill") which owes more than a lush nod to Queen Mercury ("Boredom") in the vocal arrangement and songwriting department. And while many a band from Badfinger and ELO to Cheap Trick and the Knack have successfully mined that particular pop vein at various points during their careers, keep in mind that it's by no means as easy to do as it sounds—just ask Brian Wilson.

So if you didn't take my advice at the beginning of the year, now's your chance to make amends unless, of course, you're waiting for the band to gnaw some blotter acid and "head" into their psychedelic period—which might not be such a bad idea. I mean, think about it, man. Aren't you curious about what a lysergically-soaked Freddie Mercury would sound like? I'm curious. I'm very curious. Are you curious?

99 – Blackmore's Night – Dancer And The Moon (Frontiers) :: Wherein, sixteen years and seven albums later, guitarist Richie Blackmore and songstress Candise Night continue to record intelligent epic audio adventures which aesthetically embody everything that folk-fueled contemporary medieval music should be—and this outstanding album of enlightened enchantment is their best one yet. If a part of your soul has ever responded positively to the ornamental elements offered up by Robert Plant in "The Battle Of Evermore" or by Ian Anderson in "Songs From The Wood," then this renaissance record has your name engraved on it. And should you find that your soul is unnaturally inured to such sentiments, then let this be the introductory album to set your wandering spirit straight.

01 – David Francey – So Say We All (Laker Music) :: Although it doesn't happen as often these days as it used to, every once in a while a record will be released that's so exceptional and intelligent it actually defies criticism—and this album happens to be one of them.

From its admirably understated front cover photo of the artist walking away from us into the Light, to its last muted note, folk singer David Francey's thoughtful So Say We All is about as honest and authentic an offering as you're likely to hear; one that's imbued throughout with a surfeit of universal Truth.

Light. Truth. No ordinary words, for what they denote are no ordinary values. And, poet that he is, Mr. Francey profoundly understands the power of these words because he knows that they have no frame of reference within which to exist without their contrarian opposites of darkness and lies—and David Francey is intimately familiar with those words as well.

Yet, but because he is a poet, Mr. Francey is able to use his insightful lyrics and expressive voice to cathartically transcend the pensive past and look beyond today's frailties toward a more hopeful future for himself and, by extension, for us all. That's why So Say We All is nothing less than an enriching audio affirmation of life and the indomitable power of the human spirit to endure—but don't take my word for it when you can heed those of the artist himself:

"The songs on this album," Mr. Francey writes in the album's introduction, "seem to me to encompass what proved to be a very difficult year. From the heights of joy to the depths of grief, the lesson learned was to celebrate every day spend on this side of the soil and to keeps marching no matter what comes our way."

So when one or more of these fourteen heartfelt songs makes you laugh or cry or simply smile with a knowing nod of recognition—and one or more of them will—it's because they speak not just of who we were yesterday or who we are today, but of who we would like to be tomorrow. That's because they also encompass yet another extraordinary word: Faith. Faith, and a renewed belief in the future and what you can do to be a positive part of it.

It's easier than you think. David Francey's already done the hard work. All you have to do is listen.

69 – Kate Reid – Queer Across Canada (self released) :: Whadda gal. Goes from Stand-up Folkie (I'm Just Warming Up) to Shepherding Activist (Doing It For The Chicks) to Social Educator (Queer Across Canada) all within the span of three albums—faster than the time it would take you or I to change a futzed fuse.

But that's the point. Always the brightest bulb in the box, incandescent Kate wasn't whistling in Dixie when she said she was just getting started 'cause even then she had a far-flung audio agenda of acceptance in mind that's finally come to full-blown fruition on her latest long player, which is nothing less than an informative curriculum of facts and a sonic support group.

Vocally, Kate's pipes are in fine fettle and equally as emotive whether she's breaking the verbal speed limit on "The Mothers' Day / Fathers' Day Conundrum" or getting down with a funkified cover of the venerable Sister Sledge unity anthem "We Are Family." Musically, Kate breaks new ground by adding an expertly arranged plethora of horns; woodwinds; strings; and choir, all to good effect—especially during the more introspective passages which'll have you daubing your eyes.

Much has been made of the charm which radiates throughout her albums—and rightly so, because Kate's refreshing sense of humor has always been the spoonful of sugar that makes the tolerance go up. And while Queer Across Canada is no exception to that rule, Kate admirably aspires to up the ante by taking her message of love out of the intangible ether and into the physical classroom where, like any life lesson worth learning, it can be rationally discussed and expertly applied without censure.

But for those of you who are of the opinion that humor has no place when dealing with such a serious societal topic, I'd like to draw your attention to the comics section of the world's newspapers on August 7th, 1952—a mere 61 years ago.

For it is there, in the great Walt Kelly's legendary comic strip Pogo, that the following prescient exchange takes place between the eternally poetic Churchy LaFemme and the eternally practical Howland Owl:

CHURCHY:

"Why don't women marry people what understands them?"

HOWLAND:

"Like who?"

CHURCHY:

"Like other women."

54 – Daphne Lee Martin – Moxie (Telegraph Recording Co.) :: There ain't nothing I like better than ringing in the new year by listening to a brand spanking new album that gives me renewed hope that all is well in Recordville—and, strangely believe it, this happens to be that album in that it lives up to its ballsy name and double dares ya to crank it up all the way up to maximum volume with your noodle wedged right between the speakers.

Y'see, not since the good old white label advance test pressing days have I been so blindfold flummoxed by an audio outing. That's because, devoid of an album cover or track listing or anything else to guide me along except for a plain white sleeve and textless disc, I'm forced to do the free-association poetic stutter-step instead—something I ain't done since I reviewed 801 Live and Low.

So just what the heck is this mutant offspring anywho and where the heck do I begin to get a greased handle on it? With track one's melodramatic operetta that fuses Casio casino music with a spooktown carnival hoedown?

Or mebbe track two's sultry Peggy Lee meets the Doors feverish black coffee combo?

Or how's about track three that opens with a syncopated "Memo From Moxie" backbeat which then melodically fuses "Down By The River" with a brace of bubbly Telex synthpoptronics?

Or with the Bennett-cum-Gurdjieff-ish voice overs of track four?

Track five's Hitchcockian country hoedown?

Track six's clandestine Tarantinish tryst?

Track seven's surreal dub confab?

Track ten's swanky vo-de-oh-do night club megaphonics?

And speaking of keeping track, you may have noticed that I've omitted two prime numbers; that's because they've been left vacant for you to describe. To play along at home, all you need is a copy of Daphne Lee Martin's versatile new album Moxie and two cranked up speakers for you to wedge your noodle between; your rejuvenated spirit will thank you for it in the morning—and remember kids: Neatness counts!

24 – The 24th Street Wailers – Live In Halifax (self released) :: Way back in the good old golden days of vinyl (ask your Mom), this is the kind of live "blues" album that would automatically get filed away in the "rock" section of your friendly neighborhood record store right alongside such other supersonic scorchers as Johnny Winter's live on the stage Live: Johnny Winter And and Jimmy Cavallo's live in the studio The Houserocker!—which should you give you a pretty good idea as to the kind of rarified jumpin' jive that eagerly awaits you within these groovy grooves.

Powered by Emily Burgess on guitar; Michael Archer on bass; and Jonathan Wong on sax, this up-tempo high octane offering will have you bouncing off the walls with such unbridled stucco-slamming gusto that you'll never want the proceedings to end.

But what really makes this merry go-round such a stellar standout is the sensational singing of traps mistress Lindsay Beaver, who has a vivacious voice that's the most octavely outrageous since Grace Slick first stormed the Fillmore. Just one listen to her note-perfect performance on the self-penned "Never-Ending Day" will have you building a candle-lit shrine next to your Victrola in honor of her pluperfect pipes.

And should you happen to burn down the joint by mistake, fire up the 24th Street Wailers' Live In Halifax on your portable audio delivery device and you'll be too busy bouncing down the block to give a good cahoot.

44 – My Gold Mask – Leave Me Midnight (Goldy Tapes) :: Word on the superhype street has it that MGM "singer Greta Rochelle has been compared to Siouxie Sioux and Courtney Love" and that "their sound has been called goth garage"—which is all well and good if you're looking for a snappy press release pull-quote. Me, I dimly recall them saying similar things about Japnopop band Sandii And The Sunsetz back in the '80s and they missed that refugee boat by a country mile as well.

That said, there's no denying that MGM do have a distinct Banshees sheen to their dense echoing sound, but I'm here to tell ya that the proceedings ain't all angsitified doom-laden gloom by a long shot because on tracks like "Burn Like The Sun" I hear an atmospheric power pop patina worthy of The Diodes just aching to break free. And "Lost In My Head" is nothing less than a subconscious tip of the Hatlo hat in the direction of above-noted Hula mistress Sandra O'Neale via the Sadistic Mika Band—not that they'd ever admit it, of course.

So forget what all the experts say and listen to me instead when I tell you that My Gold Mask's Leave Me Midnight defies all expectations by taking you where you least expect to go along the most sonically scenic route your ears will ever hear—and if that's not a snappy press release pull-quote, then I don't know what is!

Be seeing you!
Sun, December 15, 2013 | link
Sunday, December 8, 2013
JEFFREY MORGANíS MEDIA BLACKOUT #397

GOODBYE CRUEL JEFFREY MORGAN'S MEDIA BLACKOUT #397!

Bruce Springstone – Greetings From Bedrock Park (Hanna-Barbera) :: Includes the hit single "Quarry Days." Rest in peace, Bill.

Jethro Tull – Draculung (Chrysalis) :: They all laughed when Ian Anderson announced that he was going to write a progressive art rock opera about a rummy child molesting vampire. Well, they're not laughing now.

Blue Öyster Cheer – Agents Of Eruptum (Phillips) :: I wish.

The Who – Who's On First (Track) :: They all laughed when Pete Townshend announced that he was going to write a rock opera about Abbott and Costello. Well, they're not laughing now.

Aerostones – It's Only Rock In A Hard Place (Toxic Glimmer) :: They all laughed when rock's big-lippers finally united. Well, they're not laughing now. Includes the hit single "Dude (Looked Like Lady Jane's Got A Gun)."

Don Kirshner Presents – The Byrds, The Beatles & The Monkees (Colgems) :: They all laughed when Mr. Rock Concert reunited three of the world's greatest bands. Well, they're not laughing now.

The Dorkees – Manzarek, Densmore, Krieger & Jones Ltd. (Camden) :: They all laughed when Davy Jones was hired to replace Jim Morrison. Well, they're not laughing now. Includes the hit single "The Doors Into Summer."

David Byrne & Brian Eno – My Life In The Bush Of Your Wife (Sire) :: They all laughed when these aging art fops decided to record music for adulterers. Well, they're not laughing now.

Iggy & The Tricksters – Cheap Power (Columbia) :: They all laughed when Bun E. Carlos was hired to replace Scott "Rock Action" Asheton. Well, they're not laughing now.

Black Oak Sabbath – Paranoid Mutha (Atco) :: I wish.

Styx & Stones – Break My Bones (Plaster Caster) :: They all laughed when Dennis DeYoung and Mick Jagger waxed some tracks together. Well, they're not laughing now.

Cars Traffic Jam – 4 Way Stop (Motown) :: They all laughed when Ric Ocasek, Steve Winwood, and Paul Weller created a new supergroup. Well, they're not laughing now.

The Clash – Sandradeesta! (Rocket) :: They all laughed when Elton John re-formed The Only Band That Matters. Well, they're not laughing now.

Tom Scholz & Hugh Cornwell – Boston Stranglers (Death Row) :: They're definitely not laughing now.

Keith Richards – "Don't Fall Out Of The Apple Tree" (Fiji Gin) :: It only hurts when he laughs.

Phyllis Dylan – Fang On Fang (Columbia) :: I wish.

Ted Nugent – The Ted Offensive: Triple Live Gonzo In Afghanistan (Armed Forces Radio Network) :: You were waiting for that, weren't you?

SPLATTER PLATTER OF THE WEEK: Nirvana – Arrivederci! (Swan Song) :: Recorded in Rome, this final vinyl features cover versions of: "So Long It's Been Good To Know Ya," "Suicide Solution," "Auf Wiedersehen," "Don't Try Suicide," "I Feel Like I'm Fixin' To Die Rag," "Rock 'n' Roll Suicide," and "Lay Down And Die, Goodbye." Includes the hit single "Dead Man's Kurt."

The Rolling Boulders – Get Yer Yabba Yabbas Out! (Hanna-Barbera) :: Includes the hit single "No Excavations." Rest in peace, Joe.

Be leaving you!
Sun, December 8, 2013 | link
2014.04.06
2014.03.30
2014.03.16
2014.03.09
2014.03.02
2014.02.23
2014.02.16
2014.02.09
2014.02.02
2014.01.26
2014.01.19
2014.01.12
2014.01.05
2013.12.29
2013.12.22
2013.12.15
2013.12.08
2013.12.01
2013.11.24
2013.11.17
2013.11.10
2013.11.03
2013.10.20
2013.10.13
2013.10.06
2013.09.29
2013.09.22
2013.09.08
2013.08.25
2013.08.18
2013.08.11
2013.08.04
2013.07.28
2013.07.21
2013.07.07
2013.06.30
2013.06.16
2013.06.02
2013.05.26
2013.05.19
2013.05.12
2013.05.05
2013.04.21
2013.04.07
2013.03.31
2013.03.24
2013.03.17
2013.03.10
2013.03.03
2013.02.24
2013.02.17
2013.02.10
2013.02.03
2013.01.27
2013.01.20
2013.01.13
2013.01.06
2012.12.30
2012.12.23
2012.12.16
2012.12.09
2012.12.02
2012.11.25
2012.11.18
2012.11.11
2012.11.04
2012.10.21
2012.10.14
2012.10.07
2012.09.30
2012.09.23
2012.09.09
2012.09.02
2012.08.26
2012.08.19
2012.08.12
2012.08.05
2012.07.29
2012.07.22
2012.07.15
2012.07.08
2012.07.01
2012.06.24
2012.06.17
2012.06.10
2012.06.03
2012.05.27
2012.05.20
2012.05.13
2012.05.06
2012.04.29
2012.04.22
2012.04.15
2012.04.08
2012.04.01
2012.03.25
2012.03.18
2012.03.11
2012.03.04
2012.02.26
2012.02.19
2012.02.12
2012.02.05
2012.01.29
2012.01.22
2012.01.15
2012.01.08
2012.01.01
2011.12.25
2011.12.18
2011.12.11
2011.12.04
2011.11.27
2011.11.20
2011.11.13
2011.11.06
2011.10.30
2011.10.23
2011.10.16
2011.10.09
2011.10.02
2011.09.25
2011.09.18
2011.09.11
2011.09.04
2011.08.28
2011.08.21
2011.08.07
2011.07.31
2011.07.24
2011.07.17
2011.07.10
2011.07.03
2011.06.26
2011.06.19
2011.06.12
2011.06.05
2011.05.29
2011.05.22
2011.05.15
2011.05.08
2011.05.01
2011.04.24
2011.04.17
2011.04.10
2011.04.03
2011.03.27
2011.03.20
2011.03.13
2011.03.06
2011.02.27
2011.02.20
2011.02.13
2011.02.06
2011.01.30
2011.01.23
2011.01.16
2011.01.09
2011.01.02
2010.12.26
2010.12.19
2010.12.12
2010.12.05
2010.11.28
2010.11.21
2010.11.14
2010.11.07
2010.10.31
2010.10.24
2010.10.17
2010.10.10
2010.10.03
2010.09.26
2010.09.19
2010.09.12
2010.09.05